Home
/
Total War: Rome II
/
Mercenaries
/ Mercenary Indian War Elephants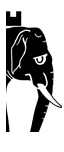 Mercenaries Elephant
Mercenary Indian War Elephants
Size really does matter; it is worth paying extra for big, scary things.
War elephants had to be trained like men and cavalry horses to endure the noise and chaos of battle. Indian war elephants were larger than their African counterparts and strong enough to carry a 'howdah', or small wooden tower, on their backs. The driver sat astride the beast's neck while two men, armed with javelins, were in the howdah. The African elephants of the period were a smaller, third species found in northern Africa, and now extinct; they were not the large, intractable wild creatures from sub-Saharan Africa which are familiar to us. The Indian variety first came to the Middle East when Seleucus, one of Alexander the Great's Successors, invaded India in 305BC. As part of the peace treaty between the Seleucid dynasty and the Indian Mauryans, 500 war elephants came to the Seleucids. This corps remained an important part of the Seleucids' army until their defeat by the Romans at Magnesia in 190BC. The subsequent peace saw the forfeiture of all the elephants to the Romans, and the Seleucids were forbidden from breeding any more.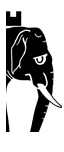 Unit Name

Mercenary Indian War Elephants
Main Unit Key

Mer_Ind_War_Elephants
Land Unit Key

Mer_Ind_War_Elephants
Naval Unit Key

pel_transport
Soldiers

24
Category

Elephants
Class

Elephant
Custom Battle Cost

1500
Recruitment Cost

900
Upkeep Cost

630
40
├ Missile Weapon

rome_composite_bow_elephant
├ Projectile

arrow_composite
├ Missile Damage

36
├ Missile Ap Damage

4
└ Base Reload Time

12
Accuracy

5
Range

150
Reload

15
Shots Per Minute

6
Ammunition

15
Melee Attack

34
60
├ Melee Weapon

tusks
├ Melee Damage Base

30
├ Melee Damage Ap

30
├ Armour Piercing

No
├ Bonus vs. Large

0
├ Bonus vs Elephants

0
└ Bonus vs Infantry

0
Charge Bonus

28
20
├ Base Defence

20
├ Shield

none
└ Shield Defence

0
30
├ Armour

leather
├ Armour Defence

30
└ Shield Armour

0
1005
├ Man Entity

rome_infantry_medium
├ Man Health

40
├ Bonus Hit Points

15
├ Mount

indian_elephant
├ Mount Entity

indian_elephant
└ Mount Health

950
Base Morale

60
Abilities
Mercenary Indian War Elephants
Kill Elephants
Elephant drivers will kill their mounts with spikes. To be used only if they run amok.
Stampede
Charges are more effective for an extended time.
Charge bonus
Exertion: fatigue
Attributes
Mighty Knockback
This unit causes extra damage when it knocks enemies back.
Resistant to Heat
This unit tires less quickly in the desert.
Run Amok
This unit may go crazy if it's under pressure.
Scare (everyone)
This unit frightens all enemy units.
Immune to Fear
This unit is immune to the fear effects of scary units.
Strengths & Weaknesses
Transport
Very poor hull strength
Very slow speed
Weak ramming
Mercenary Indian War Elephants
Very good charge
High damage
Large amount of hit points
Average morale
Empire Divided Mercenaries Pool
Mercenaries Pool

No.
Pool
Province
Region
Initial Unit Count
Chance To Replenish
Max Replenish Per Turn
Max Count
1
rom_province_pool_gedrosia
Gedrosia
Oraea
Phrada
Pura

0
0.75
1
1
2
rom_province_pool_aria
Aria
Amul
Artacoana
Merv

0
0.75
1
1
Grand Campaign Mercenaries Pool
Mercenaries Pool

No.
Pool
Province
Region
Initial Unit Count
Chance To Replenish
Max Replenish Per Turn
Max Count
3
rom_province_pool_gedrosia
Gedrosia
Pura
Oraea

0
0.75
1
1
4
rom_province_pool_arachosia
Arachosia
Alexandria Arachosia
Kapisene

0
0.75
1
1
5
rom_province_pool_aria
Aria
Artacoana
Phrada
Merv

0
0.75
1
1
Faction Mercenaries Pool
Mercenaries Pool
No.
Pool
Faction
Initial Unit Count
Chance To Replenish
Max Replenish Per Turn
Max Count
6
rom_faction_pool_epirus


Epirean Nobles


Epirus

1
0.15
1
2
Athenae
Rome (Empire Divided)
Gortyna
Rome (Empire Divided)
Sparta
Rome (Empire Divided)
Alexandria
Egypt (Empire Divided)
Diospolis
Egypt (Empire Divided)
Memphis
Egypt (Empire Divided)
Myos Hormos
Egypt (Empire Divided)
Aksum
Axum (Empire Divided)
Meroe
Meroe (Empire Divided)
Ptolemais Theron
Blemmyes (Empire Divided)
Carthago
Rome (Empire Divided)
Hadrumentum
Rome (Empire Divided)
Leptis Magna
Rome (Empire Divided)
Macomades
Rome (Empire Divided)
Burdigala
Gallic Rome (Empire Divided)
Gergovia
Gallic Rome (Empire Divided)
Limonum
Gallic Rome (Empire Divided)
Eudaemon
Himyar (Empire Divided)
Maas-gat
Mascat (Empire Divided)
Marib

Saba (Empire Divided)
Adummatu
Lakhmids (Empire Divided)
Gerrha
Gerrhea (Empire Divided)
Yathrib
Ma'In (Empire Divided)
Amul
Margiana (Empire Divided)
Artacoana
Margiana (Empire Divided)
Merv
Margiana (Empire Divided)
Arsamosata
Armenia (Empire Divided)
Artaxa
Armenia (Empire Divided)
Carana
Armenia (Empire Divided)
Tigranocerta
Armenia (Empire Divided)
Ephesus
Lydia (Empire Divided)
Pergamon
Lydia (Empire Divided)
Pessinus
Lydia (Empire Divided)
Rhodos
Lydia (Empire Divided)
Baktria
Baktria (Empire Divided)
Eucratides
Baktria (Empire Divided)
Kapisene
Baktria (Empire Divided)
Corduba
Lusitania (Empire Divided)
Gades
Lusitania (Empire Divided)
Toletum
Hispania Citerior (Empire Divided)
Nemecatum
Gallic Rome (Empire Divided)
Treverorum
Gallic Rome (Empire Divided)
Amaseia
Lydia (Empire Divided)
Nicomedia
Lydia (Empire Divided)
Sinope
Lydia (Empire Divided)
Trapezos
Lydia (Empire Divided)
Panticapaeum
Bosporou (Empire Divided)
Phanagoria
Bosporou (Empire Divided)
Tanais
Bosporou (Empire Divided)
Camulodunum
Britannia (Empire Divided)
Isca
Britannia (Empire Divided)
Mordiunon
Britannia (Empire Divided)
Sleaford
Britannia (Empire Divided)
Bam
The Sassanids (Empire Divided)
Harmozia
The Sassanids (Empire Divided)
Gabala
Ardhan (Empire Divided)
Mtskheta

Kartli (Empire Divided)
Phasis
Colchis (Empire Divided)
Akhur
Dahae (Empire Divided)
Aktau
Dahae (Empire Divided)
Genua
Roman Pretenders (Empire Divided)
Mediolanum
Roman Pretenders (Empire Divided)
Patavium
Roman Pretenders (Empire Divided)
Aleria
Roman Pretenders (Empire Divided)
Caralis
Roman Pretenders (Empire Divided)
Pelendava
Roxolani (Empire Divided)
Petrodava
Gothi (Empire Divided)
Piscul
Roxolani (Empire Divided)
Zarmizegetusa
Rome (Empire Divided)
Ancyra
Galatia (Empire Divided)
Iconium
Galatia (Empire Divided)
Mazaca
Galatia (Empire Divided)
Side
Galatia (Empire Divided)
Bibracte
Gallic Rome (Empire Divided)
Cenabum
Gallic Rome (Empire Divided)
Darioritum
Gallic Rome (Empire Divided)
Iuliobana
Gallic Rome (Empire Divided)
Oraea
Sakastan (Empire Divided)
Phrada
Sakastan (Empire Divided)
Pura
Sakastan (Empire Divided)
Bavay
Gallic Rome (Empire Divided)
Vesonto
Gallic Rome (Empire Divided)
Bergium
Alemanni (Empire Divided)
Budorgis

Marcomanni (Empire Divided)
Istros
Quadi (Empire Divided)
Ibossim
Hispania Citerior (Empire Divided)
Nova Carthago
Hispania Citerior (Empire Divided)
Numantia
Hispania Citerior (Empire Divided)
Saguntum
Hispania Citerior (Empire Divided)
Dyrrachium
Rome (Empire Divided)
Narona
Rome (Empire Divided)
Salona
Rome (Empire Divided)
Beneventum
Roman Pretenders (Empire Divided)
Brundisium
Roman Pretenders (Empire Divided)
Cosentia
Roman Pretenders (Empire Divided)
Jerusalem

Palmyra (Empire Divided)
Salamis

Palmyra (Empire Divided)
Tyros

Palmyra (Empire Divided)
Ariminium
Roman Pretenders (Empire Divided)
Arretium
Roman Pretenders (Empire Divided)
Asculum
Roman Pretenders (Empire Divided)
Roma
Roman Pretenders (Empire Divided)
Ammonium
Egypt (Empire Divided)
Augila
Nasamones (Empire Divided)
Cyrene
Rome (Empire Divided)
Paraitonion
Egypt (Empire Divided)
Arsenium
Vandali (Empire Divided)
Carrodunum
Vandali (Empire Divided)
Grinev
Buri (Empire Divided)
Oblin
Nahanarvali (Empire Divided)
Ebora
Lusitania (Empire Divided)
Olisipo
Lusitania (Empire Divided)
Apollonia
Rome (Empire Divided)
Pharsalus
Rome (Empire Divided)
Thessalonica
Rome (Empire Divided)
Flevium
Franci (Empire Divided)
Treva
Saxoni (Empire Divided)
Tulifurdum
Langobardi (Empire Divided)
Rutubis
Mauri (Empire Divided)
Siga
Mauretania (Empire Divided)
Tingis
Mauretania (Empire Divided)
Arsakia
The Sassanids (Empire Divided)
Ekbatana
Media (Empire Divided)
Gazaca
Media (Empire Divided)
Phraaspa
Media (Empire Divided)
Charax
The Sassanids (Empire Divided)
Ctesiphon
The Sassanids (Empire Divided)
Edessa

Palmyra (Empire Divided)
Hatra
The Sassanids (Empire Divided)
Charmuthas
Nabataea (Empire Divided)
Hegra
Nabataea (Empire Divided)
Petra

Palmyra (Empire Divided)
Massilia
Gallic Rome (Empire Divided)
Narbo
Gallic Rome (Empire Divided)
Tolosa
Gallic Rome (Empire Divided)
Capsa
Numidia (Empire Divided)
Cirta
Numidia (Empire Divided)
Dimmidi
Numidia (Empire Divided)
Iol
Numidia (Empire Divided)
Dura

Palmyra (Empire Divided)
Palmyra

Palmyra (Empire Divided)
Aquincum
Rome (Empire Divided)
Segestica
Rome (Empire Divided)
Singidun
Rome (Empire Divided)
Hekatompylos
The Sassanids (Empire Divided)
Nisa
The Sassanids (Empire Divided)
Susia
The Sassanids (Empire Divided)
Zadrakata
The Sassanids (Empire Divided)
Gor
The Sassanids (Empire Divided)
Persepolis
The Sassanids (Empire Divided)
Susa
The Sassanids (Empire Divided)
Cydamus
Garamantia (Empire Divided)
Garama
Garamantia (Empire Divided)
Eilodon
Caledonii (Empire Divided)
Elbana
Ebdani (Empire Divided)
Stanwick
Britannia (Empire Divided)
Kelheim
Gallic Rome (Empire Divided)
Koria
Gallic Rome (Empire Divided)
Noreia
Rome (Empire Divided)
Octoduris
Gallic Rome (Empire Divided)
Melgunov
Gothi (Empire Divided)
Olbia
Gothi (Empire Divided)
Solokha
Heruli (Empire Divided)
Gelonus
Alani (Empire Divided)
Samandar
Alani (Empire Divided)
Sarai
Iastae (Empire Divided)
Siracena
Alani (Empire Divided)
Agrigentum
Roman Pretenders (Empire Divided)
Panormus
Roman Pretenders (Empire Divided)
Syracuse
Roman Pretenders (Empire Divided)
Calancorum
Semnones (Empire Divided)
Pelplin
Rugii (Empire Divided)
Setidava
Burgundii (Empire Divided)
Virunium
Varini (Empire Divided)
Antioch

Palmyra (Empire Divided)
Samosata

Palmyra (Empire Divided)
Tarsus

Palmyra (Empire Divided)
Thapsacus

Palmyra (Empire Divided)
Aracillum
Hispania Citerior (Empire Divided)
Brigantium
Lusitania (Empire Divided)
Tarraco
Hispania Citerior (Empire Divided)
Terra Incognita
Antheia
Rome (Empire Divided)
Naissos
Rome (Empire Divided)
Odessos
Rome (Empire Divided)
Pulpudeva
Rome (Empire Divided)
Bukhara
Kwarezm (Empire Divided)
Maracanda
Baktria (Empire Divided)
Myos Hormos
Egypt
Memphis
Egypt
Alexandria
Egypt
Diospolis
Egypt
Thapsus
Libya
Macomades
Libya
Lepcis
Libya
Carthago
Carthage
Aksum
Axum
Meroe
Meroe
Ptolemais Theron
Blemmyes
Burdigala
Vivisci
Nemossos
Arverni
Lemonum
Pictones
Eudaemon
Himyar
Maas-gat
Mascat
Marib

Saba
Gerrha
Gerrhaea
Adummatu
Qidri
Yathrib
Ma'in
Alexandria Arachosia
Arachosia
Kapisene
Arachosia
Artacoana
Aria
Phrada
Sagartia
Merv
Aria
Armavir
Armenia
Tushpa
Armenia
Arsamosata
Armenia
Ephesus
Sardes
Pergamon
Pergamon
Pessinus
Sardes
Rhodos
Rhodos
Baktra

Baktria
Eucratideia

Baktria
Kartuba
Turdetani
Gadira
Nova Carthago
Treverorum
Treverii
Nemetocenna

Atrebartes
Nicomedia
Bithynia
Sinope
Pontus
Amaseia
Pontus
Trapezos
Trapezos
Tanais
Cimmeria
Phanagoria
Cimmeria
Panticapaeum
Cimmeria
Eborakon
Brigantes
Camulodunon
Iceni
Moridunon
Demetae
Iska
Dumnonii
Eildon
Caledones
Eblana
Ebdani
Bam
Sagartia
Harmozia

Drangiana
Ibossim
Carthage
Qart Hadasht
Carthage
Numantia
Arevaci
Arse
Edetani
Gabala
Ardhan
Phasis
Colchis
Mtskheta

Kartli
Namnetum

Namnetes
Bibracte

Aedui
Cenabum
Carnutes
Kath
Khorasmii
Amul
Dahae
Tarsus

Seleucid
Salamis
Cyprus
Side
Cyprus
Medhlan
Insubres
Genua
Liguria
Patavium
Veneti
Alalia
Etruscan League
Karalis
Carthage
Petrodava
Bastarnae
Malva

Getae
Zarmizegetusa
Apulii
Mazaca
Cappadocia
Samosata
Cappadocia
Ancyra
Galatia
Iconium
Sardes
Pura

Drangiana
Oraea

Drangiana
Bagacum
Nervii
Vesontio
Sequani
Athenai
Athens
Hierapytna
Knossos
Sparta
Sparta
Casurgis
Boii
Istros
Boii
Delminium
Daorsi
Epidamnos
Ardiaei
Iader
Dalmatae
Velathri
Etruscan League
Roma
Rome
Ariminum
Etruscan League
Neapolis
Rome
Cyrene
Cyrenaica
Paraitonion
Cyrenaica
Augila
Nasamones
Ammonium
Cyrenaica
Ebora
Celtici
Olisipo
Lusitani
Apollonia
Epirus
Pella
Macedon
Larissa
Epirus
Flevum
Frisii
Tulifurdum
Cherusci
Uburzis

Marcomanni
Cosentia
Rome
Brundisium
Rome
Lilybaeum
Carthage
Syracusae
Syracuse
Migdol
Gaetuli
Dimmidi
Masaesyli
Iol
Nova Carthago
Tingis
Nova Carthago
Gazaca
Media Atropatene
Ekbatana
Media Atropatene
Rhaga
Persia
Hatra
Media
Seleucia
Media
Charax
Media
Edessa

Seleucid
Charmuthas
Nabataea
Jerusalem
Egypt
Petra
Egypt
Hegra
Nabataea
Singidun
Scordisci
Segestica
Breuci
Akink
Eravisci
Nisa
Parthia
Zadrakarta
Parthava
Hecatompylos
Parthava
Susia
Parthava
Susa
Persia
Gor
Persia
Persepolis
Persia
Cydamus
Garamantia
Garama
Garamantia
Solokha
Royal Scythia
Samandar
Aorsoi
Olbia
Catiaroi
Siracena

Siraces
Tolosa
Volcae
Massalia
Massilia
Octuduron
Helvetii
Noreia
Nori
Koria
Raeti
Mons Regius
Aestii
Galic
Anartes
Tur
Budini
Gelonus
Roxolani
Sarai
Thyssagetae
Aktau
Massagetae
Belz
Lugii
Budorgis
Lugii
Ascaucalis
Gutones
Alabu
Cimbri
Lupfurdum
Suebi
Rhougion
Rugii
Palmyra

Seleucid
Dura

Seleucid
Tyros

Seleucid
Antioch

Seleucid
Brigantium
Gallaeci
Aracillum
Cantabri
Tarraco
Cessetani
Terra Incognita
Antheia
Tylis
Navissos

Triballi
Odessos

Odrysian Kingdom
Pulpudeva
Macedon
Bukhara

Baktria
Maracanda

Baktria