Home
/
Total War: Rome II
/
Mercenaries
/ Mercenary Thureos Spears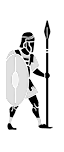 Mercenaries Spear Infantry
Mercenary Thureos Spears
Skirmishing hoplites are good value for money, almost two units for the price of one!
Light Greek infantry, the thureophoroi developed around the early 4th century BC, and straddled the gap between the phalanx and the skirmishing peltasts. Named after the thureos, their large oval shields, they were more heavily armoured than the traditional Thracian and Greek peltast. Able to both skirmish and form up as a phalanx, they were used to guard the flanks and protect other light troops. Their shield, normally made from wood and covered with leather, had a central handgrip that was protected by a vertical spine and a metal boss-like strip, and may have been inspired by Celtic or Roman shields of the time. Like the longer sarissa, the spears used by the thureophoroi had a weighted butt-spike to provide balance, but this also allowed them to throw javelins, if so equipped, by jamming their spears into the ground. Able to fulfil a variety of roles, thureophoroi were common amongst both citizen and mercenary units of the Greek city-states until they were eclipsed by the Macedonian phalanxes of Phillip II and Alexander the Great.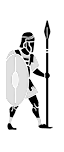 Unit Name

Mercenary Thureos Spears
Main Unit Key

Mer_Gre_Thureos_Spears
Land Unit Key

Mer_Gre_Thureos_Spears
Naval Unit Key

pel_transport
Soldiers

160
Category

Melee Infantry
Class

Spear Infantry
Custom Battle Cost

540
Recruitment Cost

360
Upkeep Cost

270
29
├ Missile Weapon

rome_javelin_light
├ Projectile

javelin_light
├ Missile Damage

20
├ Missile Ap Damage

9
└ Base Reload Time

10
Accuracy

5
Range

80
Reload

0
Shots Per Minute

6
Ammunition

5
Melee Attack

24
25
├ Melee Weapon

rome_spear
├ Melee Damage Base

20
├ Melee Damage Ap

5
├ Armour Piercing

No
├ Bonus vs. Large

20
├ Bonus vs Elephants

20
└ Bonus vs Infantry

0
Charge Bonus

26
55
├ Base Defence

30
├ Shield

thureos
└ Shield Defence

25
65
├ Armour

leather
├ Armour Defence

30
└ Shield Armour

35
50
├ Man Entity

rome_infantry_medium_fast
├ Man Health

40
└ Bonus Hit Points

10
Base Morale

50
Abilities
Mercenary Thureos Spears
Square
The unit moves into a close square formation.
Bracing, morale, melee defence
Can't move
Attributes
Disciplined
This unit does not suffer a morale penalty when the general dies. It can also rally after routing more often.
Formation Attack
The unit will try to stay in formation when in melee.
Hide (forest)
This unit can hide in forests until enemy units get too close.
Strengths & Weaknesses
Transport
Very poor hull strength
Very slow speed
Weak ramming
Mercenary Thureos Spears
Good defensive unit
Low damage but average armour penetration
Average attack
Normal morale
Empire Divided Mercenaries Pool
Grand Campaign Mercenaries Pool
Hannibal at the Gates Mercenaries Pool
Athenae
Rome (Empire Divided)
Gortyna
Rome (Empire Divided)
Sparta
Rome (Empire Divided)
Alexandria
Egypt (Empire Divided)
Diospolis
Egypt (Empire Divided)
Memphis
Egypt (Empire Divided)
Myos Hormos
Egypt (Empire Divided)
Aksum
Axum (Empire Divided)
Meroe
Meroe (Empire Divided)
Ptolemais Theron
Blemmyes (Empire Divided)
Carthago
Rome (Empire Divided)
Hadrumentum
Rome (Empire Divided)
Leptis Magna
Rome (Empire Divided)
Macomades
Rome (Empire Divided)
Burdigala
Gallic Rome (Empire Divided)
Gergovia
Gallic Rome (Empire Divided)
Limonum
Gallic Rome (Empire Divided)
Eudaemon
Himyar (Empire Divided)
Maas-gat
Mascat (Empire Divided)
Marib

Saba (Empire Divided)
Adummatu
Lakhmids (Empire Divided)
Gerrha
Gerrhea (Empire Divided)
Yathrib
Ma'In (Empire Divided)
Amul
Margiana (Empire Divided)
Artacoana
Margiana (Empire Divided)
Merv
Margiana (Empire Divided)
Arsamosata
Armenia (Empire Divided)
Artaxa
Armenia (Empire Divided)
Carana
Armenia (Empire Divided)
Tigranocerta
Armenia (Empire Divided)
Ephesus
Lydia (Empire Divided)
Pergamon
Lydia (Empire Divided)
Pessinus
Lydia (Empire Divided)
Rhodos
Lydia (Empire Divided)
Baktria
Baktria (Empire Divided)
Eucratides
Baktria (Empire Divided)
Kapisene
Baktria (Empire Divided)
Corduba
Lusitania (Empire Divided)
Gades
Lusitania (Empire Divided)
Toletum
Hispania Citerior (Empire Divided)
Nemecatum
Gallic Rome (Empire Divided)
Treverorum
Gallic Rome (Empire Divided)
Amaseia
Lydia (Empire Divided)
Nicomedia
Lydia (Empire Divided)
Sinope
Lydia (Empire Divided)
Trapezos
Lydia (Empire Divided)
Panticapaeum
Bosporou (Empire Divided)
Phanagoria
Bosporou (Empire Divided)
Tanais
Bosporou (Empire Divided)
Camulodunum
Britannia (Empire Divided)
Isca
Britannia (Empire Divided)
Mordiunon
Britannia (Empire Divided)
Sleaford
Britannia (Empire Divided)
Bam
The Sassanids (Empire Divided)
Harmozia
The Sassanids (Empire Divided)
Gabala
Ardhan (Empire Divided)
Mtskheta

Kartli (Empire Divided)
Phasis
Colchis (Empire Divided)
Akhur
Dahae (Empire Divided)
Aktau
Dahae (Empire Divided)
Genua
Roman Pretenders (Empire Divided)
Mediolanum
Roman Pretenders (Empire Divided)
Patavium
Roman Pretenders (Empire Divided)
Aleria
Roman Pretenders (Empire Divided)
Caralis
Roman Pretenders (Empire Divided)
Pelendava
Roxolani (Empire Divided)
Petrodava
Gothi (Empire Divided)
Piscul
Roxolani (Empire Divided)
Zarmizegetusa
Rome (Empire Divided)
Ancyra
Galatia (Empire Divided)
Iconium
Galatia (Empire Divided)
Mazaca
Galatia (Empire Divided)
Side
Galatia (Empire Divided)
Bibracte
Gallic Rome (Empire Divided)
Cenabum
Gallic Rome (Empire Divided)
Darioritum
Gallic Rome (Empire Divided)
Iuliobana
Gallic Rome (Empire Divided)
Oraea
Sakastan (Empire Divided)
Phrada
Sakastan (Empire Divided)
Pura
Sakastan (Empire Divided)
Bavay
Gallic Rome (Empire Divided)
Vesonto
Gallic Rome (Empire Divided)
Bergium
Alemanni (Empire Divided)
Budorgis

Marcomanni (Empire Divided)
Istros
Quadi (Empire Divided)
Ibossim
Hispania Citerior (Empire Divided)
Nova Carthago
Hispania Citerior (Empire Divided)
Numantia
Hispania Citerior (Empire Divided)
Saguntum
Hispania Citerior (Empire Divided)
Dyrrachium
Rome (Empire Divided)
Narona
Rome (Empire Divided)
Salona
Rome (Empire Divided)
Beneventum
Roman Pretenders (Empire Divided)
Brundisium
Roman Pretenders (Empire Divided)
Cosentia
Roman Pretenders (Empire Divided)
Jerusalem

Palmyra (Empire Divided)
Salamis

Palmyra (Empire Divided)
Tyros

Palmyra (Empire Divided)
Ariminium
Roman Pretenders (Empire Divided)
Arretium
Roman Pretenders (Empire Divided)
Asculum
Roman Pretenders (Empire Divided)
Roma
Roman Pretenders (Empire Divided)
Ammonium
Egypt (Empire Divided)
Augila
Nasamones (Empire Divided)
Cyrene
Rome (Empire Divided)
Paraitonion
Egypt (Empire Divided)
Arsenium
Vandali (Empire Divided)
Carrodunum
Vandali (Empire Divided)
Grinev
Buri (Empire Divided)
Oblin
Nahanarvali (Empire Divided)
Ebora
Lusitania (Empire Divided)
Olisipo
Lusitania (Empire Divided)
Apollonia
Rome (Empire Divided)
Pharsalus
Rome (Empire Divided)
Thessalonica
Rome (Empire Divided)
Flevium
Franci (Empire Divided)
Treva
Saxoni (Empire Divided)
Tulifurdum
Langobardi (Empire Divided)
Rutubis
Mauri (Empire Divided)
Siga
Mauretania (Empire Divided)
Tingis
Mauretania (Empire Divided)
Arsakia
The Sassanids (Empire Divided)
Ekbatana
Media (Empire Divided)
Gazaca
Media (Empire Divided)
Phraaspa
Media (Empire Divided)
Charax
The Sassanids (Empire Divided)
Ctesiphon
The Sassanids (Empire Divided)
Edessa

Palmyra (Empire Divided)
Hatra
The Sassanids (Empire Divided)
Charmuthas
Nabataea (Empire Divided)
Hegra
Nabataea (Empire Divided)
Petra

Palmyra (Empire Divided)
Massilia
Gallic Rome (Empire Divided)
Narbo
Gallic Rome (Empire Divided)
Tolosa
Gallic Rome (Empire Divided)
Capsa
Numidia (Empire Divided)
Cirta
Numidia (Empire Divided)
Dimmidi
Numidia (Empire Divided)
Iol
Numidia (Empire Divided)
Dura

Palmyra (Empire Divided)
Palmyra

Palmyra (Empire Divided)
Aquincum
Rome (Empire Divided)
Segestica
Rome (Empire Divided)
Singidun
Rome (Empire Divided)
Hekatompylos
The Sassanids (Empire Divided)
Nisa
The Sassanids (Empire Divided)
Susia
The Sassanids (Empire Divided)
Zadrakata
The Sassanids (Empire Divided)
Gor
The Sassanids (Empire Divided)
Persepolis
The Sassanids (Empire Divided)
Susa
The Sassanids (Empire Divided)
Cydamus
Garamantia (Empire Divided)
Garama
Garamantia (Empire Divided)
Eilodon
Caledonii (Empire Divided)
Elbana
Ebdani (Empire Divided)
Stanwick
Britannia (Empire Divided)
Kelheim
Gallic Rome (Empire Divided)
Koria
Gallic Rome (Empire Divided)
Noreia
Rome (Empire Divided)
Octoduris
Gallic Rome (Empire Divided)
Melgunov
Gothi (Empire Divided)
Olbia
Gothi (Empire Divided)
Solokha
Heruli (Empire Divided)
Gelonus
Alani (Empire Divided)
Samandar
Alani (Empire Divided)
Sarai
Iastae (Empire Divided)
Siracena
Alani (Empire Divided)
Agrigentum
Roman Pretenders (Empire Divided)
Panormus
Roman Pretenders (Empire Divided)
Syracuse
Roman Pretenders (Empire Divided)
Calancorum
Semnones (Empire Divided)
Pelplin
Rugii (Empire Divided)
Setidava
Burgundii (Empire Divided)
Virunium
Varini (Empire Divided)
Antioch

Palmyra (Empire Divided)
Samosata

Palmyra (Empire Divided)
Tarsus

Palmyra (Empire Divided)
Thapsacus

Palmyra (Empire Divided)
Aracillum
Hispania Citerior (Empire Divided)
Brigantium
Lusitania (Empire Divided)
Tarraco
Hispania Citerior (Empire Divided)
Terra Incognita
Antheia
Rome (Empire Divided)
Naissos
Rome (Empire Divided)
Odessos
Rome (Empire Divided)
Pulpudeva
Rome (Empire Divided)
Bukhara
Kwarezm (Empire Divided)
Maracanda
Baktria (Empire Divided)
Myos Hormos
Egypt
Memphis
Egypt
Alexandria
Egypt
Diospolis
Egypt
Thapsus
Libya
Macomades
Libya
Lepcis
Libya
Carthago
Carthage
Aksum
Axum
Meroe
Meroe
Ptolemais Theron
Blemmyes
Burdigala
Vivisci
Nemossos
Arverni
Lemonum
Pictones
Eudaemon
Himyar
Maas-gat
Mascat
Marib

Saba
Gerrha
Gerrhaea
Adummatu
Qidri
Yathrib
Ma'in
Alexandria Arachosia
Arachosia
Kapisene
Arachosia
Artacoana
Aria
Phrada
Sagartia
Merv
Aria
Armavir
Armenia
Tushpa
Armenia
Arsamosata
Armenia
Ephesus
Sardes
Pergamon
Pergamon
Pessinus
Sardes
Rhodos
Rhodos
Baktra

Baktria
Eucratideia

Baktria
Kartuba
Turdetani
Gadira
Nova Carthago
Treverorum
Treverii
Nemetocenna

Atrebartes
Nicomedia
Bithynia
Sinope
Pontus
Amaseia
Pontus
Trapezos
Trapezos
Tanais
Cimmeria
Phanagoria
Cimmeria
Panticapaeum
Cimmeria
Eborakon
Brigantes
Camulodunon
Iceni
Moridunon
Demetae
Iska
Dumnonii
Eildon
Caledones
Eblana
Ebdani
Bam
Sagartia
Harmozia

Drangiana
Ibossim
Carthage
Qart Hadasht
Carthage
Numantia
Arevaci
Arse
Edetani
Gabala
Ardhan
Phasis
Colchis
Mtskheta

Kartli
Namnetum

Namnetes
Bibracte

Aedui
Cenabum
Carnutes
Kath
Khorasmii
Amul
Dahae
Tarsus

Seleucid
Salamis
Cyprus
Side
Cyprus
Medhlan
Insubres
Genua
Liguria
Patavium
Veneti
Alalia
Etruscan League
Karalis
Carthage
Petrodava
Bastarnae
Malva

Getae
Zarmizegetusa
Apulii
Mazaca
Cappadocia
Samosata
Cappadocia
Ancyra
Galatia
Iconium
Sardes
Pura

Drangiana
Oraea

Drangiana
Bagacum
Nervii
Vesontio
Sequani
Athenai
Athens
Hierapytna
Knossos
Sparta
Sparta
Casurgis
Boii
Istros
Boii
Delminium
Daorsi
Epidamnos
Ardiaei
Iader
Dalmatae
Velathri
Etruscan League
Roma
Rome
Ariminum
Etruscan League
Neapolis
Rome
Cyrene
Cyrenaica
Paraitonion
Cyrenaica
Augila
Nasamones
Ammonium
Cyrenaica
Ebora
Celtici
Olisipo
Lusitani
Apollonia
Epirus
Pella
Macedon
Larissa
Epirus
Flevum
Frisii
Tulifurdum
Cherusci
Uburzis

Marcomanni
Cosentia
Rome
Brundisium
Rome
Lilybaeum
Carthage
Syracusae
Syracuse
Migdol
Gaetuli
Dimmidi
Masaesyli
Iol
Nova Carthago
Tingis
Nova Carthago
Gazaca
Media Atropatene
Ekbatana
Media Atropatene
Rhaga
Persia
Hatra
Media
Seleucia
Media
Charax
Media
Edessa

Seleucid
Charmuthas
Nabataea
Jerusalem
Egypt
Petra
Egypt
Hegra
Nabataea
Singidun
Scordisci
Segestica
Breuci
Akink
Eravisci
Nisa
Parthia
Zadrakarta
Parthava
Hecatompylos
Parthava
Susia
Parthava
Susa
Persia
Gor
Persia
Persepolis
Persia
Cydamus
Garamantia
Garama
Garamantia
Solokha
Royal Scythia
Samandar
Aorsoi
Olbia
Catiaroi
Siracena

Siraces
Tolosa
Volcae
Massalia
Massilia
Octuduron
Helvetii
Noreia
Nori
Koria
Raeti
Mons Regius
Aestii
Galic
Anartes
Tur
Budini
Gelonus
Roxolani
Sarai
Thyssagetae
Aktau
Massagetae
Belz
Lugii
Budorgis
Lugii
Ascaucalis
Gutones
Alabu
Cimbri
Lupfurdum
Suebi
Rhougion
Rugii
Palmyra

Seleucid
Dura

Seleucid
Tyros

Seleucid
Antioch

Seleucid
Brigantium
Gallaeci
Aracillum
Cantabri
Tarraco
Cessetani
Terra Incognita
Antheia
Tylis
Navissos

Triballi
Odessos

Odrysian Kingdom
Pulpudeva
Macedon
Bukhara

Baktria
Maracanda

Baktria
Capsa
Massyli (Hannibal at the Gates)
Carthago
Carthage (Hannibal at the Gates)
Hadrumentum
Carthage (Hannibal at the Gates)
Burdigala
Tarbelli (Hannibal at the Gates)
Iruna
Vascones (Hannibal at the Gates)
Libisosa
Oretani (Hannibal at the Gates)
Numantia
Arevaci (Hannibal at the Gates)
Toletum
Carpetani (Hannibal at the Gates)
Alalia
Rome (Hannibal at the Gates)
Karalis
Rome (Hannibal at the Gates)
Olbia
Rome (Hannibal at the Gates)
Arretium
Etruscan League (Hannibal at the Gates)
Pisae
Rome (Hannibal at the Gates)
Tarquinii
Etruscan League (Hannibal at the Gates)
Asturica
Astures (Hannibal at the Gates)
Lugos
Gallaeci (Hannibal at the Gates)
Pallantia
Vaccaei (Hannibal at the Gates)
Portus Amanum
Cantabri (Hannibal at the Gates)
Genua
Liguria (Hannibal at the Gates)
Patavium
Veneti (Hannibal at the Gates)
Placentia
Boii (Hannibal at the Gates)
Vercellae
Insubres (Hannibal at the Gates)
Lugdunum
Allobroges (Hannibal at the Gates)
Massilia
Massilia (Hannibal at the Gates)
Nemausus
Volcae (Hannibal at the Gates)
Tolosa
Volcae (Hannibal at the Gates)
Cissis
Cessetani (Hannibal at the Gates)
Emporiae
Emporion (Hannibal at the Gates)
Ilerda
Illergetes (Hannibal at the Gates)
Salduba
Illercavones (Hannibal at the Gates)
Carthago Nova
Carthage (Hannibal at the Gates)
Ibossim
Carthage (Hannibal at the Gates)
Ilici
Carthage (Hannibal at the Gates)
Saguntum
Carthage (Hannibal at the Gates)
Capua
Rome (Hannibal at the Gates)
Roma
Rome (Hannibal at the Gates)
Tarracina
Rome (Hannibal at the Gates)
Ebora
Celtici (Hannibal at the Gates)
Helmantica
Vettones (Hannibal at the Gates)
Olisipo
Lusitani (Hannibal at the Gates)
Buxentum
Samnites (Hannibal at the Gates)
Croton
Rome (Hannibal at the Gates)
Tarentum
Rome (Hannibal at the Gates)
Thurii
Rome (Hannibal at the Gates)
Rutubis
Gaetuli (Hannibal at the Gates)
Siga
Masaesyli (Hannibal at the Gates)
Tingis
Carthage (Hannibal at the Gates)
Volubilis
Mauri (Hannibal at the Gates)
Cirta
Massyli (Hannibal at the Gates)
Hippo Regius
Carthage (Hannibal at the Gates)
Iol
Carthage (Hannibal at the Gates)
Sitifi
Masaesyli (Hannibal at the Gates)
Barium
Samnites (Hannibal at the Gates)
Beneventum
Samnites (Hannibal at the Gates)
Sipontum
Samnites (Hannibal at the Gates)
Lilybaeum
Rome (Hannibal at the Gates)
Messana
Rome (Hannibal at the Gates)
Syracuse
Syracuse (Hannibal at the Gates)
Terra Incognita
Leptis Magna
Libya (Hannibal at the Gates)
Tacapae
Libya (Hannibal at the Gates)
Thenteos
Garamantia (Hannibal at the Gates)
Turris Tamalleni
Garamantia (Hannibal at the Gates)
Gades
Carthage (Hannibal at the Gates)
Kartuba
Turdetani (Hannibal at the Gates)
Ancona
Rome (Hannibal at the Gates)
Corfinium
Rome (Hannibal at the Gates)
Pisaurum
Rome (Hannibal at the Gates)
Spoletium
Etruscan League (Hannibal at the Gates)