Home
/
Total War: Rome II
/
Mercenaries
/ Mercenary Gallic Hunters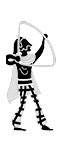 Mercenaries Missile Infantry
Mercenary Gallic Hunters
The hunting of other men often carries the greatest of rewards.
As far as the Celts were concerned, the best way to kill a man was in hand-to-hand combat. The Celts thought there was great value in personal bravery and there was no honour in killing from a distance. Even so, slingers, javelinmen and archers still had their place on the battlefield. It was often the only way that some Celts could go to war: Celtic warriors paid for their own equipment, so only the wealthy could afford, or had the right to carry, fine armour and weapons. Skirmishers were usually the poor: freemen who served as clients to the noble class. While they could never hope to achieve the same status as their noble masters, they could still prove their worth in the cut and thrust of battle.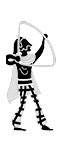 Unit Name

Mercenary Gallic Hunters
Main Unit Key

Mer_Gal_Gallic_Hunters
Land Unit Key

Mer_Gal_Gallic_Hunters
Naval Unit Key

barbarian_transport
Soldiers

120
Category

Missile Infantry
Class

Missile Infantry
Custom Battle Cost

450
Recruitment Cost

380
Upkeep Cost

270
35
├ Missile Weapon

rome_bow_long
├ Projectile

arrow_normal_long
├ Missile Damage

31
├ Missile Ap Damage

4
└ Base Reload Time

12
Accuracy

5
Range

150
Reload

30
Shots Per Minute

7
Ammunition

15
Melee Attack

17
24
├ Melee Weapon

rome_shortsword
├ Melee Damage Base

20
├ Melee Damage Ap

4
├ Armour Piercing

No
├ Bonus vs. Large

0
├ Bonus vs Elephants

0
└ Bonus vs Infantry

0
Charge Bonus

5
15
├ Base Defence

15
├ Shield

none
└ Shield Defence

0
10
├ Armour

cloth
├ Armour Defence

10
└ Shield Armour

0
45
├ Man Entity

rome_infantry_very_light
├ Man Health

40
└ Bonus Hit Points

5
Base Morale

40
Abilities
Mercenary Gallic Hunters
Quick Reload
Improved reloading for an extended time.
Shots per minute
Exertion: fatigue
Attributes
Resistant to Fatigue
Fatigue has less of an effect on this unit.
Guerrilla Deployment
This unit can deploy outside of the deployment zone.
Snipe
This unit remains hidden while firing.
Stalk
This unit can move hidden in any terrain.
Strengths & Weaknesses
Transport
Very poor hull strength
Very slow speed
Weak ramming
Mercenary Gallic Hunters
Long range
Average rate of fire
Good damage but low armour penetration
Very weak in melee
Very poor morale
Caesar in Gaul Mercenaries Pool
Hannibal at the Gates Mercenaries Pool
Mercenaries Pool

No.
Pool
Province
Region
Initial Unit Count
Chance To Replenish
Max Replenish Per Turn
Max Count
6
pun_province_pool_gallia_transalpina
Gallia Transalpina
Lugdunum
Massilia
Nemausus
Tolosa

2
0.3
1
3
Faction Mercenaries Pool
Mercenaries Pool
No.
Pool
Faction
Initial Unit Count
Chance To Replenish
Max Replenish Per Turn
Max Count
7
gaul_faction_pool_gallic
1
0.15
1
3
Aquae Tarbellicae
Tarbelli (Caesar in Gaul)
Burdigala
Vivisci (Caesar in Gaul)
Elimberris
Ausci (Caesar in Gaul)
Sotium
Sotiates (Caesar in Gaul)
Divoduron
Mediomatrici (Caesar in Gaul)
Durocorteron
Remi (Caesar in Gaul)
Noviodunon
Suessiones (Caesar in Gaul)
Treverorum
Treverii (Caesar in Gaul)
Condate
Redones (Caesar in Gaul)
Darioritum
Veneti (Caesar in Gaul)
Namnetum

Namnetes (Caesar in Gaul)
Vorgion
Osismii (Caesar in Gaul)
Durovernon
Cantiaci (Caesar in Gaul)
Iska
Dumnonii (Caesar in Gaul)
Venta Belgarum
Belgae (Caesar in Gaul)
Avaricon
Bituriges (Caesar in Gaul)
Durotincon
Lemovices (Caesar in Gaul)
Nemossos
Arverni (Caesar in Gaul)
Atuatuca
Eburones (Caesar in Gaul)
Bagacum
Nervii (Caesar in Gaul)
Octoduron
Helvetii (Caesar in Gaul)
Turicum
Tulingi (Caesar in Gaul)
Medhlan
Rome (Caesar in Gaul)
Vercelum
Rome (Caesar in Gaul)
Genua
Rome (Caesar in Gaul)
Pollentia
Rome (Caesar in Gaul)
Bibracte

Aedui (Caesar in Gaul)
Vienna
Allobroges (Caesar in Gaul)
Cenabum
Carnutes (Caesar in Gaul)
Crociatonum
Unelli (Caesar in Gaul)
Lexovion
Lexovii (Caesar in Gaul)
Suindinum
Cenomani (Caesar in Gaul)
Rauricon
Suebi (Caesar in Gaul)
Vesontio
Sequani (Caesar in Gaul)
Divona
Cadurci (Caesar in Gaul)
Narbo Martius
Rome (Caesar in Gaul)
Segodunum
Ruteni (Caesar in Gaul)
Tolosa
Volcae (Caesar in Gaul)
Ambatia
Turones (Caesar in Gaul)
Lemonum
Pictones (Caesar in Gaul)
Mediolanum Santonum
Santones (Caesar in Gaul)
Agedincum
Senones (Caesar in Gaul)
Alesia
Mandubii (Caesar in Gaul)
Lutetia
Parisii (Caesar in Gaul)
Bratuspantion
Bellovaci (Caesar in Gaul)
Gesoriacum
Morini (Caesar in Gaul)
Nemetocenna

Atrebates (Caesar in Gaul)
Argentorate

Vangiones (Caesar in Gaul)
Noviiomagos
Nemetes (Caesar in Gaul)
Uburzis
Suebi (Caesar in Gaul)
Terra Incognita
Massalia
Massilia (Caesar in Gaul)
Vasio
Vocontii (Caesar in Gaul)
Capsa
Massyli (Hannibal at the Gates)
Carthago
Carthage (Hannibal at the Gates)
Hadrumentum
Carthage (Hannibal at the Gates)
Burdigala
Tarbelli (Hannibal at the Gates)
Iruna
Vascones (Hannibal at the Gates)
Libisosa
Oretani (Hannibal at the Gates)
Numantia
Arevaci (Hannibal at the Gates)
Toletum
Carpetani (Hannibal at the Gates)
Alalia
Rome (Hannibal at the Gates)
Karalis
Rome (Hannibal at the Gates)
Olbia
Rome (Hannibal at the Gates)
Arretium
Etruscan League (Hannibal at the Gates)
Pisae
Rome (Hannibal at the Gates)
Tarquinii
Etruscan League (Hannibal at the Gates)
Asturica
Astures (Hannibal at the Gates)
Lugos
Gallaeci (Hannibal at the Gates)
Pallantia
Vaccaei (Hannibal at the Gates)
Portus Amanum
Cantabri (Hannibal at the Gates)
Genua
Liguria (Hannibal at the Gates)
Patavium
Veneti (Hannibal at the Gates)
Placentia
Boii (Hannibal at the Gates)
Vercellae
Insubres (Hannibal at the Gates)
Lugdunum
Allobroges (Hannibal at the Gates)
Massilia
Massilia (Hannibal at the Gates)
Nemausus
Volcae (Hannibal at the Gates)
Tolosa
Volcae (Hannibal at the Gates)
Cissis
Cessetani (Hannibal at the Gates)
Emporiae
Emporion (Hannibal at the Gates)
Ilerda
Illergetes (Hannibal at the Gates)
Salduba
Illercavones (Hannibal at the Gates)
Carthago Nova
Carthage (Hannibal at the Gates)
Ibossim
Carthage (Hannibal at the Gates)
Ilici
Carthage (Hannibal at the Gates)
Saguntum
Carthage (Hannibal at the Gates)
Capua
Rome (Hannibal at the Gates)
Roma
Rome (Hannibal at the Gates)
Tarracina
Rome (Hannibal at the Gates)
Ebora
Celtici (Hannibal at the Gates)
Helmantica
Vettones (Hannibal at the Gates)
Olisipo
Lusitani (Hannibal at the Gates)
Buxentum
Samnites (Hannibal at the Gates)
Croton
Rome (Hannibal at the Gates)
Tarentum
Rome (Hannibal at the Gates)
Thurii
Rome (Hannibal at the Gates)
Rutubis
Gaetuli (Hannibal at the Gates)
Siga
Masaesyli (Hannibal at the Gates)
Tingis
Carthage (Hannibal at the Gates)
Volubilis
Mauri (Hannibal at the Gates)
Cirta
Massyli (Hannibal at the Gates)
Hippo Regius
Carthage (Hannibal at the Gates)
Iol
Carthage (Hannibal at the Gates)
Sitifi
Masaesyli (Hannibal at the Gates)
Barium
Samnites (Hannibal at the Gates)
Beneventum
Samnites (Hannibal at the Gates)
Sipontum
Samnites (Hannibal at the Gates)
Lilybaeum
Rome (Hannibal at the Gates)
Messana
Rome (Hannibal at the Gates)
Syracuse
Syracuse (Hannibal at the Gates)
Terra Incognita
Leptis Magna
Libya (Hannibal at the Gates)
Tacapae
Libya (Hannibal at the Gates)
Thenteos
Garamantia (Hannibal at the Gates)
Turris Tamalleni
Garamantia (Hannibal at the Gates)
Gades
Carthage (Hannibal at the Gates)
Kartuba
Turdetani (Hannibal at the Gates)
Ancona
Rome (Hannibal at the Gates)
Corfinium
Rome (Hannibal at the Gates)
Pisaurum
Rome (Hannibal at the Gates)
Spoletium
Etruscan League (Hannibal at the Gates)