Home
/
Divide et Impera
/
Markamannoz (Imperator Augustus)
/
Units
/ Raumarici Slaganz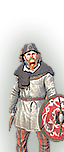 Markamannoz (Imperator Augustus) Melee Infantry
Raumarici Slaganz
(Scandinavian Club Infantry)

The Raumarici are a Germanic tribe from the area of Romerike near Oslo. Germanic warriors are typically able to make effective arms quickly from any readily available materials. By shaping heavy boughs of oak and inserting bone spikes, these clubs can be used to maim both armoured and unarmoured foes alike.
The desire for honour in battle within Germanic society was so strong that some men were not considered worthy of their tribe, or even their parents, until they had spilt the blood of an enemy. The young warriors of the Chatti tribe were unique in this respect, growing their hair and beards until they claimed their first kill in battle. As a result, unkempt facial hair was seen as the mark of men yet to prove their worth, or cowardice. It is said, however, that the bravest Chatti grew enamoured with their lengthy beards and, even when white with age, and having claimed many kills, wore them with defiance. Typically, these men often led the first charge during a battle.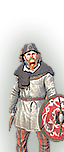 Unit Name

Raumarici Slaganz
Main Unit Key

Ger_scandinavian_clubmen
Land Unit Key

Ger_scandinavian_clubmen
Naval Unit Key

barbarian_transport
Soldiers

300
Category

Melee Infantry
Class

Melee Infantry
Custom Battle Cost

680
Recruitment Cost

680
Upkeep Cost

136
11
├ Missile Weapon

prec1
├ Projectile

prec1
├ Missile Damage

11
├ Missile Ap Damage

0
└ Base Reload Time

10
Accuracy

5
Range

80
Reload

0
Shots Per Minute

6
Ammunition

2
Melee Attack

30
11
├ Melee Weapon

mace2
├ Weapon Damage

11
├ Weapon Deadliness

0
├ Armour Piercing

Yes
├ Bonus vs. Cavalry

0
├ Bonus vs. Elephants

0
└ Bonus vs Infantry

0
Charge Bonus

13
56
├ Base Defence

15
├ Shield

shield4
└ Shield Defence

41
6
├ Armour

arm3
├ Armour Defence

6
└ Shield Armour

0
20
├ Man Entity

medium_light
├ Man Health

20
└ Bonus Hit Points

0
Base Morale

45
Abilities
Raumarici Slaganz
Stamina (average)
Governs how fast the unit tires and restores fatigue, and is dependent on type of unit, weight and approach to combat.
Attributes
Hide (forest)
This unit can hide in forests until enemy units get too close.
Resistant to Cold
This unit tires less quickly in snow.
Strengths & Weaknesses
Transport
Very poor hull strength
Very slow speed
Weak ramming
Raumarici Slaganz
Average attack
Weak defence
Average damage but low armour penetration
Poor morale
Recuitment Requirement
Unit Resouces
DEI_Cimbri
Requires Buildings
Lv. 0

Meeting Ground
(rom_BARBARIAN_artisans_major_bronze_2)
Level 1

Proving Grounds
(rom_BARBARIAN_artisans_major_bronze_3)
Level 2

Lv. 1

Hall of Champions
(rom_BARBARIAN_artisans_major_bronze_4)
Level 3
Faction Availability
Grand Campaign
Caesar in Gaul
Imperator Augustus