Home
/
Divide et Impera
/
Markamannoz (Imperator Augustus)
/
Units
/ Gautoz Ridanz Frijaz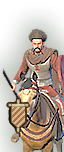 Markamannoz (Imperator Augustus) Melee Cavalry
Gautoz Ridanz Frijaz
(Scandinavian Light Cavalry)

The Gautoz live in southern Sweden, today's Götaland. These Germanic horsemen use neither saddles, nor stirrups: inventions which would later be introduced by invading peoples from the east. When combined with light infantry, these light cavalrymen offer great tactical speed and versatility on the battlefield.
The lack of strong, fast mounts in northern Europe restricted the Germans' ability to build cavalry forces. Horses were expensive to keep and, given the size and strength of the typical German tribesman, he was more suited to life as an infantryman. Even so, there were a number of tribes that became renowned for their expertise as horsemen; the Usipi and, in particular, the Tencteri tribes, who dwelt on the east of the river Rhine, possessed much-admired cavalrymen. The Tencteri had a strong tradition: their children were raised playing with horses, which were well-respected and treasured possessions. The horse was always inherited by the strongest, most warlike man within a family, helping to create a strong cavalry presence within the tribe. German light cavalry often attacked in a circular motion, throwing javelins before stabbing at close quarters with spears and wheeling to the right. By attacking in a circle, no single man ever led or brought up the rear and, as the attack rotated, each man in turn came into contact with the enemy.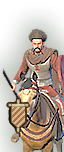 Unit Name

Gautoz Ridanz Frijaz
Main Unit Key

AOR_79_Ger_scandinavian_horsemen
Land Unit Key

AOR_79_Ger_scandinavian_horsemen
Naval Unit Key

barbarian_transport_small
Soldiers

120
Category

Cavalry
Class

Melee Cavalry
Custom Battle Cost

1149
Recruitment Cost

1149
Upkeep Cost

230
16
├ Missile Weapon

prec3
├ Projectile

prec3
├ Missile Damage

14
├ Missile Ap Damage

2
└ Base Reload Time

10
Accuracy

5
Range

75
Reload

0
Shots Per Minute

6
Ammunition

1
Melee Attack

18
9
├ Melee Weapon

cspear2
├ Weapon Damage

9
├ Weapon Deadliness

0
├ Armour Piercing

No
├ Bonus vs. Cavalry

1
├ Bonus vs. Elephants

1
└ Bonus vs Infantry

0
Charge Bonus

20
43
├ Base Defence

12
├ Shield

cshield3
└ Shield Defence

31
6
├ Armour

carm2
├ Armour Defence

6
└ Shield Armour

0
20
├ Man Entity

medium_light
├ Man Health

20
├ Bonus Hit Points

0
├ Mount

rome_celtic_horse_spear_shield_m
├ Mount Entity

rome_horse_medium_spr
└ Mount Health

0
Base Morale

35
Abilities
Gautoz Ridanz Frijaz
Stamina (good)
Governs how fast the unit tires and restores fatigue, and is dependent on type of unit, weight and approach to combat.
Flying Wedge
The unit assumes a wedge formation that increases charge speed and bonus
Attributes
Fire Whilst Moving
This unit can fire when mounted and moving.
Campaign Stealth
This unit can move around the campaign map without being seen.
Guerrilla Deployment
This unit can deploy outside of the deployment zone.
Hide (forest)
This unit can hide in forests until enemy units get too close.
Resistant to Cold
This unit tires less quickly in snow.
Stalk
This unit can move hidden in any terrain.
Strengths & Weaknesses
Light Transport
Very poor hull strength
Very slow speed
Weak ramming
Gautoz Ridanz Frijaz
Good attack
Average defence
Low damage but average armour penetration
Average morale
Recuitment Requirement
Unit Resouces
DEI_Cimbri
Requires Buildings
Lv. 0

Barbarian Hamlet (Fish)
(rom_BARBARIAN_city_minor_fish_1)
Level 0

Barbarian Village (Fish)
(rom_BARBARIAN_city_minor_fish_2)
Level 1

Barbarian Town (Fish)
(rom_BARBARIAN_city_minor_fish_3)
Level 2

Barbarian Pagus (Fish)
(rom_BARBARIAN_city_minor_fish_4)
Level 3
Faction Availability
Grand Campaign
Samnite Wars
Caesar in Gaul
Hannibal at the Gates
Imperator Augustus