Home
/
Divide et Impera
/
Markamannoz (Imperator Augustus)
/
Units
/ Sikeliotai Pantodapoi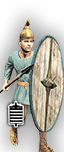 Markamannoz (Imperator Augustus) Spear Infantry
Sikeliotai Pantodapoi
(Syracusan Colonist Levies)

The heritage of the citizen-soldier runs deep in all Greeks, no matter what their home.
Hoplites date back to the wars between the Greek city-states in the 8th and 7th centuries BC. During the Greco-Persian Wars most hoplites wore a Corinthian-style bronze helm, and a cuirass of bronze or stiffened linen or canvas. They were armed with a short sword and an iron-tipped spear with a bronze counterbalance butt-spike. Hoplites were named, though, after the round hoplon shield they carried. The hoplon-and-spear combination required them to fight as a phalanx, a block of spearmen some eight ranks deep. When closed up, each man would find shelter behind the shield of his neighbour, creating a wall of bristling spear-points. While all hoplites were originally citizen-soldiers, full-time mercenaries took over and became the standard fighting unit of the Greek world. Later, under Phillip II of Macedon and Alexander the Great, the shield became smaller, while the spear developed into the five metre sarissa pike. Many armies adopted the phalanx of hoplites as a tactical unit because it was very successful in battle.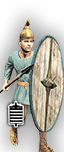 Unit Name

Sikeliotai Pantodapoi
Main Unit Key

AOR_10_Greek_Colonist_Levies
Land Unit Key

AOR_10_Greek_Colonist_Levies
Naval Unit Key

pel_transport
Soldiers

300
Category

Melee Infantry
Class

Spear Infantry
Custom Battle Cost

562
Recruitment Cost

562
Upkeep Cost

112
Melee Attack

26
9
├ Melee Weapon

spear1
├ Weapon Damage

9
├ Weapon Deadliness

0
├ Armour Piercing

No
├ Bonus vs. Cavalry

3
├ Bonus vs. Elephants

10
└ Bonus vs Infantry

0
Charge Bonus

11
66
├ Base Defence

14
├ Shield

shield5
└ Shield Defence

52
4
├ Armour

arm2
├ Armour Defence

4
└ Shield Armour

0
20
├ Man Entity

light_medium
├ Man Health

20
└ Bonus Hit Points

0
Base Morale

30
Abilities
Sikeliotai Pantodapoi
Stamina (poor)
Governs how fast the unit tires and restores fatigue, and is dependent on type of unit, weight and approach to combat.
Attributes
Expert Charge Defence
This unit's melee attack and damage are increased against charging enemies.
Hide (forest)
This unit can hide in forests until enemy units get too close.
Strengths & Weaknesses
Transport
Very poor hull strength
Very slow speed
Weak ramming
Sikeliotai Pantodapoi
Average defensive unit
Low damage but average armour penetration
Weak attack
Poor morale
Recuitment Requirement
Maximum Number
8
Unit Resouces
DEI_Sicily

Imperator Augustus Regions

Requires Buildings
Lv. 0

Syracuse (Occupied)
(dei_main_city_SYRACUSE_1)
Level 0

Syracuse (Occupied)
(dei_main_city_SYRACUSE_2)
Level 1

Syracuse (Occupied)
(dei_main_city_SYRACUSE_3)
Level 2

Fortified Syracuse (Occupied)
(dei_main_city_SYRACUSE_3_fort)
Level 2

Commercial Syracuse (Occupied)
(dei_main_city_SYRACUSE_3_trade)
Level 2

Syracuse (Occupied)
(dei_main_city_SYRACUSE_4)
Level 3

Fortified Syracuse (Occupied)
(dei_main_city_SYRACUSE_4_fort)
Level 3

Commercial Syracuse (Occupied)
(dei_main_city_SYRACUSE_4_trade)
Level 3

Barbarian City
(rom_BARBARIAN_city_major_1)
Level 0

Barbarian Fortified City
(rom_BARBARIAN_city_major_2)
Level 1

Barbarian Hundred
(rom_BARBARIAN_city_major_3)
Level 2

Barbarian Oppidium
(rom_BARBARIAN_city_major_4)
Level 3

Barbarian Garrison Hundred
(rom_BARBARIAN_city_major_fort_3)
Level 2

Barbarian Fortified Oppidium
(rom_BARBARIAN_city_major_fort_4)
Level 3

Barbarian Trade Hundred
(rom_BARBARIAN_city_major_trade_3)
Level 2

Barbarian Economic Oppidium
(rom_BARBARIAN_city_major_trade_4)
Level 3

Barbarian Hamlet (Grain)
(rom_BARBARIAN_city_minor_grain_1)
Level 0

Barbarian Village (Grain)
(rom_BARBARIAN_city_minor_grain_2)
Level 1

Barbarian Town (Grain)
(rom_BARBARIAN_city_minor_grain_3)
Level 2

Barbarian Pagus (Grain)
(rom_BARBARIAN_city_minor_grain_4)
Level 3

Barbarian Hamlet (Iron)
(rom_BARBARIAN_city_minor_iron_1)
Level 0

Barbarian Village (Iron)
(rom_BARBARIAN_city_minor_iron_2)
Level 1
Faction Availability
Grand Campaign
Samnite Wars
Caesar in Gaul
Hannibal at the Gates
Imperator Augustus
Attica
Antonius (Imperator Augustus)
Creta
Antonius (Imperator Augustus)
Achaia
Antonius (Imperator Augustus)
Ta-Mehu
Ptolemaioi (Imperator Augustus)
Ta-Shemau
Ptolemaioi (Imperator Augustus)
Ta-Ament
Ptolemaioi (Imperator Augustus)
Ta-Abt
Ptolemaioi (Imperator Augustus)
Ityopya
Aksum (Imperator Augustus)
Kush
Medewi (Imperator Augustus)
Medjay
Blemmyai (Imperator Augustus)
Zeugitana

Lepidus (Imperator Augustus)
Byzacium

Lepidus (Imperator Augustus)
Tripolis

Lepidus (Imperator Augustus)
Syrthim

Lepidus (Imperator Augustus)
Aquitania

Octavius (Imperator Augustus)
Gergovia

Octavius (Imperator Augustus)
Pictavis

Octavius (Imperator Augustus)
Himyar
Mamlakat Himyar (Imperator Augustus)
Maka
Mascat (Imperator Augustus)
Saba

Mamlakatin Saba (Imperator Augustus)
Kedar
Qidri (Imperator Augustus)
Hagar
Hagar (Imperator Augustus)
Yathrib
Ma'in (Imperator Augustus)
Transcaspia
Parthia (Imperator Augustus)
Haraiva
Parthia (Imperator Augustus)
Margus
Parthia (Imperator Augustus)
Tsopk
Katpatuka (Imperator Augustus)
Hayk
Hayasdan (Imperator Augustus)
Turuberan
Hayasdan (Imperator Augustus)
Korchayk
Hayasdan (Imperator Augustus)
Lydia
Antonius (Imperator Augustus)
Mysia
Antonius (Imperator Augustus)
Phrygia
Antonius (Imperator Augustus)
Rhodos
Antonius (Imperator Augustus)
Baktria
Paradene (Imperator Augustus)
Tocharia
Paradene (Imperator Augustus)
Paropamisadai
Paradene (Imperator Augustus)
Baeturia

Lepidus (Imperator Augustus)
Turdetania

Lepidus (Imperator Augustus)
Carpetania

Lepidus (Imperator Augustus)
Silva Carbonaria
Belgae (Imperator Augustus)
Treverorum

Octavius (Imperator Augustus)
Pontos
Pontos (Imperator Augustus)
Bithynia
Antonius (Imperator Augustus)
Paphlagonia
Pontos (Imperator Augustus)
Riza
Pontos (Imperator Augustus)
Tauris
Pontos (Imperator Augustus)
Sindike
Pontos (Imperator Augustus)
Maiotia
Pontos (Imperator Augustus)
Britannia Superior
Iceni (Imperator Augustus)
Dumnonia
Dumnonii (Imperator Augustus)
Demetia
Demetae (Imperator Augustus)
Britannia Inferior

Corieltauvi (Imperator Augustus)
Eremos Karmania
Parsa (Imperator Augustus)
Karmania
Parsa (Imperator Augustus)
Ardhan
Ardhan (Imperator Augustus)
Kartli

Kartli (Imperator Augustus)
Kolkheti
Pontos (Imperator Augustus)
Xvarazm
Daha (Imperator Augustus)
Usturt
Daha (Imperator Augustus)
Liguria

Octavius (Imperator Augustus)
Insubria

Octavius (Imperator Augustus)
Venetia et Histria

Octavius (Imperator Augustus)
Corsica
Pompeius (Imperator Augustus)
Sardinia
Pompeius (Imperator Augustus)
Dacia Inferior

Dacia (Imperator Augustus)
Bastarnia
Bastarnoz (Imperator Augustus)
Dacia Malvensis

Dacia (Imperator Augustus)
Zarmizegetusa

Dacia (Imperator Augustus)
Galatia
Koinon Galaton (Imperator Augustus)
Lykaonia
Koinon Galaton (Imperator Augustus)
Katpatuka
Katpatuka (Imperator Augustus)
Pamphylia
Koinon Galaton (Imperator Augustus)
Lugdunensis

Octavius (Imperator Augustus)
Lutetia
Gallia (Imperator Augustus)
Aremorica
Gallia (Imperator Augustus)
Iuliobana
Gallia (Imperator Augustus)
Rambakia

Zranka (Imperator Augustus)
Zranka

Zranka (Imperator Augustus)
Maka

Zranka (Imperator Augustus)
Bagacum
Belgae (Imperator Augustus)
Germania Superior

Octavius (Imperator Augustus)
Silva Nigra

Markamannoz (Imperator Augustus)
Hercynia Silva
Kwadoz (Imperator Augustus)
Luna Silva
Boii (Imperator Augustus)
Baleareis

Lepidus (Imperator Augustus)
Bastetania

Lepidus (Imperator Augustus)
Celtiberia

Lepidus (Imperator Augustus)
Edetania

Lepidus (Imperator Augustus)
Illyria
Antonius (Imperator Augustus)
Liburnia
Antonius (Imperator Augustus)
Dalmatia
Antonius (Imperator Augustus)
Campania

Octavius (Imperator Augustus)
Apulia

Octavius (Imperator Augustus)
Bruttium

Octavius (Imperator Augustus)
Yehuda
Iudea (Imperator Augustus)
Kypros
Antonius (Imperator Augustus)
Phoinike
Antonius (Imperator Augustus)
Picenum

Octavius (Imperator Augustus)
Tuscia

Octavius (Imperator Augustus)
Samnium

Octavius (Imperator Augustus)
Latium

Octavius (Imperator Augustus)
Siwa

Nasamones (Imperator Augustus)
Oases

Nasamones (Imperator Augustus)
Kyrenaike
Antonius (Imperator Augustus)
Marmarike
Ptolemaioi (Imperator Augustus)
Silesia
Arii (Imperator Augustus)
Leda
Helisii (Imperator Augustus)
Baug
Buri (Imperator Augustus)
Chronos
Nahanarvali (Imperator Augustus)
Celtica
Iberia (Imperator Augustus)
Lusitania
Iberia (Imperator Augustus)
Epeiros
Antonius (Imperator Augustus)
Thessalia
Antonius (Imperator Augustus)
Makedonia
Antonius (Imperator Augustus)
Frisia
Freisias (Imperator Augustus)
Cimbria
Kimbroz (Imperator Augustus)
Silva Bacenis
Heruskoz (Imperator Augustus)
Atlas
Gaetuli (Imperator Augustus)
Mauretania
Mauri (Imperator Augustus)
Tingitana

Lepidus (Imperator Augustus)
Rhagau
Parthia (Imperator Augustus)
Mada
Parthia (Imperator Augustus)
Atropatkan
Atropatkan (Imperator Augustus)
Phraaspa
Atropatkan (Imperator Augustus)
Meshan
Meshan (Imperator Augustus)
Babirus
Parthia (Imperator Augustus)
Osroene
Parthia (Imperator Augustus)
Athura
Parthia (Imperator Augustus)
Havilah
Mamlaktha Nabata (Imperator Augustus)
Lihyan
Mamlaktha Nabata (Imperator Augustus)
Iordan
Mamlaktha Nabata (Imperator Augustus)
Provincia

Octavius (Imperator Augustus)
Narbonensis

Octavius (Imperator Augustus)
Tolosa

Octavius (Imperator Augustus)
Militiana

Numidia (Imperator Augustus)
Cirtensis

Numidia (Imperator Augustus)
Gaetulia

Numidia (Imperator Augustus)
Numidia

Numidia (Imperator Augustus)
Eremos Syria
Parthia (Imperator Augustus)
Palmyra
Palmyra (Imperator Augustus)
Transdanubia

Dacia (Imperator Augustus)
Pannonia Superior
Breuci (Imperator Augustus)
Pannonia Inferior
Scordisci (Imperator Augustus)
Parthava
Parthia (Imperator Augustus)
Astauene
Parthia (Imperator Augustus)
Traxiane
Parthia (Imperator Augustus)
Varkana
Parthia (Imperator Augustus)
Lyan
Parsa (Imperator Augustus)
Parsa
Parsa (Imperator Augustus)
Elam
Parthia (Imperator Augustus)
Tidamensi

Numidia (Imperator Augustus)
Garama
Igharimen (Imperator Augustus)
Caledonia
Kaledonoi (Imperator Augustus)
Hibernia
Iweriu (Imperator Augustus)
Brigantia
Brigantes (Imperator Augustus)
Alcimoennis
Vindelici (Imperator Augustus)
Raetia
Raeti (Imperator Augustus)
Noricum
Nori (Imperator Augustus)
Helvetia
Helvetii (Imperator Augustus)
Danu Apara
Rauxsa-alanna (Imperator Augustus)
Oium
Iazyges (Imperator Augustus)
Gerrhos
Rauxsa-alanna (Imperator Augustus)
Scythia
Alanna (Imperator Augustus)
Didoya
Aorsoi (Imperator Augustus)
Turan
Iastae (Imperator Augustus)
Zyx

Siraces (Imperator Augustus)
Akragas
Pompeius (Imperator Augustus)
Panormos
Pompeius (Imperator Augustus)
Sirako
Pompeius (Imperator Augustus)
Suebia

Semnonoz (Imperator Augustus)
Vistula
Gutones (Imperator Augustus)
Ascaucalis
Helveconae (Imperator Augustus)
Rugia
Rugoz (Imperator Augustus)
Syria
Antonius (Imperator Augustus)
Kommagene
Antonius (Imperator Augustus)
Kilikia
Antonius (Imperator Augustus)
Aram
Antonius (Imperator Augustus)
Cantabria
Cantabri (Imperator Augustus)
Gallaecia
Iberia (Imperator Augustus)
Tarraconensis

Lepidus (Imperator Augustus)
Terra Incognita
Byzantion

Thracia (Imperator Augustus)
Dardania
Antonius (Imperator Augustus)
Moesia

Thracia (Imperator Augustus)
Thrake

Thracia (Imperator Augustus)
Transoxania
Paradene (Imperator Augustus)
Suguda
Paradene (Imperator Augustus)