Home
/
Divide et Impera
/
Markamannoz (Imperator Augustus)
/
Units
/ Nakwadaz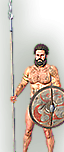 Markamannoz (Imperator Augustus) Spear Infantry
Nakwadaz
(Naked Spearmen)

Common as first-line units, these naked spearmen are the Germanic replica of the Gaisates, except that they use more crude weapons, the framea being too expensive and heavy to be carried by a skirmisher.However, they are still heavy skirmishers, relying on their speed to outflank the enemy, before launching their missiles in the hope of causing disarray within the enemy ranks.
Hardened by years of both inter-tribal combat and contact with enemies further afield, the most talented German warriors thus earned high status within their tribes. Whilst iron supplies were scarce, these men were privileged enough to equip themselves with lengthy spears, or 'framea', tipped with narrow, sharp points of iron. Whereas the framea was used for fighting at close quarters, lighter javelins were also carried to be hurled from a distance prior to melee. The taller and stronger the man, the bigger the spear he could carry; this established status, not only within the tribe, but also when facing the enemy.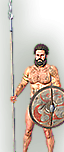 Unit Name

Nakwadaz
Main Unit Key

Ger_Woithiz_Watha
Land Unit Key

Ger_Woithiz_Watha
Naval Unit Key

barbarian_transport
Soldiers

200
Category

Melee Infantry
Class

Spear Infantry
Custom Battle Cost

544
Recruitment Cost

544
Upkeep Cost

109
15
├ Missile Weapon

javelin3
├ Projectile

javelin3
├ Missile Damage

15
├ Missile Ap Damage

0
└ Base Reload Time

9
Accuracy

5
Range

90
Reload

0
Shots Per Minute

7
Ammunition

2
Melee Attack

36
9
├ Melee Weapon

spear3
├ Weapon Damage

9
├ Weapon Deadliness

0
├ Armour Piercing

No
├ Bonus vs. Cavalry

4
├ Bonus vs. Elephants

10
└ Bonus vs Infantry

0
Charge Bonus

17
67
├ Base Defence

26
├ Shield

shield4
└ Shield Defence

41
1
├ Armour

arm0
├ Armour Defence

1
└ Shield Armour

0
20
├ Man Entity

medium_light
├ Man Health

20
└ Bonus Hit Points

0
Base Morale

65
Abilities
Nakwadaz
Stamina (good)
Governs how fast the unit tires and restores fatigue, and is dependent on type of unit, weight and approach to combat.
Attributes
Hide (forest)
This unit can hide in forests until enemy units get too close.
Impetuous
This unit gets an extra morale bonus when eager.
Resistant to Cold
This unit tires less quickly in snow.
Scare (everyone)
This unit frightens all enemy units.
Immune to Fear
This unit is immune to the fear effects of scary units.
Strengths & Weaknesses
Transport
Very poor hull strength
Very slow speed
Weak ramming
Nakwadaz
Good defensive unit
Low damage but average armour penetration
Average attack
Normal morale
Requires Buildings
Lv. 0

Warrior Lodge
(rom_BARBARIAN_artisans_major_1)
Level 0

Meeting Ground
(rom_BARBARIAN_artisans_major_bronze_2)
Level 1

Proving Grounds
(rom_BARBARIAN_artisans_major_bronze_3)
Level 2

Oak of Teiwaz
(rom_BARBARIAN_religious_germanic_5)
Level 4

Grove of Wodanaz
(rom_BARBARIAN_religious_germanic_Wodanaz_2)
Level 1

Shrine of Wodanaz
(rom_BARBARIAN_religious_germanic_Wodanaz_3)
Level 2

Grove of Wodanaz
(rom_BARBARIAN_religious_germanic_Wodanaz_minor_2)
Level 1

Shrine of Wodanaz
(rom_BARBARIAN_religious_germanic_Wodanaz_minor_3)
Level 2

Lv. 1

Hall of Champions
(rom_BARBARIAN_artisans_major_bronze_4)
Level 3

Sanctuary of Wodanaz
(rom_BARBARIAN_religious_germanic_Wodanaz_4)
Level 3
Faction Availability
Grand Campaign
Caesar in Gaul
Imperator Augustus