Home
/
Divide et Impera
/
Markamannoz (Imperator Augustus)
/
Units
/ Shivatir-i Pahlavanig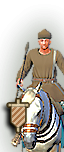 Markamannoz (Imperator Augustus) Missile Cavalry
Shivatir-i Pahlavanig
(Parthian Horse Archers)

Leave a Parthian a bow and one eye, and he may yet conquer.
With raiding as a way of life for many tribes, mounted archery was established early in eastern culture, producing some highly effective warriors. While foot archers could carry long, powerful bows, a mounted archer was a formidable fighter thanks to his composite bow. Constructed from layers of wood, sinew and animal horn, the composite bow was a much more powerful weapon than its size alone would suggest. In the hands of an expert an arrow on target was entirely capable of piercing chainmail armour. It did, however, require strength and care to use: in particular, it had to be kept away from damp. Military campaigns were usually fought during the summer and autumn, so bows were used during arid months. Archers could rest their weapons during the winter, taking good care of them before the next campaigning season.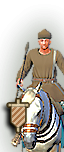 Unit Name

Shivatir-i Pahlavanig
Main Unit Key

AOR_24_Parthian_Horse_Archers
Land Unit Key

AOR_24_Parthian_Horse_Archers
Naval Unit Key

pel_transport
Soldiers

120
Category

Cavalry
Class

Missile Cavalry
Custom Battle Cost

679
Recruitment Cost

679
Upkeep Cost

136
10
├ Missile Weapon

cbow2
├ Projectile

cbow2
├ Missile Damage

10
├ Missile Ap Damage

0
└ Base Reload Time

15
Accuracy

15
Range

150
Reload

27
Shots Per Minute

5
Ammunition

15
Melee Attack

21
11
├ Melee Weapon

bsword1
├ Weapon Damage

11
├ Weapon Deadliness

0
├ Armour Piercing

No
├ Bonus vs. Cavalry

0
├ Bonus vs. Elephants

0
└ Bonus vs Infantry

0
Charge Bonus

13
29
├ Base Defence

13
├ Shield

none
└ Shield Defence

16
2
├ Armour

carm0
├ Armour Defence

2
└ Shield Armour

0
20
├ Man Entity

light_light
├ Man Health

20
├ Bonus Hit Points

0
├ Mount

rome_scythian_horse_sword_vl
├ Mount Entity

rome_horse_very_light_missile
└ Mount Health

0
Base Morale

25
Abilities
Shivatir-i Pahlavanig
Stamina (good)
Governs how fast the unit tires and restores fatigue, and is dependent on type of unit, weight and approach to combat.
Cantabrian Circle
The unit fires whilst riding in a circle that increases reload skill
Concentrate Fire
The unit fires its missiles towards a spot causing damage to everyone in the area of effect
Attributes
Disciplined
This unit does not suffer a morale penalty when the general dies. It can also rally after routing more often.
Hide (forest)
This unit can hide in forests until enemy units get too close.
Fire Whilst Moving
This unit can fire when mounted and moving.
Parthian Shot
This unit can fire all around and not just in-front of itself.
Resistant to Heat
This unit tires less quickly in the desert.
Strengths & Weaknesses
Transport
Very poor hull strength
Very slow speed
Weak ramming
Shivatir-i Pahlavanig
Long range
Average rate of fire
Fast moving
Good damage but low armour penetration
Very weak in melee
Very poor morale
Recuitment Requirement
Maximum Number
12
Unit Resouces
DEI_Parthia

Imperator Augustus Regions

Requires Buildings
Lv. 0

Barbarian Hundred
(rom_BARBARIAN_city_major_3)
Level 2

Barbarian Oppidium
(rom_BARBARIAN_city_major_4)
Level 3

Barbarian Garrison Hundred
(rom_BARBARIAN_city_major_fort_3)
Level 2

Barbarian Fortified Oppidium
(rom_BARBARIAN_city_major_fort_4)
Level 3

Barbarian Trade Hundred
(rom_BARBARIAN_city_major_trade_3)
Level 2

Barbarian Economic Oppidium
(rom_BARBARIAN_city_major_trade_4)
Level 3

Barbarian Town (Warhorse)
(rom_BARBARIAN_city_minor_horse_3)
Level 2

Barbarian Pagus (Warhorse)
(rom_BARBARIAN_city_minor_horse_4)
Level 3

Barbarian Town (Silk)
(rom_BARBARIAN_city_minor_silk_3)
Level 2

Barbarian Pagus (Silk)
(rom_BARBARIAN_city_minor_silk_4)
Level 3
Faction Availability
Grand Campaign
Samnite Wars
Caesar in Gaul
Hannibal at the Gates
Imperator Augustus
Attica
Antonius (Imperator Augustus)
Creta
Antonius (Imperator Augustus)
Achaia
Antonius (Imperator Augustus)
Ta-Mehu
Ptolemaioi (Imperator Augustus)
Ta-Shemau
Ptolemaioi (Imperator Augustus)
Ta-Ament
Ptolemaioi (Imperator Augustus)
Ta-Abt
Ptolemaioi (Imperator Augustus)
Ityopya
Aksum (Imperator Augustus)
Kush
Medewi (Imperator Augustus)
Medjay
Blemmyai (Imperator Augustus)
Zeugitana

Lepidus (Imperator Augustus)
Byzacium

Lepidus (Imperator Augustus)
Tripolis

Lepidus (Imperator Augustus)
Syrthim

Lepidus (Imperator Augustus)
Aquitania

Octavius (Imperator Augustus)
Gergovia

Octavius (Imperator Augustus)
Pictavis

Octavius (Imperator Augustus)
Himyar
Mamlakat Himyar (Imperator Augustus)
Maka
Mascat (Imperator Augustus)
Saba

Mamlakatin Saba (Imperator Augustus)
Kedar
Qidri (Imperator Augustus)
Hagar
Hagar (Imperator Augustus)
Yathrib
Ma'in (Imperator Augustus)
Transcaspia
Parthia (Imperator Augustus)
Haraiva
Parthia (Imperator Augustus)
Margus
Parthia (Imperator Augustus)
Tsopk
Katpatuka (Imperator Augustus)
Hayk
Hayasdan (Imperator Augustus)
Turuberan
Hayasdan (Imperator Augustus)
Korchayk
Hayasdan (Imperator Augustus)
Lydia
Antonius (Imperator Augustus)
Mysia
Antonius (Imperator Augustus)
Phrygia
Antonius (Imperator Augustus)
Rhodos
Antonius (Imperator Augustus)
Baktria
Paradene (Imperator Augustus)
Tocharia
Paradene (Imperator Augustus)
Paropamisadai
Paradene (Imperator Augustus)
Baeturia

Lepidus (Imperator Augustus)
Turdetania

Lepidus (Imperator Augustus)
Carpetania

Lepidus (Imperator Augustus)
Silva Carbonaria
Belgae (Imperator Augustus)
Treverorum

Octavius (Imperator Augustus)
Pontos
Pontos (Imperator Augustus)
Bithynia
Antonius (Imperator Augustus)
Paphlagonia
Pontos (Imperator Augustus)
Riza
Pontos (Imperator Augustus)
Tauris
Pontos (Imperator Augustus)
Sindike
Pontos (Imperator Augustus)
Maiotia
Pontos (Imperator Augustus)
Britannia Superior
Iceni (Imperator Augustus)
Dumnonia
Dumnonii (Imperator Augustus)
Demetia
Demetae (Imperator Augustus)
Britannia Inferior

Corieltauvi (Imperator Augustus)
Eremos Karmania
Parsa (Imperator Augustus)
Karmania
Parsa (Imperator Augustus)
Ardhan
Ardhan (Imperator Augustus)
Kartli

Kartli (Imperator Augustus)
Kolkheti
Pontos (Imperator Augustus)
Xvarazm
Daha (Imperator Augustus)
Usturt
Daha (Imperator Augustus)
Liguria

Octavius (Imperator Augustus)
Insubria

Octavius (Imperator Augustus)
Venetia et Histria

Octavius (Imperator Augustus)
Corsica
Pompeius (Imperator Augustus)
Sardinia
Pompeius (Imperator Augustus)
Dacia Inferior

Dacia (Imperator Augustus)
Bastarnia
Bastarnoz (Imperator Augustus)
Dacia Malvensis

Dacia (Imperator Augustus)
Zarmizegetusa

Dacia (Imperator Augustus)
Galatia
Koinon Galaton (Imperator Augustus)
Lykaonia
Koinon Galaton (Imperator Augustus)
Katpatuka
Katpatuka (Imperator Augustus)
Pamphylia
Koinon Galaton (Imperator Augustus)
Lugdunensis

Octavius (Imperator Augustus)
Lutetia
Gallia (Imperator Augustus)
Aremorica
Gallia (Imperator Augustus)
Iuliobana
Gallia (Imperator Augustus)
Rambakia

Zranka (Imperator Augustus)
Zranka

Zranka (Imperator Augustus)
Maka

Zranka (Imperator Augustus)
Bagacum
Belgae (Imperator Augustus)
Germania Superior

Octavius (Imperator Augustus)
Silva Nigra

Markamannoz (Imperator Augustus)
Hercynia Silva
Kwadoz (Imperator Augustus)
Luna Silva
Boii (Imperator Augustus)
Baleareis

Lepidus (Imperator Augustus)
Bastetania

Lepidus (Imperator Augustus)
Celtiberia

Lepidus (Imperator Augustus)
Edetania

Lepidus (Imperator Augustus)
Illyria
Antonius (Imperator Augustus)
Liburnia
Antonius (Imperator Augustus)
Dalmatia
Antonius (Imperator Augustus)
Campania

Octavius (Imperator Augustus)
Apulia

Octavius (Imperator Augustus)
Bruttium

Octavius (Imperator Augustus)
Yehuda
Iudea (Imperator Augustus)
Kypros
Antonius (Imperator Augustus)
Phoinike
Antonius (Imperator Augustus)
Picenum

Octavius (Imperator Augustus)
Tuscia

Octavius (Imperator Augustus)
Samnium

Octavius (Imperator Augustus)
Latium

Octavius (Imperator Augustus)
Siwa

Nasamones (Imperator Augustus)
Oases

Nasamones (Imperator Augustus)
Kyrenaike
Antonius (Imperator Augustus)
Marmarike
Ptolemaioi (Imperator Augustus)
Silesia
Arii (Imperator Augustus)
Leda
Helisii (Imperator Augustus)
Baug
Buri (Imperator Augustus)
Chronos
Nahanarvali (Imperator Augustus)
Celtica
Iberia (Imperator Augustus)
Lusitania
Iberia (Imperator Augustus)
Epeiros
Antonius (Imperator Augustus)
Thessalia
Antonius (Imperator Augustus)
Makedonia
Antonius (Imperator Augustus)
Frisia
Freisias (Imperator Augustus)
Cimbria
Kimbroz (Imperator Augustus)
Silva Bacenis
Heruskoz (Imperator Augustus)
Atlas
Gaetuli (Imperator Augustus)
Mauretania
Mauri (Imperator Augustus)
Tingitana

Lepidus (Imperator Augustus)
Rhagau
Parthia (Imperator Augustus)
Mada
Parthia (Imperator Augustus)
Atropatkan
Atropatkan (Imperator Augustus)
Phraaspa
Atropatkan (Imperator Augustus)
Meshan
Meshan (Imperator Augustus)
Babirus
Parthia (Imperator Augustus)
Osroene
Parthia (Imperator Augustus)
Athura
Parthia (Imperator Augustus)
Havilah
Mamlaktha Nabata (Imperator Augustus)
Lihyan
Mamlaktha Nabata (Imperator Augustus)
Iordan
Mamlaktha Nabata (Imperator Augustus)
Provincia

Octavius (Imperator Augustus)
Narbonensis

Octavius (Imperator Augustus)
Tolosa

Octavius (Imperator Augustus)
Militiana

Numidia (Imperator Augustus)
Cirtensis

Numidia (Imperator Augustus)
Gaetulia

Numidia (Imperator Augustus)
Numidia

Numidia (Imperator Augustus)
Eremos Syria
Parthia (Imperator Augustus)
Palmyra
Palmyra (Imperator Augustus)
Transdanubia

Dacia (Imperator Augustus)
Pannonia Superior
Breuci (Imperator Augustus)
Pannonia Inferior
Scordisci (Imperator Augustus)
Parthava
Parthia (Imperator Augustus)
Astauene
Parthia (Imperator Augustus)
Traxiane
Parthia (Imperator Augustus)
Varkana
Parthia (Imperator Augustus)
Lyan
Parsa (Imperator Augustus)
Parsa
Parsa (Imperator Augustus)
Elam
Parthia (Imperator Augustus)
Tidamensi

Numidia (Imperator Augustus)
Garama
Igharimen (Imperator Augustus)
Caledonia
Kaledonoi (Imperator Augustus)
Hibernia
Iweriu (Imperator Augustus)
Brigantia
Brigantes (Imperator Augustus)
Alcimoennis
Vindelici (Imperator Augustus)
Raetia
Raeti (Imperator Augustus)
Noricum
Nori (Imperator Augustus)
Helvetia
Helvetii (Imperator Augustus)
Danu Apara
Rauxsa-alanna (Imperator Augustus)
Oium
Iazyges (Imperator Augustus)
Gerrhos
Rauxsa-alanna (Imperator Augustus)
Scythia
Alanna (Imperator Augustus)
Didoya
Aorsoi (Imperator Augustus)
Turan
Iastae (Imperator Augustus)
Zyx

Siraces (Imperator Augustus)
Akragas
Pompeius (Imperator Augustus)
Panormos
Pompeius (Imperator Augustus)
Sirako
Pompeius (Imperator Augustus)
Suebia

Semnonoz (Imperator Augustus)
Vistula
Gutones (Imperator Augustus)
Ascaucalis
Helveconae (Imperator Augustus)
Rugia
Rugoz (Imperator Augustus)
Syria
Antonius (Imperator Augustus)
Kommagene
Antonius (Imperator Augustus)
Kilikia
Antonius (Imperator Augustus)
Aram
Antonius (Imperator Augustus)
Cantabria
Cantabri (Imperator Augustus)
Gallaecia
Iberia (Imperator Augustus)
Tarraconensis

Lepidus (Imperator Augustus)
Terra Incognita
Byzantion

Thracia (Imperator Augustus)
Dardania
Antonius (Imperator Augustus)
Moesia

Thracia (Imperator Augustus)
Thrake

Thracia (Imperator Augustus)
Transoxania
Paradene (Imperator Augustus)
Suguda
Paradene (Imperator Augustus)