Home
/
Divide et Impera
/
Ptolemaioi
/
Units
/ Local Militia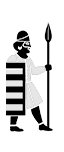 Ptolemaioi Spear Infantry
Local Militia
Levies take up arms reluctantly, but they will fight for their homes and loved ones.
These spearmen were drawn from the subjects of the eastern regions. They were inexpensive, and simply equipped with a spear, wicker shield and cloth armour. Their shields were oval or rectangular in shape with a central handgrip. While uniformly equipped for the most part, their appearance varied greatly depending where they were recruited, and all kinds of Greek and Persian influences were manifest. In battle, spearmen guarded the flanks of phalanxes, or provided protection for skirmishers and archers. Although ill-equipped to face heavy enemies, their numbers and spears made them an effective counter to unarmoured cavalry. They were also a common type of mercenary and levied unit throughout Asia Minor and the Middle East.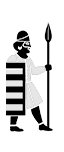 Unit Name

Local Militia
Main Unit Key

GAR_Eas_Local_Militia_Foreign
Land Unit Key

GAR_Eas_Local_Militia_Foreign
Naval Unit Key

pel_transport
Soldiers

200
Category

Melee Infantry
Class

Spear Infantry
Custom Battle Cost

432
Recruitment Cost

400
Upkeep Cost

100
Melee Attack

14
9
├ Melee Weapon

spear2
├ Weapon Damage

9
├ Weapon Deadliness

0
├ Armour Piercing

No
├ Bonus vs. Cavalry

3
├ Bonus vs. Elephants

10
└ Bonus vs Infantry

0
Charge Bonus

10
41
├ Base Defence

10
├ Shield

shield2
└ Shield Defence

31
6
├ Armour

arm3
├ Armour Defence

6
└ Shield Armour

0
20
├ Man Entity

rome_infantry_medium
├ Man Health

20
└ Bonus Hit Points

0
Base Morale

40
Abilities
Local Militia
Stamina (average)
Governs how fast the unit tires and restores fatigue, and is dependent on type of unit, weight and approach to combat.
Attributes
Expert Charge Defence
This unit's melee attack and damage are increased against charging enemies.
Hide (forest)
This unit can hide in forests until enemy units get too close.
Strengths & Weaknesses
Transport
Very poor hull strength
Very slow speed
Weak ramming
Local Militia
Average defensive unit
Low damage but average armour penetration
Weak attack
Poor morale
Faction Availability
Grand Campaign
Samnite Wars
Caesar in Gaul
Hannibal at the Gates
Imperator Augustus
Macedonian Wars