Home
/
Divide et Impera
/
Ptolemaioi
/
Units
/ Thorakitai Doriphoroi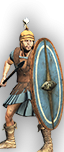 Ptolemaioi Spear Infantry
Thorakitai Doriphoroi
(Thorax Spearmen)

These warriors are the first line of an army, strong in defence against cavalry with their spears and deadly from range with their javelins.
Hoplites date back to the wars between the Greek city-states in the 8th and 7th centuries BC. During the Greco-Persian Wars most hoplites wore a Corinthian-style bronze helm, and a cuirass of bronze or stiffened linen or canvas. They were armed with a short sword and an iron-tipped spear with a bronze counterbalance butt-spike. Hoplites were named, though, after the round hoplon shield they carried. The hoplon-and-spear combination required them to fight as a phalanx, a block of spearmen some eight ranks deep. When closed up, each man would find shelter behind the shield of his neighbour, creating a wall of bristling spear-points. While all hoplites were originally citizen-soldiers, full-time mercenaries took over and became the standard fighting unit of the Greek world. Later, under Phillip II of Macedon and Alexander the Great, the shield became smaller, while the spear developed into the five metre sarissa pike. Many armies adopted the phalanx of hoplites as a tactical unit because it was very successful in battle.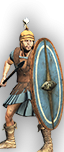 Unit Name

Thorakitai Doriphoroi
Main Unit Key

Gre_Thorax_Spears
Land Unit Key

Gre_Thorax_Spears
Naval Unit Key

pel_transport
Soldiers

200
Category

Melee Infantry
Class

Spear Infantry
Custom Battle Cost

965
Recruitment Cost

965
Upkeep Cost

193
12
├ Missile Weapon

prec2
├ Projectile

prec2
├ Missile Damage

12
├ Missile Ap Damage

0
└ Base Reload Time

10
Accuracy

5
Range

80
Reload

0
Shots Per Minute

6
Ammunition

1
Melee Attack

32
9
├ Melee Weapon

spear3
├ Weapon Damage

9
├ Weapon Deadliness

0
├ Armour Piercing

No
├ Bonus vs. Cavalry

4
├ Bonus vs. Elephants

10
└ Bonus vs Infantry

0
Charge Bonus

11
75
├ Base Defence

23
├ Shield

shield5
└ Shield Defence

52
10
├ Armour

arm6
├ Armour Defence

10
└ Shield Armour

0
20
├ Man Entity

heavy_medium
├ Man Health

20
└ Bonus Hit Points

0
Base Morale

55
Abilities
Thorakitai Doriphoroi
Stamina (low)
Governs how fast the unit tires and restores fatigue, and is dependent on type of unit, weight and approach to combat.
Throw Javelin (medium)
The unit throws its javelins towards a spot causing damage to everyone in the area of effect
NOTE: you cannot throw javelins when you are inside a formation
Attributes
Expert Charge Defence
This unit's melee attack and damage are increased against charging enemies.
Disciplined
This unit does not suffer a morale penalty when the general dies. It can also rally after routing more often.
Hide (forest)
This unit can hide in forests until enemy units get too close.
Strengths & Weaknesses
Transport
Very poor hull strength
Very slow speed
Weak ramming
Thorakitai Doriphoroi
Very good defensive unit
Low damage but average armour penetration
Average attack
Good morale
Requires Buildings
Lv. 0

Muster Field
(rom_HELLENIC_military_main_1)
Level 0

Holosideros Barracks
(rom_HELLENIC_military_main_heavy_2)
Level 1

Hoplite Barracks
(rom_HELLENIC_military_main_heavy_3)
Level 2

Lv. 1

Royal Barracks
(rom_HELLENIC_military_main_heavy_4)
Level 3