Home
/
Divide et Impera
/
Ptolemaioi
/
Units
/ Illyrioi Hippeis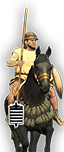 Ptolemaioi Missile Cavalry
Illyrioi Hippeis
(Illyrian Light Cavalry)

These cavalry are a useful force if they can come to grips with their enemies.
Taranto, in Magna Graecia, has a rich history. Founded in 706BC as Taras, it began as the home of the Partheniae, Spartans exiled due to their impure bloodlines. Fortunately, the colony was able to breed superb warhorses, and so its warriors duly grew in reputation. Tarantine cavalry could be combined well with a slow-moving phalanx, providing a rapid and flexible defensive screen for the hoplites' exposed flanks. Their suitability for such a role, in addition to a growing need for mercenaries in the armies of the Hellenistic world, saw that the Tarantines were much sought after. By the 3rd century BC there was some evidence to suggest that they no longer came exclusively from Taranto itself, the word 'Tarantine' referring more to the unit's tactics and weaponry rather than its geographic origins.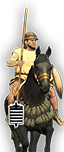 Unit Name

Illyrioi Hippeis
Main Unit Key

AOR_37_Illyrian_Light_Cavalry
Land Unit Key

AOR_37_Illyrian_Light_Cavalry
Naval Unit Key

pel_transport
Soldiers

120
Category

Cavalry
Class

Missile Cavalry
Custom Battle Cost

959
Recruitment Cost

959
Upkeep Cost

192
14
├ Missile Weapon

javelin2
├ Projectile

javelin2
├ Missile Damage

14
├ Missile Ap Damage

0
└ Base Reload Time

9
Accuracy

10
Range

85
Reload

23
Shots Per Minute

9
Ammunition

5
Melee Attack

27
10
├ Melee Weapon

gsword1
├ Weapon Damage

10
├ Weapon Deadliness

0
├ Armour Piercing

No
├ Bonus vs. Cavalry

0
├ Bonus vs. Elephants

0
└ Bonus vs Infantry

0
Charge Bonus

22
39
├ Base Defence

18
├ Shield

cshield1
└ Shield Defence

21
4
├ Armour

carm1
├ Armour Defence

4
└ Shield Armour

0
20
├ Man Entity

medium_light
├ Man Health

20
├ Bonus Hit Points

0
├ Mount

rome_hellenic_horse_sword_shield_l
├ Mount Entity

rome_horse_light
└ Mount Health

0
Base Morale

35
Abilities
Illyrioi Hippeis
Stamina (average)
Governs how fast the unit tires and restores fatigue, and is dependent on type of unit, weight and approach to combat.
Concentrate Fire
The unit fires its missiles towards a spot causing damage to everyone in the area of effect
Attributes
Parthian Shot
This unit can fire all around and not just in-front of itself.
Fire Whilst Moving
This unit can fire when mounted and moving.
Hide (forest)
This unit can hide in forests until enemy units get too close.
Fire Whilst Moving
This unit can fire when mounted and moving.
Strengths & Weaknesses
Transport
Very poor hull strength
Very slow speed
Weak ramming
Illyrioi Hippeis
Short range
Fast rate of fire
Fast moving
Very good damage and armour penetration
Large shield
Very weak in melee
Poor morale
Recuitment Requirement
Maximum Number
8
Unit Resouces
DEI_Illyria

Grand Campaign Regions

Requires Buildings
Lv. 0

Hellenistic Kleroukhia
(rom_HELLENIC_city_major_3)
Level 2

Hellenistic Metropolis
(rom_HELLENIC_city_major_4)
Level 3

Hellenic Garrison Kleroukhia
(rom_HELLENIC_city_major_fort_3)
Level 2

Hellenic Fortified Metropolis
(rom_HELLENIC_city_major_fort_4)
Level 3

Hellenic Trade Kleroukhia
(rom_HELLENIC_city_major_trade_3)
Level 2

Hellenic Economic Metropolis
(rom_HELLENIC_city_major_trade_4)
Level 3

Fortified Town (Copper)
(rom_HELLENIC_city_minor_copper_fort_4)
Level 3

Hellenistic Komai (Marble)
(rom_HELLENIC_city_minor_marble_3)
Level 2

Hellenistic Town (Marble)
(rom_HELLENIC_city_minor_marble_4)
Level 3
Faction Availability
Grand Campaign
Samnite Wars
Caesar in Gaul
Hannibal at the Gates
Imperator Augustus
Ta-Abt
Ptolemaioi
Ta-Ament
Ptolemaioi
Ta-Mehu
Ptolemaioi
Ta-Shemau
Ptolemaioi
Byzacium
Qarthadastim
Syrthim
Qarthadastim
Tripolis
Qarthadastim
Zeugitana
Qarthadastim
Ityopya
Aksum
Kush
Medewi
Medjay
Blemmyai
Aquitania
Vivisci
Gergovia
Arverni
Pictavis
Pictones
Himyar
Mamlakat Himyar
Maka
Mascat
Saba

Mamlakatin Saba
Hagar
Hagar
Kedar
Qidri
Yathrib
Ma'in
Harauvatis
Harauvatis
Paropamisadai
Harauvatis
Haraiva
Haraiva
Zranka
Asagarta
Margus
Haraiva
Hayk
Hayasdan
Korchayk
Hayasdan
Tsopk
Hayasdan
Lydia
Lydia
Mysia
Pergamon
Phrygia
Lydia
Rhodos
Rhodos
Baktria

Baktria
Tocharia

Baktria
Baeturia
Turdetani
Turdetania
Qarthadastim
Arduenna Silva
Treveri
Silva Carbonaria

Atrebates
Bithynia
Bithynia
Paphlagonia
Pontos
Pontos
Pontos
Riza
Trapezos
Maiotia
Arche Bosphorus
Sindike
Arche Bosphorus
Tauris
Arche Bosphorus
Brigantia
Brigantes
Britannia
Iceni
Demetia
Demetae
Dumnonia
Dumnonii
Caledonia
Kaledonoi
Hibernia
Iweriu
Eremos Karmania
Asagarta
Karmania

Zranka
Baleareis
Qarthadastim
Bastetania
Qarthadastim
Celtiberia
Arevaci
Edetania
Edetani
Ardhan
Ardhan
Kolkheti
Kolkhis
Kartli

Kartli
Aremorica

Namnetes
Lugdunensis

Aedui
Lutetia
Carnutes
Xvarazm
Xvarazm
Transcaspia
Daha
Kilikia

Seleukidai
Kypros
Kypros
Pamphylia
Kypros
Insubria
Insubres
Liguria
Liguria
Venetia et Histria
Veneti
Corsica
Qarthadastim
Sardinia
Qarthadastim
Bastarnia
Bastarnoz
Dacia Inferior

Getae
Dacia Superior
Apulii
Katpatuka
Katpatuka
Kommagene
Katpatuka
Galatia
Koinon Galaton
Lykaonia
Lydia
Maka

Zranka
Rambakia

Zranka
Germania Inferior
Nervii
Germania Superior
Sequani
Attike
Athenai
Krete
Knossos
Peloponnesos
Sparta
Hercynia Silva
Boii
Luna Silva
Boii
Dalmatia
Daorsi
Illyria
Ardiaei
Liburnia
Dalmatae
Etruria

Roma
Latium

Roma
Picenum

Roma
Samnium

Roma
Kyrenaike
Ptolemaioi
Marmarike
Ptolemaioi
Oases

Nasamones
Siwa
Ptolemaioi
Celtica
Celtici
Lusitania
Lusotannan
Epeiros
Epeiros
Makedonia
Antigonidai
Larissa
Epeiros
Frisia
Freisias
Silva Bacenis
Heruskoz
Silva Nigra

Markamannoz
Bruttium

Roma
Apulia

Roma
Lilybaion
Qarthadastim
Sirako
Syrakousai
Atlas
Gaetuli
Gaetulia

Masaesyli
Numidia

Masaesyli
Tingitana
Qarthadastim
Atropatkan
Atropatkan
Mada
Atropatkan
Rhagau
Parsa
Athura

Seleukidai
Babirus

Seleukidai
Meshan

Seleukidai
Osroene

Seleukidai
Havilah
Mamlaktha Nabata
Yehuda
Ptolemaioi
Iordan
Ptolemaioi
Lihyan
Mamlaktha Nabata
Pannonia Inferior
Scordisci
Pannonia Superior
Breuci
Transdanubia
Eravisci
Astauene
Parthia
Varkana
Parthava
Parthava
Parthava
Traxiane
Parthava
Elam
Parsa
Lyan
Parsa
Parsa
Parsa
Tidamensi
Igharimen
Garama
Igharimen
Gerrhos
Basileioi Skythai
Didoya
Aorsoi
Oium
Catiaroi
Zyx

Siraces
Narbonensis
Volcae
Transalpina
Massalia
Helvetia
Helvetii
Noricum
Nori
Raetia
Raeti
Aestia
Aestii
Danu Nazdya
Anartes
Baug
Budini
Scythia
Rauxsa-alanna
Turan
Thyssagetae
Usturt
Saka Rauka
Leda
Leugoz
Silesia
Leugoz
Vistula
Gutones
Cimbria
Kimbroz
Suebia
Sweboz
Rugia
Rugoz
Aram

Seleukidai
Eremos Syria

Seleukidai
Phoinike

Seleukidai
Syria

Seleukidai
Gallaecia
Gallaeci
Cantabria
Cantabri
Tarraconensis
Cessetani
Terra Incognita
Byzantion
Tolistobogii
Dardania

Triballi
Moesia

Basileion Odryson
Thrake
Antigonidai
Transoxania

Baktria
Suguda

Baktria