Home
/
Divide et Impera
/
Ptolemaioi
/
Units
/ Supply Ship - Supply Crew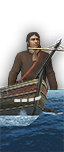 Ptolemaioi Transport Ship
Supply Ship - Supply Crew
These merchant ships can carry vast amounts of supplies, and are the best solution to supply forces operating on land.

A fleet with a supply ship can supply nearby land forces until the fleet runs out of supplies. Supply lines by sea are generally less expensive than those on land.
The waterline ram was first mounted on a vessel in around 850BC. Warships and naval tactics were transformed. Ships were no longer platforms for infantry battles on the water; the ship itself became the weapon. Galleys changed as the new reality sank in. Ramming at speed would hole and sink an enemy, therefore slimmer, faster, handier ships were required. More speed on demand obviously required more oars a fast ship with a single row of oars ended up being stupidly, impractically long. The solution, then, was to put in a second set of oars above the first, but slightly offset to allow for rowers' benches. These biremes, a Latin word meaning 'two oars', or dieres, the Greek equivalent, were no longer than previous designs but had twice the number of rowers. They were fast, manoeuvrable, and could carry a fighting contingent. Some nations also gave their bireme crews fire pots; these clay pots filled with oil and pitch were hurled at enemy ships in the entirely reasonable hope of setting them ablaze.

(Supply Crew)
placeholder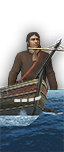 Unit Name

Supply Ship - Supply Crew
Main Unit Key

Supply_Ship_Greek
Land Unit Key

Supply_Ship_Greek_Crew
Naval Unit Key

Supply_ship
Soldiers

100
Category

Light Ship
Class

Transport Ship
Custom Battle Cost

550
Recruitment Cost

550
Upkeep Cost

100
11
├ Missile Weapon

prec1
├ Projectile

prec1
├ Missile Damage

11
├ Missile Ap Damage

0
└ Base Reload Time

10
Accuracy

5
Range

80
Reload

0
Shots Per Minute

6
Ammunition

0
└ Ship

pel_transport
Ship Speed
Melee Attack

6
10
├ Melee Weapon

gsword1
├ Weapon Damage

10
├ Weapon Deadliness

0
├ Armour Piercing

No
├ Bonus vs. Cavalry

0
├ Bonus vs. Elephants

0
└ Bonus vs Infantry

0
Charge Bonus

1
22
├ Base Defence

6
├ Shield

none
└ Shield Defence

16
2
├ Armour

carm0
├ Armour Defence

2
└ Shield Armour

0
20
├ Man Entity

medium_medium
├ Man Health

20
└ Bonus Hit Points

0
Base Morale

20
Abilities
No Ability
Attributes
Hide (forest)
This unit can hide in forests until enemy units get too close.
Resistant to Heat
This unit tires less quickly in the desert.
Strengths & Weaknesses
Supply Ship
Very poor hull strength
Very light crew
Fast speed
Weak ramming
Good boarding
Supply Crew
Very good attack
Average defence
Average damage but low armour penetration
Good morale
Requires Buildings
Lv. 0

Port of Alexandria
(dei_port_ALEXANDRIA_1)
Level 0

Port of Alexandria
(dei_port_ALEXANDRIA_2)
Level 1

Port of Alexandria
(dei_port_ALEXANDRIA_3)
Level 2

Port of Alexandria
(dei_port_ALEXANDRIA_4)
Level 3

Cothon
(dei_port_CARTHAGE_1)
Level 0

Cothon
(dei_port_CARTHAGE_2)
Level 1

Cothon
(dei_port_CARTHAGE_3)
Level 2

Cothon
(dei_port_CARTHAGE_4)
Level 3

Port of Massalia
(dei_port_MASSILIA_1)
Level 0

Port of Massalia
(dei_port_MASSILIA_2)
Level 1

Port of Massalia
(dei_port_MASSILIA_3)
Level 2

Port of Massalia
(dei_port_MASSILIA_4)
Level 3

Port of Rhodos
(dei_port_RHODES_1)
Level 0

Port of Rhodos
(dei_port_RHODES_2)
Level 1

Port of Rhodos
(dei_port_RHODES_3)
Level 2

Port of Rhodos
(dei_port_RHODES_4)
Level 3

Port
(rom_HELLENIC_port_1)
Level 0

Fishing Port
(rom_HELLENIC_port_food_2)
Level 1

Fishmonger
(rom_HELLENIC_port_food_3)
Level 2

Fish Market
(rom_HELLENIC_port_food_4)
Level 3

Military Wharf
(rom_HELLENIC_port_large_military_2)
Level 1

Drydock
(rom_HELLENIC_port_large_military_3)
Level 2

Military Port
(rom_HELLENIC_port_large_military_4)
Level 3

Port
(rom_HELLENIC_port_minor_1)
Level 0

Fishing Port
(rom_HELLENIC_port_minor_food_2)
Level 1

Fishmonger
(rom_HELLENIC_port_minor_food_3)
Level 2

Shipwright
(rom_HELLENIC_port_minor_small_military_2)
Level 1

Docks
(rom_HELLENIC_port_minor_small_military_3)
Level 2

Harbour
(rom_HELLENIC_port_minor_trade_2)
Level 1

Trading Port
(rom_HELLENIC_port_minor_trade_3)
Level 2

Shipwright
(rom_HELLENIC_port_small_military_2)
Level 1

Docks
(rom_HELLENIC_port_small_military_3)
Level 2

Neosoikoi
(rom_HELLENIC_port_small_military_4)
Level 3

Harbour
(rom_HELLENIC_port_trade_2)
Level 1

Trading Port
(rom_HELLENIC_port_trade_3)
Level 2

Emporion
(rom_HELLENIC_port_trade_4)
Level 3