Home
/
Divide et Impera
/
Ptolemaioi
/
Units
/ Ptolemikoi Hetairoi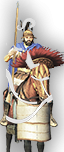 Ptolemaioi Shock Cavalry
Ptolemikoi Hetairoi
(Ptolemaic Companions)

A keen lance, under command of keen hand and eye, can do terrible work.
Following the tradition of elite Hellenic shock cavalry, these horsemen employed heavy armour and fearsome xyston or kontos-like lances. These were considerably longer than normal cavalry spears and balanced by a butt-spike. Using such weapons required Ptolemaic cavalry to forgo shields and steer their mounts with their legs in the same fashion as Saka and Sarmatian archers, and later cataphracts. Unlike their eastern counterparts, Ptolemaic cavalry did not armour their horses in scale until around the 1st century BC. They were heavily armoured themselves, initially wearing bronze cuirasses and helmets but later scale or chainmail armour. Recruited almost exclusively from the richest Greek colonists in Egypt, their numbers were never great but they provided a vital shock element alongside lighter Egyptian and mercenary cavalry.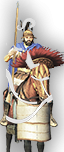 Unit Name

Ptolemikoi Hetairoi
Main Unit Key

Gre_Ptolemaic_Cav
Land Unit Key

Gre_Ptolemaic_Cav
Naval Unit Key

pel_transport
Soldiers

100
Category

Cavalry
Class

Shock Cavalry
Custom Battle Cost

2337
Recruitment Cost

2337
Upkeep Cost

467
Melee Attack

40
9
├ Melee Weapon

lance4
├ Weapon Damage

9
├ Weapon Deadliness

0
├ Armour Piercing

No
├ Bonus vs. Cavalry

0
├ Bonus vs. Elephants

0
└ Bonus vs Infantry

2
Charge Bonus

39
48
├ Base Defence

32
├ Shield

none
└ Shield Defence

16
22
├ Armour

carm11
├ Armour Defence

22
└ Shield Armour

0
20
├ Man Entity

heavy_heavy
├ Man Health

20
├ Bonus Hit Points

0
├ Mount

greek_elite_horse_lance
├ Mount Entity

rome_horse_super_heavy
└ Mount Health

0
Base Morale

60
Abilities
Ptolemikoi Hetairoi
Stamina (poor)
Governs how fast the unit tires and restores fatigue, and is dependent on type of unit, weight and approach to combat.
Flying Wedge
The unit assumes a wedge formation that increases charge speed and bonus
Attributes
Fire Whilst Moving
This unit can fire when mounted and moving.
Disciplined
This unit does not suffer a morale penalty when the general dies. It can also rally after routing more often.
Hide (forest)
This unit can hide in forests until enemy units get too close.
Strengths & Weaknesses
Transport
Very poor hull strength
Very slow speed
Weak ramming
Ptolemikoi Hetairoi
Very good charge
Low damage but average armour penetration
Weak in prolonged melee
Good morale
Requires Buildings
Lv. 0

Alexandria
(dei_main_city_ALEXANDRIA_1)
Level 0

Alexandria
(dei_main_city_ALEXANDRIA_2)
Level 1

Alexandria
(dei_main_city_ALEXANDRIA_3)
Level 2

Fortified Alexandria
(dei_main_city_ALEXANDRIA_3_fort)
Level 2

Commercial Alexandria
(dei_main_city_ALEXANDRIA_3_trade)
Level 2

Alexandria
(dei_main_city_ALEXANDRIA_4)
Level 3

Fortified Alexandria
(dei_main_city_ALEXANDRIA_4_fort)
Level 3

Commercial Alexandria
(dei_main_city_ALEXANDRIA_4_trade)
Level 3

Hoplite Barracks
(rom_HELLENIC_military_main_heavy_3)
Level 2

Lv. 1

Royal Barracks
(rom_HELLENIC_military_main_heavy_4)
Level 3