Home
/
Divide et Impera
/
Ptolemaioi
/
Units
/ Thureophoroi Hippeis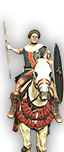 Ptolemaioi Missile Cavalry
Thureophoroi Hippeis
(Thureos Cavalry)

These mercenary soldiers are wealthy enough to be able to afford horses. While not the heaviest cavalry, they are mobile and carry javelins which allow them to harass nearby enemy formations.
Taranto, in Magna Graecia, has a rich history. Founded in 706BC as Taras, it began as the home of the Partheniae, Spartans exiled due to their impure bloodlines. Fortunately, the colony was able to breed superb warhorses, and so its warriors duly grew in reputation. Tarantine cavalry could be combined well with a slow-moving phalanx, providing a rapid and flexible defensive screen for the hoplites' exposed flanks. Their suitability for such a role, in addition to a growing need for mercenaries in the armies of the Hellenistic world, saw that the Tarantines were much sought after. By the 3rd century BC there was some evidence to suggest that they no longer came exclusively from Taranto itself, the word 'Tarantine' referring more to the unit's tactics and weaponry rather than its geographic origins.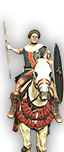 Unit Name

Thureophoroi Hippeis
Main Unit Key

Gre_Thureos_Cav
Land Unit Key

Gre_Thureos_Cav
Naval Unit Key

pel_transport
Soldiers

120
Category

Cavalry
Class

Missile Cavalry
Custom Battle Cost

1195
Recruitment Cost

1195
Upkeep Cost

239
14
├ Missile Weapon

javelin2
├ Projectile

javelin2
├ Missile Damage

14
├ Missile Ap Damage

0
└ Base Reload Time

9
Accuracy

10
Range

85
Reload

23
Shots Per Minute

9
Ammunition

5
Melee Attack

26
10
├ Melee Weapon

gsword2
├ Weapon Damage

10
├ Weapon Deadliness

0
├ Armour Piercing

No
├ Bonus vs. Cavalry

0
├ Bonus vs. Elephants

0
└ Bonus vs Infantry

0
Charge Bonus

17
44
├ Base Defence

13
├ Shield

cshield3
└ Shield Defence

31
8
├ Armour

carm3
├ Armour Defence

8
└ Shield Armour

0
20
├ Man Entity

medium_medium
├ Man Health

20
├ Bonus Hit Points

0
├ Mount

rome_hellenic_horse_sword_shield_m
├ Mount Entity

rome_horse_medium
└ Mount Health

0
Base Morale

45
Abilities
Thureophoroi Hippeis
Stamina (good)
Governs how fast the unit tires and restores fatigue, and is dependent on type of unit, weight and approach to combat.
Concentrate Fire
The unit fires its missiles towards a spot causing damage to everyone in the area of effect
Attributes
Parthian Shot
This unit can fire all around and not just in-front of itself.
Fire Whilst Moving
This unit can fire when mounted and moving.
Hide (forest)
This unit can hide in forests until enemy units get too close.
Fire Whilst Moving
This unit can fire when mounted and moving.
Strengths & Weaknesses
Transport
Very poor hull strength
Very slow speed
Weak ramming
Thureophoroi Hippeis
Short range
Fast rate of fire
Fast moving
Very good damage and armour penetration
Large shield
Very weak in melee
Poor morale
Requires Buildings
Lv. 0

Holosideros Barracks
(rom_HELLENIC_military_main_heavy_2)
Level 1

Hoplite Barracks
(rom_HELLENIC_military_main_heavy_3)
Level 2

Lv. 1

Royal Barracks
(rom_HELLENIC_military_main_heavy_4)
Level 3