Home
/
Divide et Impera
/ Messene (Macedonian Wars)
Macedonian Wars
Messene (Macedonian Wars)
Occupying a position of strategic importance on the Gulf of Korinthos, Boiotia has strong frontiers and trade connections across the region. Thebai, its predominant city and capital of the Boiotian League, was a religious confederation at first, but is now chiefly concerned with mutual defence. The city's surprising support of Persia during its second invasion caused Thebai's temporary displacement as the League's leader, before perceived Athenian imperialism led to its reinstatement by Sparta. Ten years of Athenian occupation followed before the Boiotians won their independence at the Battle of Coronea. Despite a negotiated peace, the reformed Boiotian League's enmity towards Athenai continues unabated. Now, fuelled by its rival's interference in Korinthian colonial matters, the Boiotians are poised – along with its allies Sparta and Korinthos – to end Athenai's empire-building once and for all!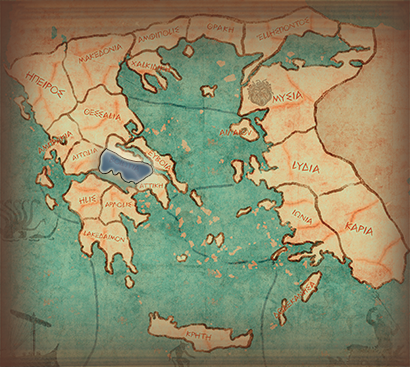 Campaign Map
Faction Name

Messene (Macedonian Wars)
Campaign

main_greek
Culture

rom_Hellenistic
Subculture

sc_rom_greek
Military Group

MAC_thessaly
Faction Group

pel_faction_group_boiotian
Faction Group
Greek
The world-renowned culture of the Greeks was built upon hard toil, keen thinking and military excellence.
Slaves: 50% reduction in slave population decline
Slaves: -85% reduction in unrest caused by slaves but also income generated by them
Political Parties
Orchomenos
A rival of Thebai since Mycenaean times, the city of Orchomenos joined the Boiotian League around 600BC. Nevertheless, the two cities continue to compete.
Playable: False
Initial Power: 22
No Effect
Plataea
Plataea is famous as the site where the Persian invasion was decisively defeated on land in 479BC. It, like many cities in Boiotia, remains a rival of Thebai.
Playable: False
Initial Power: 26
No Effect
Thebai
Thebai, the largest and greatest city in Boiotia, is leader of the Boiotian League. Punished for its unpatriotic attitude during the Persian invasion, its leadership was stripped but later restored by Sparta.
Playable: True
Initial Power: 29
Confederacy: -10% tax rate in all regions
Rising Military: +10% morale for all units
Rival of Athens: -20 diplomatic relations with all Ionian factions
Thespiae
Thespiae joined the Boiotian League after facing a Thessalian invasion. It is a neighbour and close ally of Thebai, though tensions rose during the Persian invasion.
Playable: False
Initial Power: 23
No Effect
General
200
Epilektoi Hoplitai
(Gre_Epilektoi_Hoplites)
Hoplite/Pike Infantry
Melee Infantry
Missile Infantry
175
Mysoi Sphendonetai
(AOR_33_Mysian_Slingers)
Missile Infantry
175
Kretai Toxotai
(AOR_34_Cretan_Archers)
Missile Infantry
175
Skiritai Peltastai
(AOR_35_Skiritai_Peltasts)
Missile Infantry
175
Agrianoi Peltastai
(AOR_38_Agrianian_Axemen)
Missile Infantry
175
Thrakioi Peltastai
(AOR_38_Thracian_Peltasts)
Missile Infantry
175
Rhodioi Sphendonetai
(AOR_42_Rhodian_Slingers)
Missile Infantry
175
Local Bowmen
(GAR_Cel_Local_Bowmen_Foreign)
Missile Infantry
175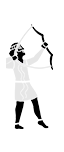 Local Archers
(GAR_Eas_Local_Archers_Foreign)
Missile Infantry
175
Greek Archers
(GAR_Gre_Local_Archers)
Missile Infantry
175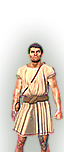 Local Slingers
(GAR_Ita_Citizen_Javelinmen_Foreign)
Missile Infantry
175
Psiloi Toxotai
(Gre_Archers)
Missile Infantry
175
Psiloi Akontistai
(Gre_Javelinmen)
Missile Infantry
175
Euzonoi
(Gre_Light_Peltasts)
Missile Infantry
175
Peltastai
(Gre_Peltasts)
Missile Infantry
175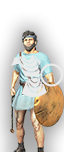 Psiloi Sphendonetai
(Gre_Slingers)
Missile Infantry
Hoplite/Pike Infantry
Spear Infantry
300
Galatai Lugoae
(AOR_30_Galatian_Levies)
Spear Infantry
300
Phrygioi Pantodapoi
(AOR_33_Phrygian_Levies)
Spear Infantry
300
Kretai Haploi
(AOR_34_Cretan_Levies)
Spear Infantry
200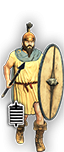 Korinthoi Thureophoroi
(AOR_35_Greek_Thureos_Spears)
Spear Infantry
200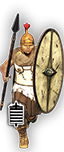 Thessalikoi Thureophoroi
(AOR_36_Greek_Thureos_Spears)
Spear Infantry
200
Local Tribesmen
(GAR_Cel_Tribesmen_Foreign)
Spear Infantry
200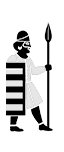 Local Militia
(GAR_Eas_Local_Militia_Foreign)
Spear Infantry
200
Local Town Guard
(GAR_Ita_Town_Guard_Foreign)
Spear Infantry
200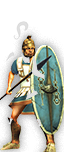 Thureophoroi Hoplitai
(Gre_Thureos_Hoplites)
Spear Infantry
300
Thureophoroi
(Gre_Thureos_Spears)
Spear Infantry
Melee Cavalry
120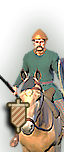 Galatai Epos
(AOR_30_Galatian_Light_Cavalry)
Melee Cavalry
100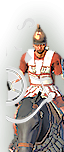 Greek Cavalry
(GAR_Gre_Citizen_Cavalry)
Melee Cavalry
100
Thessalikoi Hippeis
(Gre_Citizen_Cav_Thessaly)
Melee Cavalry
60
Baggage Train
(Supply_Greek)
Melee Cavalry
Missile Cavalry
120
Hippakontistai
(Gre_Skirm_Cav)
Missile Cavalry
120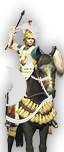 Tarantinoi Hippeis
(Gre_Tarantine_Cav)
Missile Cavalry
120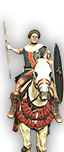 Thureophoroi Hippeis
(Gre_Thureos_Cav)
Missile Cavalry
Shock Cavalry
100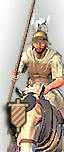 Hippeis Thessalikoi
(AOR_36_Thessalian_Cavalry)
Shock Cavalry
100
Thessaloi Hippeis
(Gre_Thessalian_Cav)
Shock Cavalry
Fixed Artillery
40
Polybolos
(Gre_Polybolos)
Fixed Artillery
40
Oxybeles (Fixed)
(Gre_Scorpion)
Fixed Artillery
40
Oxybeles (Bastion)
(Gre_Scorpion_Bastion)
Fixed Artillery
Field Artillery
40
Lithobolos
(Gre_Ballista)
Field Artillery
40
Lithobolos (Bastion)
(Gre_Ballista_Bastion)
Field Artillery
40
Oxybeles
(Gre_Cheiroballistra)
Field Artillery
Special
80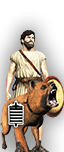 Molossoi Kyon
(AOR_36_Molossian_Hounds)
Special
Admiral
80
Scorpion Trieres - Epibatoi Toxotai
(Gre_Scorpion_Trireme_Admiral)
Missile Ship
140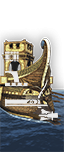 Tower Penteres - Epibatoi
(Gre_Assault_Quinquereme_Admiral)
Melee Ship
Melee Ship
60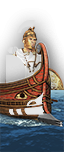 Assault Dieres - Epibatoi
(Gre_Assault_Bireme)
Melee Ship
140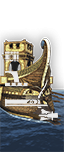 Tower Penteres - Epibatoi
(Gre_Assault_Quinquereme_Admiral)
Melee Ship
120
Assault Tetreres - Epibatoi
(Gre_Assault_Tetreres)
Melee Ship
80
Trieres - Epibatoi
(Gre_Assault_Trireme)
Melee Ship
60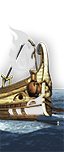 Fire Pot Dieres - Epibatoi
(Gre_Firepot_Bireme)
Melee Ship
Missile Ship
100
Pursuit Trihemiolia - Epibatoi Toxotai
(Gre_Pursuit_Hemolia)
Missile Ship
80
Raiding Hemiolia - Epibatoi Toxotai
(Gre_Raiding_Hemolia)
Missile Ship
80
Scorpion Trieres - Epibatoi Toxotai
(Gre_Scorpion_Trireme_Admiral)
Missile Ship
Artillery Ship
140
Light Artillery Penteres - Lithobolos (Ship)
(Gre_Quinquereme_Ballista)
Artillery Ship
Transport Ship
100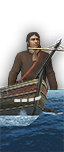 Supply Ship - Supply Crew
(Supply_Ship_Greek)
Transport Ship
Khios
Mytilene
Oinoi
Samos
Naupaktos
Thermon
Ambrakia
Anaktorio
Pronnoi
Amphipolis
Krinides
Argos
Korinthos
Mantinea
Melos
Athenai
Laurion
Naxos
Paros
Delphi
Lamia
Opos
Thebai
Karpathos
Kos
Lindos
Rodos
Elis
Olympia
Patrai
Zakynthos
Antigonia
Dodona
Elaea
Korkyra
Andros
Kalkis
Karystos
Oreos
Byzantion
Kypsela
Perinthos
Sestos
Ephesos
Halikarnassos
Knidos
Miletos
Mende
Olinthos
Torone
Kibyra
Kolossai
Phaselis
Xanthos
Gortyna
Knossos
Kydonia
Kythera
Messenia
Pylos
Sparta
Sardeis
Smyrna
Pella
Argos Orestiko
Arnisa
Dion
Minor Cyclades
Minor Dodecanese
Minor Islands
Minor Saronic
Minor Sporades
Ilion
Kyzikos
Myrina
Pergamon
Antipodes
Larisa
Pharsalos
Pherae
Abdera
Ainos
Maroneia
Thasos