Left Panel

Home
/
Total War: WARHAMMER II
/
Black Crag (Mortal Empires)
/
Units
/ Hulk - Black Orcs
Black Crag (Mortal Empires) Melee Ship
Hulk - Black Orcs
placeholder

Black Orcs are more disciplined, armoured and deadly than other Orcs, ripping through enemies with their heavy weapons for fun.
Even for a Black Orc, Grimgor's thirst for war was exceptional. If a single day went by without a battle, Grimgor was known to start camp-decimating arguments, his one good eye blazing with eagerness to find fault and start a good scrap. Two days without a battle and Grimgor would smite anything he could reach, save (perhaps) his fellow Black Orcs. No one knows for sure what would happen if three days without a battle ever occurred, but even scarred veterans tremble just to think of it. This unquenchable thirst for battle is a sign that marks out a Warboss for leadership, a sign that the Orc is favoured by Gork (or Mork). In a hulking Black Orc with unmatched fighting skills and ferocity it has marked out Grimgor for greatness; the prophet and harbinger of Gork (or Mork).

(Black Orcs)
Black Orcs are the biggest, meanest and strongest of all Orcs. They get their name from their dark green or black skin, although the title is just as much derived from their dour demeanour. Black Orcs are grim and singularly focused on war - an occupation they take extremely seriously. It can truly be said that Black Orcs live to fight. In this regard all Black Orcs treat other Greenskins, even the more battle-worthy types, such as Boar Boyz, as little more than frivolous amateurs. This is largely because lesser Orcs, even the hulking Big 'Uns of the Orc tribes, are likely to squabble amongst themselves instead of concentrating on the foe. This lack of discipline is a shortcoming that Black Orcs neither forget nor forgive. The Black Orcs' opinion of Goblins is even worse, seeing them as beneath contempt and not fit to carry spare equipment, much less fight.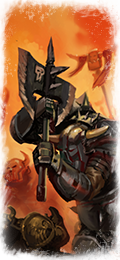 Unit Name

Hulk - Black Orcs
Main Unit Key

wh_main_grn_shp_hulk
Land Unit Key

wh_main_grn_inf_black_orcs
Naval Unit Key

wh_main_grn_shp_hulk
Land Unit Group
Sword Infantry
Naval Unit Group
Sword Infantry
Soldiers

140
Caste

Generic
Category

Heavy Ship
Class

Melee Ship
Cost

800
Recruitment Cost

800
Upkeep Cost

200
└ Ship

wh_main_ship_heavy_dummy
Ship Speed
Melee Attack

36
50
├ Melee Weapon

wh_main_grn_axe_great
├ Melee Damage Base

14
├ Melee Damage Ap

36
├ Armour Piercing

No
├ Bonus vs Cavalry

0
├ Bonus vs Elephants

0
└ Bonus vs Infantry

0
Charge Bonus

29
26
├ Base Defence

26
├ Shield

none
└ Shield Defence

0
110
├ Armour

wh2_main_heavy_metal_110
├ Armour Defence

110
└ Shield Armour

0
135
├ Man Entity
wh_main_grn_inf_black_orcs_blood_dismembers
├ Man Speed

29
├ Man Health

8
└ Bonus Hit Points

127
Leadership (Base Morale)

72
Abilities
No Ability
Attributes
Hide (forest)
This unit can hide in forests until enemy units get too close.
Immune to Psychology
The unit is immune to psychological attacks (fear and terror).
Strengths & Weaknesses
No Strengths and Weaknesses
Faction Availability
The Eye of the Vortex
Mortal Empires