Left Panel

Home
/
Total War: WARHAMMER II
/
Black Crag (Mortal Empires)
/
Units
/ Black Orcs
Black Crag (Mortal Empires) Melee Infantry
Black Orcs
Black Orcs are more disciplined, armoured and deadly than other Orcs, ripping through enemies with their heavy weapons for fun.
Black Orcs are the biggest, meanest and strongest of all Orcs. They get their name from their dark green or black skin, although the title is just as much derived from their dour demeanour. Black Orcs are grim and singularly focused on war - an occupation they take extremely seriously. It can truly be said that Black Orcs live to fight. In this regard all Black Orcs treat other Greenskins, even the more battle-worthy types, such as Boar Boyz, as little more than frivolous amateurs. This is largely because lesser Orcs, even the hulking Big 'Uns of the Orc tribes, are likely to squabble amongst themselves instead of concentrating on the foe. This lack of discipline is a shortcoming that Black Orcs neither forget nor forgive. The Black Orcs' opinion of Goblins is even worse, seeing them as beneath contempt and not fit to carry spare equipment, much less fight.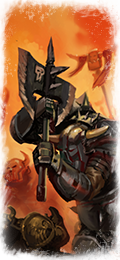 Unit Name

Black Orcs
Main Unit Key

wh_main_grn_inf_black_orcs
Land Unit Key

wh_main_grn_inf_black_orcs
Naval Unit Key

wh_main_shp_transport
Land Unit Group
Great Axe Infantry
Naval Unit Group
Great Axe Infantry
Soldiers

80
Caste

Melee Infantry
Category

Melee Infantry
Class

Melee Infantry
Cost

1150
Recruitment Cost

1200
Upkeep Cost

300
Melee Attack

36
50
├ Melee Weapon

wh_main_grn_axe_great
├ Melee Damage Base

14
├ Melee Damage Ap

36
├ Armour Piercing

No
├ Bonus vs Cavalry

0
├ Bonus vs Elephants

0
└ Bonus vs Infantry

0
Charge Bonus

29
26
├ Base Defence

26
├ Shield

none
└ Shield Defence

0
110
├ Armour

wh2_main_heavy_metal_110
├ Armour Defence

110
└ Shield Armour

0
135
├ Man Entity
wh_main_grn_inf_black_orcs_blood_dismembers
├ Man Speed

29
├ Man Health

8
└ Bonus Hit Points

127
Leadership (Base Morale)

72
Abilities
No Ability
Attributes
Hide (forest)
This unit can hide in forests until enemy units get too close.
Immune to Psychology
The unit is immune to psychological attacks (fear and terror).
Strengths & Weaknesses
Armoured
Armoured units can block damage from any source apart from Armour-Piercing damage.
Armour-Piercing
The damage of armour-piercing weapons mostly ignores the armour of the target, making them the ideal choice against heavily-armoured enemies. They are often heavier and attack at a slower rate though, making them less efficient against poorly-armoured targets.
Requires Buildings
Lv. 0

Black Orc Barracks
(wh_main_grn_military_4)
Level 3

Big Fort
(wh2_main_special_big_fort)
Level 0
Garrison Buildings
x 3

Big Walls
(wh_main_grn_walls_3)
Level 2

Black Crag (Greenskin Encampment)
(wh_main_special_settlement_black_crag_3_grn)
Level 3

Impregnable Fort
(wh2_main_special_empire_fort_untainted_5)
Level 5

Impregnable Fortress Gate
(wh2_main_special_fortress_gate_eagle_untainted_5)
Level 5

Impregnable Fortress Gate
(wh2_main_special_fortress_gate_griffon_untainted_5)
Level 5

Impregnable Fortress Gate
(wh2_main_special_fortress_gate_phoenix_untainted_5)
Level 5

Impregnable Fortress Gate
(wh2_main_special_fortress_gate_unicorn_untainted_5)
Level 5

x 2

Black Crag (Greenskin Hideout)
(wh_main_special_settlement_black_crag_1_grn)
Level 1

Black Crag (Greenskin Camp)
(wh_main_special_settlement_black_crag_2_grn)
Level 2

Grand Fort
(wh2_main_special_empire_fort_untainted_3)
Level 3

Imposing Fort
(wh2_main_special_empire_fort_untainted_4)
Level 4

Grand Fortress Gate
(wh2_main_special_fortress_gate_eagle_untainted_3)
Level 3

Imposing Fortress Gate
(wh2_main_special_fortress_gate_eagle_untainted_4)
Level 4

Grand Fortress Gate
(wh2_main_special_fortress_gate_griffon_untainted_3)
Level 3

Imposing Fortress Gate
(wh2_main_special_fortress_gate_griffon_untainted_4)
Level 4

Grand Fortress Gate
(wh2_main_special_fortress_gate_phoenix_untainted_3)
Level 3

Imposing Fortress Gate
(wh2_main_special_fortress_gate_phoenix_untainted_4)
Level 4

Grand Fortress Gate
(wh2_main_special_fortress_gate_unicorn_untainted_3)
Level 3

Imposing Fortress Gate
(wh2_main_special_fortress_gate_unicorn_untainted_4)
Level 4

x 5

Black Crag (Greenskin Fort)
(wh_main_special_settlement_black_crag_4_grn)
Level 4

Black Crag (Greenskin Stronghold)
(wh_main_special_settlement_black_crag_5_grn)
Level 5
Faction Availability
The Eye of the Vortex
Mortal Empires