Home
/
Divide et Impera
/
Boii
/
Units
/ Cingetoi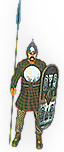 Boii Melee Infantry
Cingetoi
(Early Boii Warriors)

Cingetos means the marching ones." It is the common name for professional, skilled Celtic warriors. Typical of the La Tene period, these Celtic warriors are the best of the regular troops; They are highly skilled veterans, given the best equipment. They use heavy spears and a long sword, but wear no armour except perhaps a bronze disc and a high, pointed helmet."
While Celts often lacked the formal organisations and tactics of their more 'civilised' opponents, they did have extremely able metalworkers, and long experience as mercenaries. In battle, they were not outmatched on an individual level by Romans or Greeks. Celts often favoured the spear in battle. It is a simple weapon, and a typical Celtic warrior might carry several into a fight: lighter javelins to hurl at the enemy on the approach or charge, and sometimes an iron-tipped spear for close combat. Some spears were crafted with barbed tips to cause further damage as they were pulled from wounds. Spears were also convenient for displaying trophies, in the shape of rotting enemy heads. This bloody appearance by the Celts, and a ferocious appetite for battle, was often enough to un-man opponents. Celtic warriors would send a chorus of chants, taunts and insults aimed towards foes, and blow their unearthly-sounding 'carnyx' battle horns. The whole display was intended to frighten foes, and put the warriors into the right frame of mind for battle.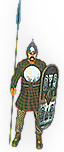 Unit Name

Cingetoi
Main Unit Key

cel_boii_early_warriors
Land Unit Key

cel_boii_early_warriors
Naval Unit Key

barbarian_transport
Soldiers

200
Category

Melee Infantry
Class

Melee Infantry
Custom Battle Cost

746
Recruitment Cost

746
Upkeep Cost

149
Melee Attack

34
9
├ Melee Weapon

spear3
├ Weapon Damage

9
├ Weapon Deadliness

0
├ Armour Piercing

No
├ Bonus vs. Cavalry

4
├ Bonus vs. Elephants

10
└ Bonus vs Infantry

0
Charge Bonus

11
71
├ Base Defence

19
├ Shield

shield5
└ Shield Defence

52
6
├ Armour

arm3
├ Armour Defence

6
└ Shield Armour

0
20
├ Man Entity

medium_medium
├ Man Health

20
└ Bonus Hit Points

0
Base Morale

50
Abilities
Cingetoi
Stamina (low)
Governs how fast the unit tires and restores fatigue, and is dependent on type of unit, weight and approach to combat.
Phalanx
The unit enters a defensive formation that increases frontal defense but the unit's movement speed and attack are reduced
Attributes
Hide (forest)
This unit can hide in forests until enemy units get too close.
Strengths & Weaknesses
Transport
Very poor hull strength
Very slow speed
Weak ramming
Cingetoi
Good attack
Average defence
Average damage but low armour penetration
Normal morale
Upgrade
Required Technology Cost 435 Upgrade To
Requires Buildings
Lv. 0

Meeting Ground
(rom_BARBARIAN_artisans_major_bronze_2)
Level 1

Proving Grounds
(rom_BARBARIAN_artisans_major_bronze_3)
Level 2

Lv. 1

Hall of Champions
(rom_BARBARIAN_artisans_major_bronze_4)
Level 3