Home
/
Divide et Impera
/
Boii
/
Units
/ Excingetoi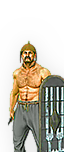 Boii Melee Infantry
Excingetoi
(Boii Swordsmen)

The Boians are renowned for their swords. They are especially large and broad, with a narrow point, making them useful both for thrusting and slashing. The long handle allows these swords perhaps to be used with two hands. These swordsmen are the bread and butter of any Boian battle line, acting as its main assault infantry alongside the axemen.
The longsword was a weapon of high worth and status within the Celtic community. A warrior had to prove himself in battle many times before he was permitted to wield one. The two-handed longsword was first developed during the 8th century BC, but fell from favour before re-emerging around 450BC. It is possible that Celtic ironwork was significantly behind that of the Romans, as apparently their longswords bent very easily and had to be straightened against the ground. On the other hand, since Celtic ironworking was several centuries old, some believe that Roman accounts of this practice mistook this practise, and it was actually a ritual to 'decommission' defeated, dishonoured or damaged weapons.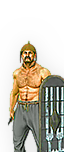 Unit Name

Excingetoi
Main Unit Key

cel_boii_swordsmen
Land Unit Key

cel_boii_swordsmen
Naval Unit Key

barbarian_transport
Soldiers

300
Category

Melee Infantry
Class

Melee Infantry
Custom Battle Cost

622
Recruitment Cost

622
Upkeep Cost

124
12
├ Missile Weapon

prec2
├ Projectile

prec2
├ Missile Damage

12
├ Missile Ap Damage

0
└ Base Reload Time

10
Accuracy

5
Range

80
Reload

0
Shots Per Minute

6
Ammunition

1
Melee Attack

36
11
├ Melee Weapon

bsword3
├ Weapon Damage

11
├ Weapon Deadliness

0
├ Armour Piercing

No
├ Bonus vs. Cavalry

0
├ Bonus vs. Elephants

0
└ Bonus vs Infantry

0
Charge Bonus

13
71
├ Base Defence

19
├ Shield

shield5
└ Shield Defence

52
3
├ Armour

arm1
├ Armour Defence

3
└ Shield Armour

0
20
├ Man Entity

medium_light
├ Man Health

20
└ Bonus Hit Points

0
Base Morale

45
Abilities
Excingetoi
Stamina (average)
Governs how fast the unit tires and restores fatigue, and is dependent on type of unit, weight and approach to combat.
Attributes
Hide (forest)
This unit can hide in forests until enemy units get too close.
Strengths & Weaknesses
Transport
Very poor hull strength
Very slow speed
Weak ramming
Excingetoi
Good attack
Average defence
Average damage but low armour penetration
Normal morale
Requires Buildings
Lv. 0

Meeting Ground
(rom_BARBARIAN_artisans_major_bronze_2)
Level 1

Proving Grounds
(rom_BARBARIAN_artisans_major_bronze_3)
Level 2

Hall of Champions
(rom_BARBARIAN_artisans_major_bronze_4)
Level 3