Home
/
Divide et Impera
/
Mercenaries
/ Nizagan-i Eranshahr i Mizdaganig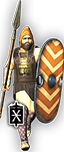 Mercenaries Spear Infantry
Nizagan-i Eranshahr i Mizdaganig
(Persian Mercenary Spearmen)

These mercenary spearmen are a far cry from the Immortals of the old Persian Empire, but they are still reliable if their fee is met.
The thureos, a large oval-shaped shield, became common throughout the Hellenistic world from the 3rd century BC. Made from wood covered in hide, it differed from the earlier Greek hoplon in having a central handgrip, which was protected by a vertical spine running the length of the shield. This in turn could be further reinforced by the addition of a wide metal strip that protected the grip and the user's hand. Inspired by the sub-rectangular and oval shields of the Celts, possibly through contact with the migrating Galatians, its usage seems to have spread through the Illyrian and Thracian tribes before it was adopted by the Greeks. Although large, the thureos was light in comparison to the traditional hoplon, and was adopted by heavily-armoured peltasts. Named after their shields, 'thureophoroi' could fight as common peltasts, skirmishing with javelins, but could also form up with their larger shields and longer spears in a similar fashion to a phalanx. The versatile and useful design of the thureos meant it was used by many armies, including the auxiliaries and cavalry of the later Roman Legions.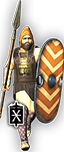 Unit Name

Nizagan-i Eranshahr i Mizdaganig
Main Unit Key

MERC_Per_Mercenary_Band
Land Unit Key

MERC_Per_Mercenary_Band
Naval Unit Key

pel_transport
Soldiers

200
Category

Melee Infantry
Class

Spear Infantry
Custom Battle Cost

792
Recruitment Cost

495
Upkeep Cost

297
Melee Attack

26
9
├ Melee Weapon

spear2
├ Weapon Damage

9
├ Weapon Deadliness

0
├ Armour Piercing

No
├ Bonus vs. Cavalry

3
├ Bonus vs. Elephants

10
└ Bonus vs Infantry

0
Charge Bonus

10
71
├ Base Defence

19
├ Shield

shield5
└ Shield Defence

52
10
├ Armour

arm5
├ Armour Defence

10
└ Shield Armour

0
20
├ Man Entity

rome_infantry_heavy
├ Man Health

20
└ Bonus Hit Points

0
Base Morale

50
Abilities
Nizagan-i Eranshahr i Mizdaganig
Stamina (average)
Governs how fast the unit tires and restores fatigue, and is dependent on type of unit, weight and approach to combat.
Attributes
Expert Charge Defence
This unit's melee attack and damage are increased against charging enemies.
Disciplined
This unit does not suffer a morale penalty when the general dies. It can also rally after routing more often.
Hide (forest)
This unit can hide in forests until enemy units get too close.
Strengths & Weaknesses
Transport
Very poor hull strength
Very slow speed
Weak ramming
Nizagan-i Eranshahr i Mizdaganig
Very good defensive unit
Low damage but average armour penetration
Average attack
Good morale
Grand Campaign Mercenaries Pool
Mercenaries Pool
Ta-Abt
Ptolemaioi
Ta-Ament
Ptolemaioi
Ta-Mehu
Ptolemaioi
Ta-Shemau
Ptolemaioi
Byzacium
Qarthadastim
Syrthim
Qarthadastim
Tripolis
Qarthadastim
Zeugitana
Qarthadastim
Ityopya
Aksum
Kush
Medewi
Medjay
Blemmyai
Aquitania
Vivisci
Gergovia
Arverni
Pictavis
Pictones
Himyar
Mamlakat Himyar
Maka
Mascat
Saba

Mamlakatin Saba
Hagar
Hagar
Kedar
Qidri
Yathrib
Ma'in
Harauvatis
Harauvatis
Paropamisadai
Harauvatis
Haraiva
Haraiva
Zranka
Asagarta
Margus
Haraiva
Hayk
Hayasdan
Korchayk
Hayasdan
Tsopk
Hayasdan
Lydia
Lydia
Mysia
Pergamon
Phrygia
Lydia
Rhodos
Rhodos
Baktria

Baktria
Tocharia

Baktria
Baeturia
Turdetani
Turdetania
Qarthadastim
Arduenna Silva
Treveri
Silva Carbonaria

Atrebates
Bithynia
Bithynia
Paphlagonia
Pontos
Pontos
Pontos
Riza
Trapezos
Maiotia
Arche Bosphorus
Sindike
Arche Bosphorus
Tauris
Arche Bosphorus
Brigantia
Brigantes
Britannia
Iceni
Demetia
Demetae
Dumnonia
Dumnonii
Caledonia
Kaledonoi
Hibernia
Iweriu
Eremos Karmania
Asagarta
Karmania

Zranka
Baleareis
Qarthadastim
Bastetania
Qarthadastim
Celtiberia
Arevaci
Edetania
Edetani
Ardhan
Ardhan
Kolkheti
Kolkhis
Kartli

Kartli
Aremorica

Namnetes
Lugdunensis

Aedui
Lutetia
Carnutes
Xvarazm
Xvarazm
Transcaspia
Daha
Kilikia

Seleukidai
Kypros
Kypros
Pamphylia
Kypros
Insubria
Insubres
Liguria
Liguria
Venetia et Histria
Veneti
Corsica
Qarthadastim
Sardinia
Qarthadastim
Bastarnia
Bastarnoz
Dacia Inferior

Getae
Dacia Superior
Apulii
Katpatuka
Katpatuka
Kommagene
Katpatuka
Galatia
Koinon Galaton
Lykaonia
Lydia
Maka

Zranka
Rambakia

Zranka
Germania Inferior
Nervii
Germania Superior
Sequani
Attike
Athenai
Krete
Knossos
Peloponnesos
Sparta
Hercynia Silva
Boii
Luna Silva
Boii
Dalmatia
Daorsi
Illyria
Ardiaei
Liburnia
Dalmatae
Etruria

Roma
Latium

Roma
Picenum

Roma
Samnium

Roma
Kyrenaike
Ptolemaioi
Marmarike
Ptolemaioi
Oases

Nasamones
Siwa
Ptolemaioi
Celtica
Celtici
Lusitania
Lusotannan
Epeiros
Epeiros
Makedonia
Antigonidai
Larissa
Epeiros
Frisia
Freisias
Silva Bacenis
Heruskoz
Silva Nigra

Markamannoz
Bruttium

Roma
Apulia

Roma
Lilybaion
Qarthadastim
Sirako
Syrakousai
Atlas
Gaetuli
Gaetulia

Masaesyli
Numidia

Masaesyli
Tingitana
Qarthadastim
Atropatkan
Atropatkan
Mada
Atropatkan
Rhagau
Parsa
Athura

Seleukidai
Babirus

Seleukidai
Meshan

Seleukidai
Osroene

Seleukidai
Havilah
Mamlaktha Nabata
Yehuda
Ptolemaioi
Iordan
Ptolemaioi
Lihyan
Mamlaktha Nabata
Pannonia Inferior
Scordisci
Pannonia Superior
Breuci
Transdanubia
Eravisci
Astauene
Parthia
Varkana
Parthava
Parthava
Parthava
Traxiane
Parthava
Elam
Parsa
Lyan
Parsa
Parsa
Parsa
Tidamensi
Igharimen
Garama
Igharimen
Gerrhos
Basileioi Skythai
Didoya
Aorsoi
Oium
Catiaroi
Zyx

Siraces
Narbonensis
Volcae
Transalpina
Massalia
Helvetia
Helvetii
Noricum
Nori
Raetia
Raeti
Aestia
Aestii
Danu Nazdya
Anartes
Baug
Budini
Scythia
Rauxsa-alanna
Turan
Thyssagetae
Usturt
Saka Rauka
Leda
Leugoz
Silesia
Leugoz
Vistula
Gutones
Cimbria
Kimbroz
Suebia
Sweboz
Rugia
Rugoz
Aram

Seleukidai
Eremos Syria

Seleukidai
Phoinike

Seleukidai
Syria

Seleukidai
Gallaecia
Gallaeci
Cantabria
Cantabri
Tarraconensis
Cessetani
Terra Incognita
Byzantion
Tolistobogii
Dardania

Triballi
Moesia

Basileion Odryson
Thrake
Antigonidai
Transoxania

Baktria
Suguda

Baktria
Attica
Creta
Achaia
Ta-Mehu
Ta-Shemau
Ta-Ament
Ta-Abt
Ityopya
Kush
Medjay
Zeugitana
Byzacium
Tripolis
Syrthim
Aquitania
Gergovia
Pictavis
Himyar
Maka
Saba
Kedar
Hagar
Yathrib
Transcaspia
Haraiva
Margus
Tsopk
Hayk
Turuberan
Korchayk
Lydia
Mysia
Phrygia
Rhodos
Baktria
Tocharia
Paropamisadai
Baeturia
Turdetania
Carpetania
Silva Carbonaria
Treverorum
Pontos
Bithynia
Paphlagonia
Riza
Tauris
Sindike
Maiotia
Britannia Superior
Dumnonia
Demetia
Britannia Inferior
Eremos Karmania
Karmania
Ardhan
Kartli
Kolkheti
Xvarazm
Usturt
Liguria
Insubria
Venetia et Histria
Corsica
Sardinia
Dacia Inferior
Bastarnia
Dacia Malvensis
Zarmizegetusa
Galatia
Lykaonia
Katpatuka
Pamphylia
Lugdunensis
Lutetia
Aremorica
Iuliobana
Rambakia
Zranka
Maka
Bagacum
Germania Superior
Silva Nigra
Hercynia Silva
Luna Silva
Baleareis
Bastetania
Celtiberia
Edetania
Illyria
Liburnia
Dalmatia
Campania
Apulia
Bruttium
Yehuda
Kypros
Phoinike
Picenum
Tuscia
Samnium
Latium
Siwa
Oases
Kyrenaike
Marmarike
Silesia
Leda
Baug
Chronos
Celtica
Lusitania
Epeiros
Thessalia
Makedonia
Frisia
Cimbria
Silva Bacenis
Atlas
Mauretania
Tingitana
Rhagau
Mada
Atropatkan
Phraaspa
Meshan
Babirus
Osroene
Athura
Havilah
Lihyan
Iordan
Provincia
Narbonensis
Tolosa
Militiana
Cirtensis
Gaetulia
Numidia
Eremos Syria
Palmyra
Transdanubia
Pannonia Superior
Pannonia Inferior
Parthava
Astauene
Traxiane
Varkana
Lyan
Parsa
Elam
Tidamensi
Garama
Caledonia
Hibernia
Brigantia
Alcimoennis
Raetia
Noricum
Helvetia
Danu Apara
Oium
Gerrhos
Scythia
Didoya
Turan
Zyx
Akragas
Panormos
Sirako
Suebia
Vistula
Ascaucalis
Rugia
Syria
Kommagene
Kilikia
Aram
Cantabria
Gallaecia
Tarraconensis
Terra Incognita
Byzantion
Dardania
Moesia
Thrake
Transoxania
Suguda