Home
/
Divide et Impera
/
Mercenaries
/ Mercenary Numidian Noble Cavalry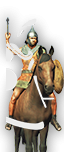 Mercenaries Missile Cavalry
Mercenary Numidian Noble Cavalry
For the right price, a canny general can acquire the most powerful of battlefield tools.
Numidian tribesmen were raised with horses from an early age, riding bareback without a bridle and controlling their horses by tapping the beasts between the ears with a stick. Numidian cavalry were supremely agile, skirmishing with assured expertise before swinging around to escape as rapidly as they had arrived. Wearing only a thin tunic, they carried javelins and small wicker shields. At Cannae, the highpoint of Carthaginian military success, Hannibal's right wing consisted of 3,500 Numidian cavalrymen. The Numidians attacked the Romans' allied cavalry and chased them from the field before returning to smash into the rear of the Roman lines. Considered the elite of the Carthaginian army during the Second Punic War, the Numidians' defection before the Battle of Zama arguably led to Scipio's victory over Hannibal in the final stages of the conflict.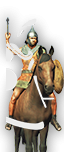 Unit Name

Mercenary Numidian Noble Cavalry
Main Unit Key

Mer_Num_Noble_Cav
Land Unit Key

Mer_Num_Noble_Cav
Naval Unit Key

pel_transport
Soldiers

80
Category

Cavalry
Class

Missile Cavalry
Custom Battle Cost

1180
Recruitment Cost

860
Upkeep Cost

640
15
├ Missile Weapon

rome_javelin_improved
├ Projectile

javelin_improved
├ Missile Damage

13
├ Missile Ap Damage

2
└ Base Reload Time

9
Accuracy

5
Range

103
Reload

20
Shots Per Minute

8
Ammunition

7
Melee Attack

65
6
├ Melee Weapon

rome_kopis
├ Weapon Damage

6
├ Weapon Deadliness

0
├ Armour Piercing

No
├ Bonus vs. Cavalry

0
├ Bonus vs. Elephants

0
└ Bonus vs Infantry

0
Charge Bonus

30
44
├ Base Defence

19
├ Shield

pelta_cavalry
└ Shield Defence

25
45
├ Armour

mail
├ Armour Defence

40
└ Shield Armour

5
45
├ Man Entity

rome_infantry_heavy
├ Man Health

20
├ Bonus Hit Points

25
├ Mount

rome_hellenic_horse_sword_shield_m
├ Mount Entity

rome_horse_medium
└ Mount Health

0
Base Morale

70
Abilities
No Ability
Attributes
Improved Stamina
This unit type has an improvement on the base stamina stat.
Hide (forest)
This unit can hide in forests until enemy units get too close.
Fire Whilst Moving
This unit can fire when mounted and moving.
Parthian Shot
This unit can fire all around and not just in-front of itself.
Resistant to Heat
This unit tires less quickly in the desert.
Strengths & Weaknesses
Transport
Very poor hull strength
Very slow speed
Weak ramming
Mercenary Numidian Noble Cavalry
Short range
Fast rate of fire
Fast moving
Very good damage and armour penetration
Large shield
Very weak in melee
Poor morale
Faction Mercenaries Pool