Home
/
Divide et Impera
/
Mercenaries
/ Missile Raider - Mercenary Longbow Hunters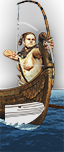 Mercenaries Missile Ship
Missile Raider - Mercenary Longbow Hunters
Small raiding boats, with crews large enough to board enemy vessels.

Huntsmen will take men as prey, if the price is good enough.
Most of the northern European tribes were not naval powers, but there were still able seafarers to be found amongst them. Shipbuilding techniques were well understood, so while many vessels were small leather-skinned boats for inland and inshore use, bigger sea-going vessels were also made. Shipwrights used heavy planking for hulls, stitched together and then fastened to a wooden skeleton to create sturdy craft able to cope with Atlantic conditions. Julius Caesar was surprised at the quality of the enemy ships when his fleet clashed with the Veneti from modern-day Brittany. The Veneti vessels had flat bottoms to cope with shallows, but were also of heavy oak construction to cope with rough seas. This made them tough opposition for Roman galleys, and capable of shrugging off a ramming attack. Caesar said that the enemy ships "...were constructed of planks a foot in breadth, fastened by iron spikes the thickness of a man's thumb; the anchors were secured fast by iron chains instead of cables". When the Romans were forced to board, they faced fearsome warriors used to close-quarters fighting at sea.

(Mercenary Longbow Hunters)
The German warrior was exposed on an open, flat battlefield but, when fighting in hills and woodland, he had the advantage. Most were raised as hunters in dense forests, so became expert at stealthy manoeuvres and laying ambush. Whilst their battle tactics were proven, their longbows, often two metres in length and made of yew, lacked the power and accuracy of composite bows made in the east. Their ammunition was also somewhat lacking: limited iron supplies meant these men often fired bone-tipped arrows that struggled to pierce enemy armour. On the battlefield, archers lined up behind slingers - afforded some protection by the shields of the warriors in front of them.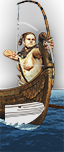 Unit Name

Missile Raider - Mercenary Longbow Hunters
Main Unit Key

Mer_Ger_Raider
Land Unit Key

Mer_Ger_Longbow_Hunters
Naval Unit Key

barbarian_raider_ranged
Soldiers

80
Category

Medium Ship
Class

Missile Ship
Custom Battle Cost

380
Recruitment Cost

380
Upkeep Cost

280
9
├ Missile Weapon

rome_longbow
├ Projectile

arrow_longbow
├ Missile Damage

9
├ Missile Ap Damage

0
└ Base Reload Time

10
Accuracy

5
Range

215
Reload

18
Shots Per Minute

7
Ammunition

15
└ Ship

barbarian_raider
Ship Speed
Melee Attack

8
5
├ Melee Weapon

rome_shortsword
├ Weapon Damage

5
├ Weapon Deadliness

0
├ Armour Piercing

No
├ Bonus vs. Cavalry

0
├ Bonus vs. Elephants

0
└ Bonus vs Infantry

0
Charge Bonus

3
28
├ Base Defence

12
├ Shield

none
└ Shield Defence

16
10
├ Armour

cloth
├ Armour Defence

10
└ Shield Armour

0
25
├ Man Entity

rome_infantry_very_light_fast
├ Man Health

20
└ Bonus Hit Points

5
Base Morale

25
Abilities
Missile Raider
Row Hard 10
Increases speed for 10 strokes.
Ship speed
Attributes
Improved Stamina
This unit type has an improvement on the base stamina stat.
Hide (scrub & forest)
This unit can hide in scrub and forest until enemy units get too close.
Resistant to Cold
This unit tires less quickly in snow.
Snipe
This unit remains hidden while firing.
Stalk
This unit can move hidden in any terrain.
Strengths & Weaknesses
Missile Raider
Good hull strength
Medium crew
Fast speed
Weak ramming
Poor boarding
Good missile combat
Mercenary Longbow Hunters
Long range
Average rate of fire
Good damage but low armour penetration
Very weak in melee
Very poor morale
Faction Mercenaries Pool
Mercenaries Pool
No.
Pool
Faction
Initial Unit Count
Chance To Replenish
Max Replenish Per Turn
Max Count
1
rom_faction_pool_naval_germanics
1
0.15
1
1