Home
/
Divide et Impera
/
Mercenaries
/ Pursuit Trihemiolia - Misthophoroi Peltastai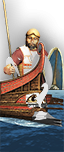 Mercenaries Missile Ship
Pursuit Trihemiolia - Misthophoroi Peltastai
The trihemiolia is a lighter version of the trireme, with two and a half rows of oars. Developed by the Rhodians, it has been their favoured ship design for centuries and is an ideal pirate hunter, able to keep up with lighter raiding ships.

Buying a screening force of javelinmen is money well spent.
It is thought that the Rhodians, a significant naval power in the eastern Mediterranean, developed the 'trihemiolia' or 'two-and-a-half' as a vessel for pirate hunting. Given that Rhodes is an island entirely reliant on the sea and shipping this is a believable theory. Pirates used the hemiola, a handy little vessel developed from the dieres or bireme, a ship with two rows of oars; it makes sense that pirate hunters would think of taking a trieres, or trireme, with three rows of oars and modifying it in a similar fashion. A trihemiolia still had three rows of oars on each side, but the top row was reduced to only half the number of oars, positioned midships. The result was a faster, handier vessel that provided a height advantage over a hemiola for any archers on board. There was also a strategic benefit to the Rhodians, who could only draw on the manpower of one island: they could have six trieres warships with full complements of rowers, or seven trihemiolias for the same number of men. The useful design was soon adopted by other maritime powers around the Mediterranean.

(Misthophoroi Peltastai)
These skirmishers were named for their small crescent-shaped leather or wicker shields or 'peltai'. It was a common habit to name troops for their shield style in the Greek world. They wore little or no armour and carried three javelins. After harassing the enemy by flinging javelins, they would hastily retreat before any counter-charge or flanking move could be carried out. As armies developed and tactics became more complex, peltasts were expected to take part in hand-to-hand combat: with such expectation they were given stiffened linen cuirasses and short swords. They were still expected to use javelins, but could then join in the close fighting. Eventually, peltasts even exchanged their characteristic shield for the heavier thureos. Their name and battlefield function remained unchanged.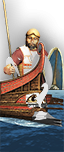 Unit Name

Pursuit Trihemiolia - Misthophoroi Peltastai
Main Unit Key

Mer_Rho_Two_Halfer
Land Unit Key

Mer_Gre_Peltasts
Naval Unit Key

greek_two_halfer
Soldiers

100
Category

Light Ship
Class

Missile Ship
Custom Battle Cost

630
Recruitment Cost

630
Upkeep Cost

470
13
├ Missile Weapon

rome_javelin
├ Projectile

javelin_normal
├ Missile Damage

11
├ Missile Ap Damage

2
└ Base Reload Time

9
Accuracy

5
Range

103
Reload

18
Shots Per Minute

8
Ammunition

7
585
└ Ship

greek_two_halfer
Ship Speed

5
Melee Attack

18
5
├ Melee Weapon

rome_shortsword
├ Weapon Damage

5
├ Weapon Deadliness

0
├ Armour Piercing

No
├ Bonus vs. Cavalry

0
├ Bonus vs. Elephants

0
└ Bonus vs Infantry

0
Charge Bonus

10
40
├ Base Defence

15
├ Shield

peltast_thureos
└ Shield Defence

25
65
├ Armour

spolas
├ Armour Defence

35
└ Shield Armour

30
30
├ Man Entity

rome_infantry_light
├ Man Health

20
└ Bonus Hit Points

10
Base Morale

40
Abilities
Pursuit Trihemiolia
Row Hard 10
Increases speed for 10 strokes.
Ship speed
Attributes
Improved Stamina
This unit type has an improvement on the base stamina stat.
Hide (scrub & forest)
This unit can hide in scrub and forest until enemy units get too close.
Hide (scrub & forest)
This unit can hide in scrub and forest until enemy units get too close.
Strengths & Weaknesses
Pursuit Trihemiolia
Poor hull strength
Medium crew
Uncatchable
Weak ramming
Poor boarding
Average missile combat
Misthophoroi Peltastai
Short range
Fast rate of fire
Very good damage and armour penetration
Large shield
Very weak in melee
Poor morale
Mercenaries Pool
Mercenaries Pool

No.
Pool
Province
Region
Initial Unit Count
Chance To Replenish
Max Replenish Per Turn
Max Count
1
rom_province_pool_naval_asia
Asia
Lydia
Mysia
Phrygia
Rhodos

1
0.15
1
1
2
rom_province_pool_naval_hellas
Hellas
Attica
Creta
Achaia

1
0.15
1
1
Grand Campaign Mercenaries Pool
Attica
Creta
Achaia
Ta-Mehu
Ta-Shemau
Ta-Ament
Ta-Abt
Ityopya
Kush
Medjay
Zeugitana
Byzacium
Tripolis
Syrthim
Aquitania
Gergovia
Pictavis
Himyar
Maka
Saba
Kedar
Hagar
Yathrib
Transcaspia
Haraiva
Margus
Tsopk
Hayk
Turuberan
Korchayk
Lydia
Mysia
Phrygia
Rhodos
Baktria
Tocharia
Paropamisadai
Baeturia
Turdetania
Carpetania
Silva Carbonaria
Treverorum
Pontos
Bithynia
Paphlagonia
Riza
Tauris
Sindike
Maiotia
Britannia Superior
Dumnonia
Demetia
Britannia Inferior
Eremos Karmania
Karmania
Ardhan
Kartli
Kolkheti
Xvarazm
Usturt
Liguria
Insubria
Venetia et Histria
Corsica
Sardinia
Dacia Inferior
Bastarnia
Dacia Malvensis
Zarmizegetusa
Galatia
Lykaonia
Katpatuka
Pamphylia
Lugdunensis
Lutetia
Aremorica
Iuliobana
Rambakia
Zranka
Maka
Bagacum
Germania Superior
Silva Nigra
Hercynia Silva
Luna Silva
Baleareis
Bastetania
Celtiberia
Edetania
Illyria
Liburnia
Dalmatia
Campania
Apulia
Bruttium
Yehuda
Kypros
Phoinike
Picenum
Tuscia
Samnium
Latium
Siwa
Oases
Kyrenaike
Marmarike
Silesia
Leda
Baug
Chronos
Celtica
Lusitania
Epeiros
Thessalia
Makedonia
Frisia
Cimbria
Silva Bacenis
Atlas
Mauretania
Tingitana
Rhagau
Mada
Atropatkan
Phraaspa
Meshan
Babirus
Osroene
Athura
Havilah
Lihyan
Iordan
Provincia
Narbonensis
Tolosa
Militiana
Cirtensis
Gaetulia
Numidia
Eremos Syria
Palmyra
Transdanubia
Pannonia Superior
Pannonia Inferior
Parthava
Astauene
Traxiane
Varkana
Lyan
Parsa
Elam
Tidamensi
Garama
Caledonia
Hibernia
Brigantia
Alcimoennis
Raetia
Noricum
Helvetia
Danu Apara
Oium
Gerrhos
Scythia
Didoya
Turan
Zyx
Akragas
Panormos
Sirako
Suebia
Vistula
Ascaucalis
Rugia
Syria
Kommagene
Kilikia
Aram
Cantabria
Gallaecia
Tarraconensis
Terra Incognita
Byzantion
Dardania
Moesia
Thrake
Transoxania
Suguda
Ta-Abt
Ptolemaioi
Ta-Ament
Ptolemaioi
Ta-Mehu
Ptolemaioi
Ta-Shemau
Ptolemaioi
Byzacium
Qarthadastim
Syrthim
Qarthadastim
Tripolis
Qarthadastim
Zeugitana
Qarthadastim
Ityopya
Aksum
Kush
Medewi
Medjay
Blemmyai
Aquitania
Vivisci
Gergovia
Arverni
Pictavis
Pictones
Himyar
Mamlakat Himyar
Maka
Mascat
Saba

Mamlakatin Saba
Hagar
Hagar
Kedar
Qidri
Yathrib
Ma'in
Harauvatis
Harauvatis
Paropamisadai
Harauvatis
Haraiva
Haraiva
Zranka
Asagarta
Margus
Haraiva
Hayk
Hayasdan
Korchayk
Hayasdan
Tsopk
Hayasdan
Lydia
Lydia
Mysia
Pergamon
Phrygia
Lydia
Rhodos
Rhodos
Baktria

Baktria
Tocharia

Baktria
Baeturia
Turdetani
Turdetania
Qarthadastim
Arduenna Silva
Treveri
Silva Carbonaria

Atrebates
Bithynia
Bithynia
Paphlagonia
Pontos
Pontos
Pontos
Riza
Trapezos
Maiotia
Arche Bosphorus
Sindike
Arche Bosphorus
Tauris
Arche Bosphorus
Brigantia
Brigantes
Britannia
Iceni
Demetia
Demetae
Dumnonia
Dumnonii
Caledonia
Kaledonoi
Hibernia
Iweriu
Eremos Karmania
Asagarta
Karmania

Zranka
Baleareis
Qarthadastim
Bastetania
Qarthadastim
Celtiberia
Arevaci
Edetania
Edetani
Ardhan
Ardhan
Kolkheti
Kolkhis
Kartli

Kartli
Aremorica

Namnetes
Lugdunensis

Aedui
Lutetia
Carnutes
Xvarazm
Xvarazm
Transcaspia
Daha
Kilikia

Seleukidai
Kypros
Kypros
Pamphylia
Kypros
Insubria
Insubres
Liguria
Liguria
Venetia et Histria
Veneti
Corsica
Qarthadastim
Sardinia
Qarthadastim
Bastarnia
Bastarnoz
Dacia Inferior

Getae
Dacia Superior
Apulii
Katpatuka
Katpatuka
Kommagene
Katpatuka
Galatia
Koinon Galaton
Lykaonia
Lydia
Maka

Zranka
Rambakia

Zranka
Germania Inferior
Nervii
Germania Superior
Sequani
Attike
Athenai
Krete
Knossos
Peloponnesos
Sparta
Hercynia Silva
Boii
Luna Silva
Boii
Dalmatia
Daorsi
Illyria
Ardiaei
Liburnia
Dalmatae
Etruria

Roma
Latium

Roma
Picenum

Roma
Samnium

Roma
Kyrenaike
Ptolemaioi
Marmarike
Ptolemaioi
Oases

Nasamones
Siwa
Ptolemaioi
Celtica
Celtici
Lusitania
Lusotannan
Epeiros
Epeiros
Makedonia
Antigonidai
Larissa
Epeiros
Frisia
Freisias
Silva Bacenis
Heruskoz
Silva Nigra

Markamannoz
Bruttium

Roma
Apulia

Roma
Lilybaion
Qarthadastim
Sirako
Syrakousai
Atlas
Gaetuli
Gaetulia

Masaesyli
Numidia

Masaesyli
Tingitana
Qarthadastim
Atropatkan
Atropatkan
Mada
Atropatkan
Rhagau
Parsa
Athura

Seleukidai
Babirus

Seleukidai
Meshan

Seleukidai
Osroene

Seleukidai
Havilah
Mamlaktha Nabata
Yehuda
Ptolemaioi
Iordan
Ptolemaioi
Lihyan
Mamlaktha Nabata
Pannonia Inferior
Scordisci
Pannonia Superior
Breuci
Transdanubia
Eravisci
Astauene
Parthia
Varkana
Parthava
Parthava
Parthava
Traxiane
Parthava
Elam
Parsa
Lyan
Parsa
Parsa
Parsa
Tidamensi
Igharimen
Garama
Igharimen
Gerrhos
Basileioi Skythai
Didoya
Aorsoi
Oium
Catiaroi
Zyx

Siraces
Narbonensis
Volcae
Transalpina
Massalia
Helvetia
Helvetii
Noricum
Nori
Raetia
Raeti
Aestia
Aestii
Danu Nazdya
Anartes
Baug
Budini
Scythia
Rauxsa-alanna
Turan
Thyssagetae
Usturt
Saka Rauka
Leda
Leugoz
Silesia
Leugoz
Vistula
Gutones
Cimbria
Kimbroz
Suebia
Sweboz
Rugia
Rugoz
Aram

Seleukidai
Eremos Syria

Seleukidai
Phoinike

Seleukidai
Syria

Seleukidai
Gallaecia
Gallaeci
Cantabria
Cantabri
Tarraconensis
Cessetani
Terra Incognita
Byzantion
Tolistobogii
Dardania

Triballi
Moesia

Basileion Odryson
Thrake
Antigonidai
Transoxania

Baktria
Suguda

Baktria