Home
/
Divide et Impera
/
Sparta
/
Units
/ Hippeis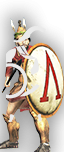 Sparta Hoplite/Pike Infantry
Hippeis
(Royal Spartan Bodyguard)

Spartan Hippeis, despite their name ("Hippeis" meaning "cavalry"), fight as hoplite infantry. This unit is composed of Spartans in the prime of their lives, using the best equipment and training available. They accompany and protect the king at all times.
Conditioned from the age of seven for a life on campaign, and dedicated to full-time military training, the Spartans were exceptionally well drilled and masters of their weaponry and equipment. Anyone who lost their shield in battle was dishonoured: while cuirass and helmet were for protecting the individual, the shield was seen as protection for the entire phalanx. As such, the Spartans were a highly-disciplined and co-ordinated force, largely superior to any other on the battlefield. It was the Spartans who led the defence of the Peloponnese against the Persians in 480BC and, after two full days of battle, fought the famous last stand at Thermopylae. 300 Spartans and their Greek allies blocked the tiny pass between the cliffs and the sea, forcing the Persians to attack their deadly phalanx head on. When a Greek traitor eventually caused the Spartans to be outflanked, they fought to the very last man. The time spent defeating the Spartans was just enough for the remaining Greek allies to prepare a fleet to defeat the Persian navy decisively near the island of Salamis, ending the war.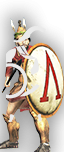 Unit Name

Hippeis
Main Unit Key

Gre_Royal_Spartans
Land Unit Key

Gre_Royal_Spartans
Naval Unit Key

pel_transport
Soldiers

300
Category

Melee Infantry
Class

Hoplite/Pike Infantry
Custom Battle Cost

1291
Recruitment Cost

1291
Upkeep Cost

258
Melee Attack

41
9
├ Melee Weapon

spear4
├ Weapon Damage

9
├ Weapon Deadliness

0
├ Armour Piercing

No
├ Bonus vs. Cavalry

4
├ Bonus vs. Elephants

10
└ Bonus vs Infantry

0
Charge Bonus

19
88
├ Base Defence

36
├ Shield

shield7
└ Shield Defence

52
14
├ Armour

arm8
├ Armour Defence

14
└ Shield Armour

0
20
├ Man Entity

shoplite_heavy
├ Man Health

20
└ Bonus Hit Points

0
Base Morale

80
Abilities
Hippeis
Stamina (excellent)
Governs how fast the unit tires and restores fatigue, and is dependent on type of unit, weight and approach to combat.
Phalanx
The unit enters a defensive formation that increases frontal defense but the unit's movement speed and attack are reduced
Attributes
Disciplined
This unit does not suffer a morale penalty when the general dies. It can also rally after routing more often.
Hide (forest)
This unit can hide in forests until enemy units get too close.
Expert Charge Defence
This unit's melee attack and damage are increased against charging enemies.
Strengths & Weaknesses
Transport
Very poor hull strength
Very slow speed
Weak ramming
Hippeis
Very good defensive unit
Low damage but average armour penetration
Average attack
Good morale
Requires Buildings
Lv. 0

Monument of Leonidas
(rom_HELLENIC_military_buff_Hero-Shrine_5)
Level 4

Hoplite Barracks
(rom_HELLENIC_military_main_heavy_3)
Level 2

Lv. 1

Royal Barracks
(rom_HELLENIC_military_main_heavy_4)
Level 3