Home
/
Divide et Impera
/
Sparta
/
Units
/ Skiritai Machairaphoroi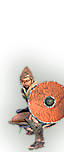 Sparta Melee Infantry
Skiritai Machairaphoroi
(Skiritai Sworsdmen)

Skiritai are equal to Perioikoi in their legal status but make up a distinctive part of the Spartan army. They are a reliable force and are often tasked with protecing the most vulnerable parts of a phalanx.
Conditioned from the age of seven for a life on campaign, and dedicated to full-time military training, the Spartans were exceptionally well drilled and masters of their weaponry and equipment. Anyone who lost their shield in battle was dishonoured: while cuirass and helmet were for protecting the individual, the shield was seen as protection for the entire phalanx. As such, the Spartans were a highly-disciplined and co-ordinated force, largely superior to any other on the battlefield. It was the Spartans who led the defence of the Peloponnese against the Persians in 480BC and, after two full days of battle, fought the famous last stand at Thermopylae. 300 Spartans and their Greek allies blocked the tiny pass between the cliffs and the sea, forcing the Persians to attack their deadly phalanx head on. When a Greek traitor eventually caused the Spartans to be outflanked, they fought to the very last man. The time spent defeating the Spartans was just enough for the remaining Greek allies to prepare a fleet to defeat the Persian navy decisively near the island of Salamis, ending the war.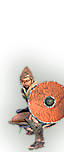 Unit Name

Skiritai Machairaphoroi
Main Unit Key

Gre_Spar_Skiritai
Land Unit Key

Gre_Spar_Skiritai
Naval Unit Key

pel_transport
Soldiers

200
Category

Melee Infantry
Class

Melee Infantry
Custom Battle Cost

798
Recruitment Cost

798
Upkeep Cost

160
12
├ Missile Weapon

prec2
├ Projectile

prec2
├ Missile Damage

12
├ Missile Ap Damage

0
└ Base Reload Time

10
Accuracy

5
Range

80
Reload

0
Shots Per Minute

6
Ammunition

1
Melee Attack

39
10
├ Melee Weapon

gsword2
├ Weapon Damage

10
├ Weapon Deadliness

0
├ Armour Piercing

No
├ Bonus vs. Cavalry

0
├ Bonus vs. Elephants

0
└ Bonus vs Infantry

0
Charge Bonus

17
57
├ Base Defence

26
├ Shield

shield2
└ Shield Defence

31
6
├ Armour

arm3
├ Armour Defence

6
└ Shield Armour

0
20
├ Man Entity

heavy_light
├ Man Health

20
└ Bonus Hit Points

0
Base Morale

60
Abilities
Skiritai Machairaphoroi
Stamina (good)
Governs how fast the unit tires and restores fatigue, and is dependent on type of unit, weight and approach to combat.
Throw Javelin (medium)
The unit throws its javelins towards a spot causing damage to everyone in the area of effect
NOTE: you cannot throw javelins when you are inside a formation
Attributes
Campaign Stealth
This unit can move around the campaign map without being seen.
Disciplined
This unit does not suffer a morale penalty when the general dies. It can also rally after routing more often.
Guerrilla Deployment
This unit can deploy outside of the deployment zone.
Hide (grass)
This unit can hide in long grass until enemy units get too close.
Hide (scrub & forest)
This unit can hide in scrub and forest until enemy units get too close.
Stalk
This unit can move hidden in any terrain.
Strengths & Weaknesses
Transport
Very poor hull strength
Very slow speed
Weak ramming
Skiritai Machairaphoroi
Very good attack
Average defence
Average damage but low armour penetration
Good morale
Requires Buildings
Lv. 2

Monument of Leonidas
(rom_HELLENIC_military_buff_Hero-Shrine_5)
Level 4

Lv. 0

Muster Field
(rom_HELLENIC_military_main_1)
Level 0

Holosideros Barracks
(rom_HELLENIC_military_main_heavy_2)
Level 1

Hoplite Barracks
(rom_HELLENIC_military_main_heavy_3)
Level 2

Lv. 1

Royal Barracks
(rom_HELLENIC_military_main_heavy_4)
Level 3

Royal Barracks
(rom_HELLENIC_military_main_heavy_4)
Level 3