Home
/
Divide et Impera
/
Sparta
/
Units
/ Heilotes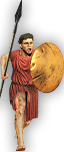 Sparta Spear Infantry
Heilotes
(Spartan Helots)

Helots are the slaves of the Spartan kingdom. During times of need, the state arms them with weapons and basic means of protection. Their training is limited so that they do not pose a larger threat after the campaign.
Toughened by years of training within the agoge, Spartan youths were moulded into warriors from the age of seven, becoming 'paidiskoi', or Spartan reserves, in their later teenage years. Separated from their mothers, the first stage of their training was the 'paides', in which they lived communally in one of the Spartan syssitia mess halls. Here they trained and exercised together, learning from their elders, and were purposefully underfed to toughen and accustom them to hunger, and teach them resourcefulness. This extended to depriving them of clothing too, providing only their red cloak each year. This taught the boys to steal, for which they were severely punished if caught, but for being caught, not for stealing from the helot slave population. At eighteen, they became paidiskoi, joining the army as reservists for two years. Armed with the hoplite spear and hoplon, and armoured in cloth, they would support the older Spartan men in battle. A chosen few would also be inducted into the krypteia, a secret organisation that were expected to spy on, steal from and kill the helots. Seen as both a test of ability and a necessary means of keeping the helots submissive, a declaration of war against the helots was made each autumn, effectively legalising the krypteia's activity.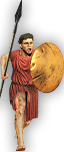 Unit Name

Heilotes
Main Unit Key

Gre_Spartan_Helots
Land Unit Key

Gre_Spartan_Helots
Naval Unit Key

pel_transport
Soldiers

300
Category

Melee Infantry
Class

Spear Infantry
Custom Battle Cost

328
Recruitment Cost

328
Upkeep Cost

66
Melee Attack

21
9
├ Melee Weapon

spear1
├ Weapon Damage

9
├ Weapon Deadliness

0
├ Armour Piercing

No
├ Bonus vs. Cavalry

3
├ Bonus vs. Elephants

10
└ Bonus vs Infantry

0
Charge Bonus

10
46
├ Base Defence

15
├ Shield

shield2
└ Shield Defence

31
1
├ Armour

arm0
├ Armour Defence

1
└ Shield Armour

0
20
├ Man Entity

light_medium
├ Man Health

20
└ Bonus Hit Points

0
Base Morale

40
Abilities
Heilotes
Stamina (average)
Governs how fast the unit tires and restores fatigue, and is dependent on type of unit, weight and approach to combat.
Attributes
Expert Charge Defence
This unit's melee attack and damage are increased against charging enemies.
Hide (forest)
This unit can hide in forests until enemy units get too close.
Strengths & Weaknesses
Transport
Very poor hull strength
Very slow speed
Weak ramming
Heilotes
Average defensive unit
Low damage but average armour penetration
Weak attack
Poor morale
Requires Buildings
Lv. 2

Monument of Leonidas
(rom_HELLENIC_military_buff_Hero-Shrine_5)
Level 4

Lv. 0

Muster Field
(rom_HELLENIC_military_main_1)
Level 0

Holosideros Barracks
(rom_HELLENIC_military_main_heavy_2)
Level 1

Hoplite Barracks
(rom_HELLENIC_military_main_heavy_3)
Level 2

Lv. 1

Royal Barracks
(rom_HELLENIC_military_main_heavy_4)
Level 3

Royal Barracks
(rom_HELLENIC_military_main_heavy_4)
Level 3
Garrison Buildings
x 4

Alexandria
(dei_main_city_ALEXANDRIA_1)
Level 0

Antioch
(dei_main_city_ANTIOCH_1)
Level 0

Athens
(dei_main_city_ATHENS_1)
Level 0

Qart-Hadasht
(dei_main_city_CARTHAGE_1)
Level 0

Hierapytna
(dei_main_city_KNOSSOS_1)
Level 0

Massalia
(dei_main_city_MASSILIA_1)
Level 0

Pella
(dei_main_city_PELLA_1)
Level 0

Pergamon
(dei_main_city_PERGAMON_1)
Level 0

Syracuse
(dei_main_city_SYRACUSE_1)
Level 0

Rhodos
(dei_minor_city_RHODES_1)
Level 0

Sparta
(dei_minor_city_SPARTA_1)
Level 0

Hellenistic City
(rom_HELLENIC_city_major_1)
Level 0

Hellenistic Hamlet (Copper)
(rom_HELLENIC_city_minor_copper_1)
Level 0

Hellenistic Hamlet
(rom_HELLENIC_city_minor_fish_1)
Level 0

Hellenistic Hamlet (Glassware)
(rom_HELLENIC_city_minor_glass_1)
Level 0

Hellenistic Hamlet
(rom_HELLENIC_city_minor_gold_1)
Level 0

Hellenistic Hamlet
(rom_HELLENIC_city_minor_grain_1)
Level 0

Hellenistic Hamlet (Leather)
(rom_HELLENIC_city_minor_hides_1)
Level 0

Hellenistic Hamlet (Warhorse)
(rom_HELLENIC_city_minor_horse_1)
Level 0

Hamlet (Iron)
(rom_HELLENIC_city_minor_iron_1)
Level 0

Hellenistic Hamlet (Limestone)
(rom_HELLENIC_city_minor_limestone_1)
Level 0

Hellenistic Hamlet (Marble)
(rom_HELLENIC_city_minor_marble_1)
Level 0

Hellenistic Hamlet (Olive Oil)
(rom_HELLENIC_city_minor_olives_1)
Level 0

Hellenistic Hamlet
(rom_HELLENIC_city_minor_purple_dye_1)
Level 0

Hellenistic Hamlet (Salt)
(rom_HELLENIC_city_minor_salt_1)
Level 0

Hellenistic Hamlet (Silk)
(rom_HELLENIC_city_minor_silk_1)
Level 0

Hellenistic Hamlet (Lead)
(rom_HELLENIC_city_minor_silver_1)
Level 0

Hellenistic Hamlet (Trained Slaves)
(rom_HELLENIC_city_minor_slave_1)
Level 0

Hellenistic Hamlet (Timber)
(rom_HELLENIC_city_minor_timber_1)
Level 0

Hellenistic Hamlet
(rom_HELLENIC_city_minor_township_1)
Level 0

Hellenistic Hamlet (Wine)
(rom_HELLENIC_city_minor_wine_1)
Level 0

x 2

Alexandria
(dei_main_city_ALEXANDRIA_2)
Level 1

Antioch
(dei_main_city_ANTIOCH_2)
Level 1

Athens
(dei_main_city_ATHENS_2)
Level 1

Qart-Hadasht
(dei_main_city_CARTHAGE_2)
Level 1

Hierapytna
(dei_main_city_KNOSSOS_2)
Level 1

Massalia
(dei_main_city_MASSILIA_2)
Level 1

Pella
(dei_main_city_PELLA_2)
Level 1

Pergamon
(dei_main_city_PERGAMON_2)
Level 1

Syracuse
(dei_main_city_SYRACUSE_2)
Level 1

Rhodos
(dei_minor_city_RHODES_2)
Level 1

Sparta
(dei_minor_city_SPARTA_2)
Level 1

Civil Settlement
(greek_town_civil_2)
Level 1

Farming Settlement
(greek_town_farm_2)
Level 1

Market Settlement
(greek_town_trade_2)
Level 1

Hellenistic Polis
(rom_HELLENIC_city_major_2)
Level 1

Hellenistic Village (Copper)
(rom_HELLENIC_city_minor_copper_2)
Level 1

Trade Hub (Copper)
(rom_HELLENIC_city_minor_copper_3)
Level 2

Hellenistic Village
(rom_HELLENIC_city_minor_fish_2)
Level 1

Hellenistic Village (Glassware)
(rom_HELLENIC_city_minor_glass_2)
Level 1

Hellenistic Village
(rom_HELLENIC_city_minor_gold_2)
Level 1

Hellenistic Village
(rom_HELLENIC_city_minor_grain_2)
Level 1

Hellenistic Village (Leather)
(rom_HELLENIC_city_minor_hides_2)
Level 1

Hellenistic Village (Warhorse)
(rom_HELLENIC_city_minor_horse_2)
Level 1

Village (Iron)
(rom_HELLENIC_city_minor_iron_2)
Level 1

Trade Hub (Iron)
(rom_HELLENIC_city_minor_iron_3)
Level 2

Hellenistic Village (Limestone)
(rom_HELLENIC_city_minor_limestone_2)
Level 1

Hellenistic Village (Marble)
(rom_HELLENIC_city_minor_marble_2)
Level 1

Hellenistic Village (Olive Oil)
(rom_HELLENIC_city_minor_olives_2)
Level 1

Hellenistic Village
(rom_HELLENIC_city_minor_purple_dye_2)
Level 1

Hellenistic Village (Salt)
(rom_HELLENIC_city_minor_salt_2)
Level 1

Hellenistic Village (Silk)
(rom_HELLENIC_city_minor_silk_2)
Level 1

Hellenistic Village (Lead)
(rom_HELLENIC_city_minor_silver_2)
Level 1

Hellenistic Village (Trained Slaves)
(rom_HELLENIC_city_minor_slave_2)
Level 1

Hellenistic Village (Timber)
(rom_HELLENIC_city_minor_timber_2)
Level 1

Hellenistic Village
(rom_HELLENIC_city_minor_township_2)
Level 1

Hellenistic Village (Wine)
(rom_HELLENIC_city_minor_wine_2)
Level 1

x 1

Agora
(rom_HELLENIC_agora_1)
Level 0

Amphitheatron
(rom_HELLENIC_agora_entertainment_2)
Level 1

Grain Market
(rom_HELLENIC_agora_food_2)
Level 1

Warhorse Pens
(rom_HELLENIC_agora_horse_2)
Level 1

Travellers' Lodge
(rom_HELLENIC_agora_public_2)
Level 1

Library
(rom_HELLENIC_agora_research_2)
Level 1

Slave Trader
(rom_HELLENIC_agora_slave_2)
Level 1

Supply Pit
(rom_HELLENIC_agora_storage_2)
Level 1

Wine Trader
(rom_HELLENIC_agora_trade_2)
Level 1

Phrourion
(rom_HELLENIC_public_guard_2)
Level 1

Mega Phrourion
(rom_HELLENIC_public_guard_3)
Level 2