Home
/
Divide et Impera
/
Ptolemaioi (Imperator Augustus)
/
Units
/ Basilikoi Peltastai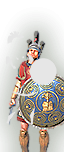 Ptolemaioi (Imperator Augustus) Melee Infantry
Basilikoi Peltastai
(Royal Peltasts)

The king's own skirmishers are an infantry force to be reckoned with.
These skirmishers were named for their small crescent-shaped leather or wicker shields or 'peltai'. It was a common habit to name troops for their shield style in the Greek world. They wore little or no armour and carried three javelins. After harassing the enemy by flinging javelins, they would hastily retreat before any counter-charge or flanking move could be carried out. As armies developed and tactics became more complex, peltasts were expected to take part in hand-to-hand combat: with such expectation they were given stiffened linen cuirasses and short swords. They were still expected to use javelins, but could then join in the close fighting. Eventually, peltasts even exchanged their characteristic shield for the heavier thureos. Their name and battlefield function remained unchanged.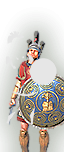 Unit Name

Basilikoi Peltastai
Main Unit Key

Gre_Royal_Peltasts
Land Unit Key

Gre_Royal_Peltasts
Naval Unit Key

pel_transport
Soldiers

200
Category

Melee Infantry
Class

Melee Infantry
Custom Battle Cost

1167
Recruitment Cost

1167
Upkeep Cost

233
12
├ Missile Weapon

prec2
├ Projectile

prec2
├ Missile Damage

12
├ Missile Ap Damage

0
└ Base Reload Time

10
Accuracy

5
Range

80
Reload

0
Shots Per Minute

6
Ammunition

1
Melee Attack

42
10
├ Melee Weapon

gsword4
├ Weapon Damage

10
├ Weapon Deadliness

0
├ Armour Piercing

No
├ Bonus vs. Cavalry

0
├ Bonus vs. Elephants

0
└ Bonus vs Infantry

0
Charge Bonus

10
78
├ Base Defence

26
├ Shield

shield7
└ Shield Defence

52
12
├ Armour

arm7
├ Armour Defence

12
└ Shield Armour

0
20
├ Man Entity

medium_heavy
├ Man Health

20
└ Bonus Hit Points

0
Base Morale

65
Abilities
Basilikoi Peltastai
Stamina (average)
Governs how fast the unit tires and restores fatigue, and is dependent on type of unit, weight and approach to combat.
Throw Javelin (medium)
The unit throws its javelins towards a spot causing damage to everyone in the area of effect
NOTE: you cannot throw javelins when you are inside a formation
Attributes
Disciplined
This unit does not suffer a morale penalty when the general dies. It can also rally after routing more often.
Hide (forest)
This unit can hide in forests until enemy units get too close.
Strengths & Weaknesses
Transport
Very poor hull strength
Very slow speed
Weak ramming
Basilikoi Peltastai
Very good attack
Average defence
Average damage but low armour penetration
Good morale
Requires Buildings
Lv. 0

Hoplite Barracks
(rom_HELLENIC_military_main_heavy_3)
Level 2

Lv. 1

Royal Barracks
(rom_HELLENIC_military_main_heavy_4)
Level 3