Left Panel

Home
/
Total War: WARHAMMER III
/
Factions
/ Crooked Moon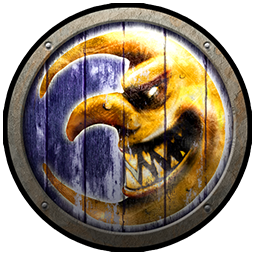 Immortal Empires
Crooked Moon
Orcs and Goblins are the scourge of the Old World. Orcs are built for violence; Goblins, by contrast, are smaller but more cunning. Collectively known as Greenskins, they are an aggressive and brutal race with an unquenchable love of fighting. While the Greenskins have made lairs in ransacked Dwarfholds, they can be found across the Old World – the majority residing in the arid Badlands, mainly fighting amongst themselves and only coming together when the call to Waaagh! goes out.

One such occasion is now, and with a strong Warboss to unite the tribes, the time has surely come to unleash da Green Tide and ravage the lands of both humies and stunties alike! For such are the demands of Gork and Mork – and who would go against the word of da Green Godz? Exactly. Waaagh!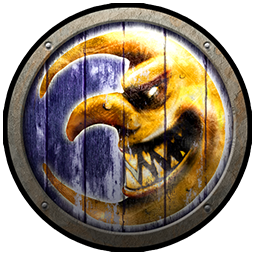 Faction Name

Crooked Moon
Campaign

wh3_main_combi
Culture

wh_main_grn_greenskins
Subculture

wh_main_sc_grn_greenskins
Military Group

wh_main_group_greenskins
Faction Group

wh_main_fact_group_greenskins
Faction Group Name

Greenskins
(wh_dlc06_political_party_skarsnik_ruler)


Skarsnik plunders the wealth of mighty Mount Gunbad, gathering Greenskin allies as he prepares for the journey through the World's Edge Mountains to Karak Eight Peaks.

Throughout all of history, very few Goblins have risen to the top of the Greenskin food chain. Skarsnik is one of them. He is a Night Goblin whose supreme cunning and malign intellect far surpasses that of his peers. It is this gift, and the presence of his incredibly loyal and eternally-hungry Cave Squig, Gobbla, that has allowed him to climb the brutal hierarchy of the Crooked Moon tribe and remain at the top. Orcs typically struggle to take orders or be subservient to Goblins. Naturally, a few have tried to usurp Skarsnik, but needless to say that Gobbla ate especially well on such occasions - the sneaky Night Goblin's cunning far outweighing an Orc's brutal and direct challenge.

Whilst Skarsnik has retained an iron grip on his tribe, his real achievement (the one for which he is hated by both Dwarfs and Skaven alike) is his domination of Karak Eight Peaks, the former Dwarf mountain fortress. The self-proclaimed 'Warlord of the Eight Peaks' has controlled the surface for years, something which has enraged the stunties beyond forbearance!

Provoking the Dwarfs, or any of the Warlord's many enemies, is what Skarsnik does best. A master of deception, he captures his foes and uses their tortured screams or body parts (scalped beards for stunties) to bait his ever-more devious traps. His targets almost always take the lure, as they are simply not used to Greenskins having such an intricate take on warfare. However, as Skarsnik's evil reputation continues to grow, fewer adversaries dare underestimate him. Truly, the Warlord of the Eight Peaks is one to be feared!

Pernicious Precision
Skarsnik is a meddlesome and cunning Night Goblin, preferring to taunt and torment his opponents rather than swiftly killing them. Ever the sneakiest of his kind, he leads his forces on feints and duplicitous manoeuvres that leave his enemies bewildered, beleaguered, and - eventually - destroyed.


Waaagh! has a chance to contain Doom Divers (all armies)

Character experience gain: +100% (all

Heroes)

Unique building chain available at Karak Eight Peaks (faction_to_force_own_unseen)

Upkeep and recruitment cost: -40% for Goblin units (faction_to_force_own_unseen)

Can only recruit Orc units from Karak Eight Peaks (faction_to_force_own_unseen)

Recruitment cost: -40% for Goblin and Night Goblin units (faction_to_force_own_unseen)

Upkeep: -40% for Goblin and Night Goblin units (faction_to_force_own_unseen)

Hero action cost: -50% (faction_to_character_own_unseen)
Karak Eight Peaks: Reoccupy the fabled settlement to construct unique powerful buildings inside.
Waaagh!: Call upon additional Goblin armies to field against enemy forces.
The Underway: Greenskins can use underground tunnels to avoid impassable terrain and enemy forces.
Goblin-focused unit roster with poisonous infantry, fast cavalry and monsters.
Faction Group
(wh_main_faction_trait_greenskins)
wh2_dlc09_effect_increase_army_capacity_hidden (faction_to_faction_own_unseen)
wh2_dlc15_effect_greenskins_waaagh_army_abilities (all armies)
Income from looting settlements: +100% (faction_to_faction_own_unseen)
Income from raiding: +100% (faction_to_force_own_unseen)
Income from sacking settlements: +100% (faction_to_faction_own_unseen)
[HIDDEN] Building set used when a new Savage Orc horde spawns (faction_to_faction_own_unseen)
Battering rams: +1 per siege item constructed (all armies)
Siege towers: +2 per siege item constructed (all armies)
Lords
Goblin Great Shaman
(wh_main_grn_cha_goblin_great_shaman_0)

Goblin Great Shaman (Giant Wolf)
(wh_main_grn_cha_goblin_great_shaman_1)

Goblin Great Shaman
(wh_main_grn_cha_goblin_great_shaman_2)

Heroes
Black Orc Big Boss
(wh2_pro09_grn_cha_black_orc_big_boss_0)

Black Orc Big Boss (War Boar)
(wh2_pro09_grn_cha_black_orc_big_boss_1)

Goblin Big Boss
(wh_main_grn_cha_goblin_big_boss_0)

Goblin Big Boss (Giant Wolf)
(wh_main_grn_cha_goblin_big_boss_1)

Goblin Big Boss (Giant Spider)
(wh_main_grn_cha_goblin_big_boss_2)

Goblin Big Boss
(wh_main_grn_cha_goblin_big_boss_4)

Night Goblin Shaman
(wh_main_grn_cha_night_goblin_shaman)

Orc Shaman
(wh_main_grn_cha_orc_shaman_0)

Orc Shaman (War Boar)
(wh_main_grn_cha_orc_shaman_1)

Infantry
Goblins
(wh_main_grn_inf_goblin_spearmen)

Night Goblins
(wh_main_grn_inf_night_goblins)

Orc Boyz
(wh_main_grn_inf_orc_boyz)

Nasty Skulkers
(wh_dlc06_grn_inf_nasty_skulkers_0)

Night Goblins (Fanatics)
(wh_main_grn_inf_night_goblin_fanatics)

Savage Orcs
(wh_main_grn_inf_savage_orcs)

Orc Big 'Uns
(wh_main_grn_inf_orc_big_uns)

Savage Orc Big 'Uns
(wh_main_grn_inf_savage_orc_big_uns)

Black Orcs
(wh_main_grn_inf_black_orcs)

Da Eight Peak Loonies (Night Goblins – Fanatics)
(wh_dlc06_grn_inf_da_eight_peaks_loonies_0)

Da Warlord's Boyz (Night Goblins)
(wh_dlc06_grn_inf_da_warlords_boyz_0)

Krimson Killerz (Black Orcs)
(wh_dlc06_grn_inf_krimson_killerz_0)

Missile Infantry
Goblin Archers
(wh_main_grn_inf_goblin_archers)

Night Goblin Archers
(wh_main_grn_inf_night_goblin_archers)

Orc Arrer Boyz
(wh_main_grn_inf_orc_arrer_boyz)

Savage Orc Arrer Boyz
(wh_main_grn_inf_savage_orc_arrer_boyz)

Night Goblin Archers (Fanatics)
(wh_main_grn_inf_night_goblin_fanatics_1)

Da Rusty Arrers (Night Goblin Archers)
(wh_dlc06_grn_inf_da_rusty_arrers_0)

Cavalry & Chariots
Goblin Wolf Riders
(wh_main_grn_cav_goblin_wolf_riders_0)

Forest Goblin Spider Riders
(wh_main_grn_cav_forest_goblin_spider_riders_0)

Orc Boar Boyz
(wh_main_grn_cav_orc_boar_boyz)

Night Goblin Squig Hoppers
(wh_dlc06_grn_cav_squig_hoppers_0)

Savage Orc Boar Boyz
(wh_main_grn_cav_savage_orc_boar_boyz)

Orc Boar Chariots
(wh_main_grn_cav_orc_boar_chariot)

Orc Boar Boy Big 'Uns
(wh_main_grn_cav_orc_boar_boy_big_uns)

Savage Orc Boar Boy Big 'Uns
(wh_main_grn_cav_savage_orc_boar_boy_big_uns)

Broken Tusks Mob (Orc Boar Boy Big 'Uns)
(wh_dlc06_grn_cav_broken_tusks_mob_0)

Durkit's Squigs (Night Goblin Squig Hoppers)
(wh_dlc06_grn_cav_durkits_squigs_0)

Moon-howlers (Goblin Wolf Riders)
(wh_dlc06_grn_cav_moon_howlers_0)

Missile Cavalry & Chariots
Goblin Wolf Rider Archers
(wh_main_grn_cav_goblin_wolf_riders_1)

Forest Goblin Spider Rider Archers
(wh_main_grn_cav_forest_goblin_spider_riders_1)

Goblin Wolf Chariots
(wh_main_grn_cav_goblin_wolf_chariot)

Deff Creepers (Forest Goblin Spider Rider Archers)
(wh_dlc06_grn_cav_deff_creepers_0)

Mogrubb's Mangy Marauders (Goblin Wolf Archers)
(wh_dlc06_grn_cav_mogrubbs_marauders_0)

Teef Robbers (Goblin Wolf Chariots)
(wh_dlc06_grn_cav_teef_robbers_0)

Monsters & Beasts
Squig Herd
(wh_dlc06_grn_inf_squig_herd_0)

Spider Hatchlings
(wh_dlc06_grn_mon_spider_hatchlings_0)

Trolls
(wh_main_grn_mon_trolls)

River Trolls
(wh2_dlc15_grn_mon_river_trolls_0)

Stone Trolls
(wh2_dlc15_grn_mon_stone_trolls_0)

Giant
(wh_main_grn_mon_giant)

Arachnarok Spider
(wh_main_grn_mon_arachnarok_spider_0)

Rogue Idol
(wh2_dlc15_grn_mon_rogue_idol_0)

Da Swamp Fings (River Trolls)
(wh2_dlc15_grn_mon_river_trolls_ror_0)

Da Big Un (Rogue Idol)
(wh2_dlc15_grn_mon_rogue_idol_ror_0)

The Arachnarok Queen (Arachnarok Spider)
(wh_dlc06_grn_mon_venom_queen_0)

Artillery & War Machines
Snotling Pump Wagons
(wh2_dlc15_grn_veh_snotling_pump_wagon_0)

Goblin Rock Lobbers
(wh_main_grn_art_goblin_rock_lobber)

Snotling Pump Wagons (Flappas)
(wh2_dlc15_grn_veh_snotling_pump_wagon_flappas_0)

Snotling Pump Wagons (Spiky Rollers)
(wh2_dlc15_grn_veh_snotling_pump_wagon_roller_0)

Doom Diver Catapults
(wh_main_grn_art_doom_diver_catapult)

Logey Bogey's Spore 'Splodaz (Snotling Pump Wagons)
(wh2_dlc15_grn_veh_snotling_pump_wagon_ror_0)

Hammer of Gork (Goblin Rock Lobbers)
(wh_dlc06_grn_art_hammer_of_gork_0)