Left Panel

Home
/
Total War: WARHAMMER II
/
The Empire (Mortal Empires)
/
Units
/ Handgunners
The Empire (Mortal Empires) Missile Infantry
Handgunners
Volleys of withering fire reduce any would-be army to a riddled, desperate band.
State troops are paid as full-time professional soldiers, ready to answer the call to arms at all times. In addition to forming a standing army to repel enemy attack, state troops also serve as city guards, the fire watch and the enforcers of the law. However, most of the time these soldiers spend their days drilling and training with various weapons to the barked instructions of grim-faced Sergeants and veteran Marksmen. Every state trains its regiments to fight together, providing each other with mutual protection on the battlefield. State regiments often march to battle with detachments of differently armed troops to aid them. These detachments form up close to their regimental units, where they guard vulnerable flanks and provide battlefield support, either by joining their regimental units in the bloody melee of close combat, or by showering oncoming enemies with missile fire. Swordsmen fight shoulder to shoulder with Spearmen, the close range parries and ripostes of swords complimenting the longer reach of the spear. Handgunners and Crossbowmen fell their foes with withering volleys of fire, but should a foe survive through such salvos, a detachment of Halberdiers will bravely intercept them, cutting them down with heavy bladed pole arms.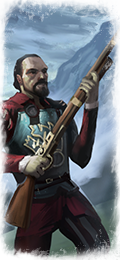 Unit Name

Handgunners
Main Unit Key

wh_main_emp_inf_handgunners
Land Unit Key

wh_main_emp_inf_handgunners
Naval Unit Key

wh_main_shp_transport
Land Unit Group
Missile Infantry
Naval Unit Group
Missile Infantry
Soldiers

90
Caste

Missile Infantry
Category

Missile Infantry
Class

Missile Infantry
Custom Battle Cost

600
Recruitment Cost

600
Upkeep Cost

150
22
├ Missile Weapon

wh_main_emp_rifle
├ Projectile

wh_emp_rifle_bullet
├ Missile Damage

5
├ Missile Ap Damage

17
└ Base Reload Time

13
Accuracy

10
Range

145
Reload

10
Shots Per Minute

5.1
Ammunition

22
Melee Attack

16
24
├ Melee Weapon

wh_main_emp_sword_short
├ Melee Damage Base

21
├ Melee Damage Ap

3
├ Armour Piercing

No
├ Bonus vs Cavalry

0
├ Bonus vs Elephants

0
└ Bonus vs Infantry

0
Charge Bonus

4
17
├ Base Defence

17
├ Shield

none
└ Shield Defence

0
20
├ Armour

wh2_main_leather_20
├ Armour Defence

20
└ Shield Armour

0
69
├ Man Entity
wh_main_infantry_standard_light_blood_dismembers
├ Man Speed

33
├ Man Health

8
└ Bonus Hit Points

61
Leadership (Base Morale)

50
Abilities
No Ability
Attributes
Hide (forest)
This unit can hide in forests until enemy units get too close.
Strengths & Weaknesses
Armour-Piercing Missiles
The damage of armour-piercing weapons mostly ignores the armour of the target, making them the ideal choice against heavily-armoured enemies. They are often heavier and attack at a slower rate though, making them less efficient against poorly-armoured targets.
Garrison Buildings
x 2

City Watch
(wh_main_emp_garrison_2)
Level 1

City
(wh_main_emp_outpostnorsca_major_4)
Level 4

Coastal City
(wh_main_emp_outpostnorsca_major_4_coast)
Level 4

City-State
(wh_main_emp_outpostnorsca_major_5)
Level 5

Coastal City-State
(wh_main_emp_outpostnorsca_major_5_coast)
Level 5

City
(wh_main_emp_settlement_major_4)
Level 4

Coastal City
(wh_main_emp_settlement_major_4_coast)
Level 4

City-State
(wh_main_emp_settlement_major_5)
Level 5

Coastal City-State
(wh_main_emp_settlement_major_5_coast)
Level 5

Tall Walls
(wh_main_emp_walls_2)
Level 1

Reinforced Walls
(wh_main_emp_walls_3)
Level 2

Altdorf (Town)
(wh_main_special_settlement_altdorf_3_emp)
Level 3

Occupied Drakenhof (City)
(wh_main_special_settlement_castle_drakenhof_4_emp)
Level 4

Occupied Drakenhof (City-State)
(wh_main_special_settlement_castle_drakenhof_5_emp)
Level 5

Occupied Couronne (City)
(wh_main_special_settlement_couronne_4_emp)
Level 4

Occupied Couronne (City-State)
(wh_main_special_settlement_couronne_5_emp)
Level 5

Occupied Kislev (City)
(wh_main_special_settlement_kislev_4_emp)
Level 4

Occupied Kislev (City-State)
(wh_main_special_settlement_kislev_5_emp)
Level 5

Occupied Miragliano (City)
(wh_main_special_settlement_miragliano_4_emp)
Level 4

Occupied Miragliano (City-State)
(wh_main_special_settlement_miragliano_5_emp)
Level 5

Occupied Pyramid of Nagash (City)
(wh2_dlc09_special_settlement_pyramid_of_nagash_emp_4)
Level 4

Occupied Pyramid of Nagash (City-State)
(wh2_dlc09_special_settlement_pyramid_of_nagash_emp_5)
Level 5

Forest Outpost (City)
(wh2_main_special_settlement_athel_loren_emp_4)
Level 4

Forest Outpost (City-State)
(wh2_main_special_settlement_athel_loren_emp_5)
Level 5

Occupied Black Crag Level 4
(wh2_main_special_settlement_black_crag_emp_4)
Level 4

Occupied Black Crag Level 5
(wh2_main_special_settlement_black_crag_emp_5)
Level 5

Large Occupied Elven Colony
(wh2_main_special_settlement_colony_major_other_4)
Level 4

Thriving Occupied Elven Colony
(wh2_main_special_settlement_colony_major_other_5)
Level 5

Occupied Karak Eight Peaks Level 4
(wh2_main_special_settlement_eight_peaks_emp_4)
Level 4

Occupied Karak Eight Peaks Level 5
(wh2_main_special_settlement_eight_peaks_emp_5)
Level 5

Occupied Gaean Vale (Level 4)
(wh2_main_special_settlement_gaean_vale_emp_4)
Level 4

Occupied Gaean Vale (Level 5)
(wh2_main_special_settlement_gaean_vale_emp_5)
Level 5

Occupied Hell Pit Level 4
(wh2_main_special_settlement_hellpit_other_4)
Level 4

Occupied Hell Pit Level 5
(wh2_main_special_settlement_hellpit_other_5)
Level 5

Occupied Hexoatl Level 4
(wh2_main_special_settlement_hexoatl_emp_4)
Level 4

Occupied Hexoatl Level 5
(wh2_main_special_settlement_hexoatl_emp_5)
Level 5

Occupied Itza Level 4
(wh2_main_special_settlement_itza_emp_4)
Level 4

Occupied Itza Level 5
(wh2_main_special_settlement_itza_emp_5)
Level 5

Occupied Karaz-a-Karak Level 4
(wh2_main_special_settlement_karaz_a_karak_emp_4)
Level 4

Occupied Karaz-a-Karak Level 5
(wh2_main_special_settlement_karaz_a_karak_emp_5)
Level 5

Occupied Khemri (City)
(wh2_main_special_settlement_khemri_emp_4)
Level 4

Occupied Khemri (City-State)
(wh2_main_special_settlement_khemri_emp_5)
Level 5

Occupied Lahmia (City)
(wh2_main_special_settlement_lahmia_emp_4)
Level 4

Occupied Lahmia (City-State)
(wh2_main_special_settlement_lahmia_emp_5)
Level 5

Occupied Lothern Level 4
(wh2_main_special_settlement_lothern_emp_4)
Level 4

Occupied Lothern Level 5
(wh2_main_special_settlement_lothern_emp_5)
Level 5

Occupied Naggarond Level 4
(wh2_main_special_settlement_naggarond_emp_4)
Level 4

Occupied Naggarond Level 5
(wh2_main_special_settlement_naggarond_emp_5)
Level 5

Occupied Sartosa Level 4
(wh2_main_special_settlement_sartosa_emp_4)
Level 4

Occupied Sartosa Level 5
(wh2_main_special_settlement_sartosa_emp_5)
Level 5

Occupied Skavenblight Level 4
(wh2_main_special_settlement_skavenblight_other_4)
Level 4

Occupied Skavenblight Level 5
(wh2_main_special_settlement_skavenblight_other_5)
Level 5

Occupied The Awakening Level 4
(wh2_main_special_settlement_the_awakening_emp_4)
Level 4

Occupied The Awakening Level 5
(wh2_main_special_settlement_the_awakening_emp_5)
Level 5

x 5

Altdorf (City)
(wh_main_special_settlement_altdorf_4_emp)
Level 4

x 4

Altdorf (City-State)
(wh_main_special_settlement_altdorf_5_emp)
Level 5

x 3

Occupied Elven Colony
(wh2_main_special_settlement_colony_major_other_3)
Level 3

Occupied Elven Colony
(wh2_main_special_settlement_colony_minor_other_3)
Level 3
Faction Availability
The Eye of the Vortex
Mortal Empires