Left Panel

Home
/
Total War: WARHAMMER II
/
Wintertooth (Mortal Empires)
/
Units
/ Marauder Hunters
Wintertooth (Mortal Empires) Missile Infantry
Marauder Hunters
The harshest of wildernesses creates the most brutal of hunters.
The ruthless martial societies of the northern tribes see many men cast out into the wastes due to some transgression or another against their clan. An unforgiving way of life means that it is often impossible for these men to re-assimilate themselves into the warrior hierarchy. The few exiles that avoid death out in the freezing tundra often come together to form bloodthirsty bands of wild hunters, etching out a brutal existence that makes them even more hardened, callous, and adept as warriors – Marauders with the skill of ambush hunters. Attaining such skills is a way back into the battle ranks: when larger forces of tribesmen come together, the Marauder Hunters' terrifyingly efficient ambushes frequently mark the beginning of their raids.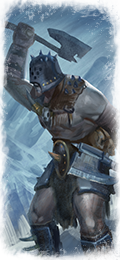 Unit Name

Marauder Hunters
Main Unit Key

wh_dlc08_nor_inf_marauder_hunters_0
Land Unit Key

wh_dlc08_nor_inf_marauder_hunters_0
Naval Unit Key

wh_main_shp_transport
Land Unit Group
Close-Quarters Infantry
Naval Unit Group
Close-Quarters Infantry
Soldiers

90
Caste

Missile Infantry
Category

Missile Infantry
Class

Missile Infantry
Custom Battle Cost

600
Recruitment Cost

600
Upkeep Cost

150
27
├ Missile Weapon

wh_dlc08_nor_throwing_axe
├ Projectile

wh2_nor_throwing_axe
├ Missile Damage

6
├ Missile Ap Damage

21
└ Base Reload Time

8
Accuracy

10
Range

70
Reload

10
Shots Per Minute

8.3
Ammunition

8
Melee Attack

36
28
├ Melee Weapon

wh_main_chs_axe_marauders
├ Melee Damage Base

21
├ Melee Damage Ap

7
├ Armour Piercing

No
├ Bonus vs Cavalry

0
├ Bonus vs Elephants

0
└ Bonus vs Infantry

0
Charge Bonus

12
20
├ Base Defence

20
├ Shield

none
└ Shield Defence

0
15
├ Armour

wh2_main_leather_15
├ Armour Defence

15
└ Shield Armour

0
67
├ Man Entity
wh_main_chs_infantry_fast_blood_dismembers
├ Man Speed

35
├ Man Health

8
└ Bonus Hit Points

59
Leadership (Base Morale)

50
Abilities
Rage
These warriors have something of an anger management problem. Funnily enough, no one has yet found a safe way to broach the issue.
Attributes
Hide (forest)
This unit can hide in forests until enemy units get too close.
Strengths & Weaknesses
Decent Melee Combatant
Despite being primarily a missile unit or spellcaster, this unit can also hold its own ground when fighting in melee.
Armour-Piercing Missiles
The damage of armour-piercing weapons mostly ignores the armour of the target, making them the ideal choice against heavily-armoured enemies. They are often heavier and attack at a slower rate though, making them less efficient against poorly-armoured targets.
Requires Buildings
Lv. 0

Raiders' Camp
(wh_main_nor_military_2)
Level 1

Chieftain's Hall
(wh_main_nor_military_3)
Level 2

Sparring Fields
(wh_main_nor_outpost_military_1)
Level 0

Raiders' Camp
(wh_main_nor_outpost_military_2)
Level 1

Chieftain's Hall
(wh_main_nor_outpost_military_3)
Level 2

Looted Lothern Palace
(wh2_main_special_phoenix_king_court_nor)
Level 0

Losteriksson's Great Hall
(wh2_main_special_skeggi_hall)
Level 0
Garrison Buildings
x 1

Coastal Enclave
(wh_main_nor_outpost_major_human_1_coast)
Level 1

Tribal Anchorage
(wh_main_nor_outpost_major_human_2_coast)
Level 2

Manmade Fjord
(wh_main_nor_outpost_major_human_3_coast)
Level 3

Coastal Enclave
(wh_main_nor_outpost_minor_human_1_coast)
Level 1

Tribal Anchorage
(wh_main_nor_outpost_minor_human_2_coast)
Level 2

Manmade Fjord
(wh_main_nor_outpost_minor_human_3_coast)
Level 3

Warrior Gathering
(wh_main_nor_settlement_major_1)
Level 1

Warrior Gathering
(wh_main_nor_settlement_major_1_coast)
Level 1

Warband Camp
(wh_main_nor_settlement_major_2)
Level 2

Warband Camp
(wh_main_nor_settlement_major_2_coast)
Level 2

Clan Enclave
(wh_main_nor_settlement_major_3)
Level 3

Clan Enclave
(wh_main_nor_settlement_major_3_coast)
Level 3

Tribal Stronghold
(wh_main_nor_settlement_major_4)
Level 4

Tribal Stronghold
(wh_main_nor_settlement_major_4_coast)
Level 4

Greater Tribal Stronghold
(wh_main_nor_settlement_major_5)
Level 5

Greater Tribal Stronghold
(wh_main_nor_settlement_major_5_coast)
Level 5

Norse Encampment
(wh_main_nor_settlement_minor_1)
Level 1

Norse Encampment
(wh_main_nor_settlement_minor_1_coast)
Level 1

Norse Moot
(wh_main_nor_settlement_minor_2)
Level 2

Norse Moot
(wh_main_nor_settlement_minor_2_coast)
Level 2

Norse Village
(wh_main_nor_settlement_minor_3)
Level 3

Norse Village
(wh_main_nor_settlement_minor_3_coast)
Level 3

Occupied Black Crag/Karak Drazh (Mining Settlement)
(wh_main_special_settlement_black_crag_1_norsca)
Level 1

Occupied Black Crag/Karak Drazh (Outpost)
(wh_main_special_settlement_black_crag_2_norsca)
Level 2

Occupied Black Crag/Karak Drazh (Dwarf Keep)
(wh_main_special_settlement_black_crag_3_norsca)
Level 3

Occupied Black Crag/Karak Drazh (Dwarfhold)
(wh_main_special_settlement_black_crag_4_norsca)
Level 4

Occupied Black Crag/Karak Drazh (Great Hold)
(wh_main_special_settlement_black_crag_5_norsca)
Level 5

Occupied Karak Eight Peaks (Mining Settlement)
(wh_main_special_settlement_eight_peaks_1_norsca)
Level 1

Occupied Karak Eight Peaks (Outpost)
(wh_main_special_settlement_eight_peaks_2_norsca)
Level 2

Occupied Karak Eight Peaks (Dwarf Keep)
(wh_main_special_settlement_eight_peaks_3_norsca)
Level 3

Occupied Karak Eight Peaks (Dwarfhold)
(wh_main_special_settlement_eight_peaks_4_norsca)
Level 4

Occupied Karak Eight Peaks (Great Hold)
(wh_main_special_settlement_eight_peaks_5_norsca)
Level 5

Occupied Karaz-a-Karak (Mining Settlement)
(wh_main_special_settlement_karaz_a_karak_1_norsca)
Level 1

Occupied Karaz-a-Karak (Outpost)
(wh_main_special_settlement_karaz_a_karak_2_norsca)
Level 2

Occupied Karaz-a-Karak (Dwarf Keep)
(wh_main_special_settlement_karaz_a_karak_3_norsca)
Level 3

Occupied Karaz-a-Karak (Dwarfhold)
(wh_main_special_settlement_karaz_a_karak_4_norsca)
Level 4

Occupied Karaz-a-Karak (Great Hold)
(wh_main_special_settlement_karaz_a_karak_5_norsca)
Level 5

The Maelstrom
(wh2_dlc11_special_settlement_galleons_graveyard_other_1)
Level 1

Occupied Altdorf (Hamlet)
(wh2_main_special_settlement_altdorf_norsca_1)
Level 1

Occupied Altdorf (Village)
(wh2_main_special_settlement_altdorf_norsca_2)
Level 2

Occupied Altdorf (Town)
(wh2_main_special_settlement_altdorf_norsca_3)
Level 3

Occupied Altdorf (City)
(wh2_main_special_settlement_altdorf_norsca_4)
Level 4

Occupied Altdorf (City-State)
(wh2_main_special_settlement_altdorf_norsca_5)
Level 5

Occupied Drakenhof (Hamlet)
(wh2_main_special_settlement_castle_drakenhof_norsca_1)
Level 1

Occupied Drakenhof (Village)
(wh2_main_special_settlement_castle_drakenhof_norsca_2)
Level 2

Occupied Drakenhof (Town)
(wh2_main_special_settlement_castle_drakenhof_norsca_3)
Level 3

Occupied Drakenhof (City)
(wh2_main_special_settlement_castle_drakenhof_norsca_4)
Level 4

Occupied Drakenhof (City-State)
(wh2_main_special_settlement_castle_drakenhof_norsca_5)
Level 5

Tiny Occupied Elven Colony
(wh2_main_special_settlement_colony_major_other_1)
Level 1

Small Occupied Elven Colony
(wh2_main_special_settlement_colony_major_other_2)
Level 2

Occupied Elven Colony
(wh2_main_special_settlement_colony_major_other_3)
Level 3

Large Occupied Elven Colony
(wh2_main_special_settlement_colony_major_other_4)
Level 4

Thriving Occupied Elven Colony
(wh2_main_special_settlement_colony_major_other_5)
Level 5

Tiny Occupied Elven Colony
(wh2_main_special_settlement_colony_minor_other_1)
Level 1

Small Occupied Elven Colony
(wh2_main_special_settlement_colony_minor_other_2)
Level 2

Occupied Elven Colony
(wh2_main_special_settlement_colony_minor_other_3)
Level 3

Occupied Couronne (Hamlet)
(wh2_main_special_settlement_couronne_norsca_1)
Level 1

Occupied Couronne (Village)
(wh2_main_special_settlement_couronne_norsca_2)
Level 2

Occupied Couronne (Town)
(wh2_main_special_settlement_couronne_norsca_3)
Level 3

Occupied Couronne (City)
(wh2_main_special_settlement_couronne_norsca_4)
Level 4

Occupied Couronne (City-State)
(wh2_main_special_settlement_couronne_norsca_5)
Level 5

Occupied Gaean Vale (Warrior Gathering)
(wh2_main_special_settlement_gaean_vale_norsca_1)
Level 1

Occupied Gaean Vale (Warband Camp)
(wh2_main_special_settlement_gaean_vale_norsca_2)
Level 2

Occupied Gaean Vale (Clan Enclave)
(wh2_main_special_settlement_gaean_vale_norsca_3)
Level 3

Occupied Gaean Vale (Tribal Stronghold)
(wh2_main_special_settlement_gaean_vale_norsca_4)
Level 4

Occupied Gaean Vale (Greater Tribal Stronghold)
(wh2_main_special_settlement_gaean_vale_norsca_5)
Level 5

Occupied Hellpit (Warrior Gathering)
(wh2_main_special_settlement_hellpit_norsca_1)
Level 1

Occupied Hellpit (Warband Camp)
(wh2_main_special_settlement_hellpit_norsca_2)
Level 2

Occupied Hellpit (Clan Enclave)
(wh2_main_special_settlement_hellpit_norsca_3)
Level 3

Occupied Hellpit (Tribal Stronghold)
(wh2_main_special_settlement_hellpit_norsca_4)
Level 4

Occupied Hellpit (Greater Tribal Stronghold)
(wh2_main_special_settlement_hellpit_norsca_5)
Level 5

Occupied Hexoatl (Warrior Gathering)
(wh2_main_special_settlement_hexoatl_norsca_1)
Level 1

Occupied Hexoatl (Warband Camp)
(wh2_main_special_settlement_hexoatl_norsca_2)
Level 2

Occupied Hexoatl (Clan Enclave)
(wh2_main_special_settlement_hexoatl_norsca_3)
Level 3

Occupied Hexoatl (Tribal Stronghold)
(wh2_main_special_settlement_hexoatl_norsca_4)
Level 4

Occupied Hexoatl (Greater Tribal Stronghold)
(wh2_main_special_settlement_hexoatl_norsca_5)
Level 5

Occupied Itza (Warrior Gathering)
(wh2_main_special_settlement_itza_norsca_1)
Level 1

Occupied Itza (Warband Camp)
(wh2_main_special_settlement_itza_norsca_2)
Level 2

Occupied Itza (Clan Enclave)
(wh2_main_special_settlement_itza_norsca_3)
Level 3

Occupied Itza (Tribal Stronghold)
(wh2_main_special_settlement_itza_norsca_4)
Level 4

Occupied Itza (Greater Tribal Stronghold)
(wh2_main_special_settlement_itza_norsca_5)
Level 5

Occupied Khemri (Warrior Gathering)
(wh2_main_special_settlement_khemri_norsca_1)
Level 1

Occupied Khemri (Warband Camp)
(wh2_main_special_settlement_khemri_norsca_2)
Level 2

Occupied Khemri (Clan Enclave)
(wh2_main_special_settlement_khemri_norsca_3)
Level 3

Occupied Khemri (Tribal Stronghold)
(wh2_main_special_settlement_khemri_norsca_4)
Level 4

Occupied Khemri (Greater Tribal Stronghold)
(wh2_main_special_settlement_khemri_norsca_5)
Level 5

Occupied Kislev (Hamlet)
(wh2_main_special_settlement_kislev_norsca_1)
Level 1

Occupied Kislev (Village)
(wh2_main_special_settlement_kislev_norsca_2)
Level 2

Occupied Kislev (Town)
(wh2_main_special_settlement_kislev_norsca_3)
Level 3

Occupied Kislev (City)
(wh2_main_special_settlement_kislev_norsca_4)
Level 4

Occupied Kislev (City-State)
(wh2_main_special_settlement_kislev_norsca_5)
Level 5

Occupied Lahmia (Warrior Gathering)
(wh2_main_special_settlement_lahmia_norsca_1)
Level 1

Occupied Lahmia (Warband Camp)
(wh2_main_special_settlement_lahmia_norsca_2)
Level 2

Occupied Lahmia (Clan Enclave)
(wh2_main_special_settlement_lahmia_norsca_3)
Level 3

Occupied Lahmia (Tribal Stronghold)
(wh2_main_special_settlement_lahmia_norsca_4)
Level 4

Occupied Lahmia (Greater Tribal Stronghold)
(wh2_main_special_settlement_lahmia_norsca_5)
Level 5

Occupied Lothern (Warrior Gathering)
(wh2_main_special_settlement_lothern_norsca_1)
Level 1

Occupied Lothern (Warband Camp)
(wh2_main_special_settlement_lothern_norsca_2)
Level 2

Occupied Lothern (Clan Enclave)
(wh2_main_special_settlement_lothern_norsca_3)
Level 3

Occupied Lothern (Tribal Stronghold)
(wh2_main_special_settlement_lothern_norsca_4)
Level 4

Occupied Lothern (Greater Tribal Stronghold)
(wh2_main_special_settlement_lothern_norsca_5)
Level 5

Occupied Miragliano (Hamlet)
(wh2_main_special_settlement_miragliano_norsca_1)
Level 1

Occupied Miragliano (Village)
(wh2_main_special_settlement_miragliano_norsca_2)
Level 2

Occupied Miragliano (Town)
(wh2_main_special_settlement_miragliano_norsca_3)
Level 3

Occupied Miragliano (City)
(wh2_main_special_settlement_miragliano_norsca_4)
Level 4

Occupied Miragliano (City-State)
(wh2_main_special_settlement_miragliano_norsca_5)
Level 5

Occupied Naggarond (Warrior Gathering)
(wh2_main_special_settlement_naggarond_norsca_1)
Level 1

Occupied Naggarond (Warband Camp)
(wh2_main_special_settlement_naggarond_norsca_2)
Level 2

Occupied Naggarond (Clan Enclave)
(wh2_main_special_settlement_naggarond_norsca_3)
Level 3

Occupied Naggarond (Tribal Stronghold)
(wh2_main_special_settlement_naggarond_norsca_4)
Level 4

Occupied Naggarond (Greater Tribal Stronghold)
(wh2_main_special_settlement_naggarond_norsca_5)
Level 5

Occupied Sartosa Level 1
(wh2_main_special_settlement_sartosa_norsca_1)
Level 1

Occupied Sartosa Level 2
(wh2_main_special_settlement_sartosa_norsca_2)
Level 2

Occupied Sartosa Level 3
(wh2_main_special_settlement_sartosa_norsca_3)
Level 3

Occupied Sartosa Level 4
(wh2_main_special_settlement_sartosa_norsca_4)
Level 4

Occupied Sartosa Level 5
(wh2_main_special_settlement_sartosa_norsca_5)
Level 5

Occupied Skavenblight (Warrior Gathering)
(wh2_main_special_settlement_skavenblight_norsca_1)
Level 1

Occupied Skavenblight (Warband Camp)
(wh2_main_special_settlement_skavenblight_norsca_2)
Level 2

Occupied Skavenblight (Clan Enclave)
(wh2_main_special_settlement_skavenblight_norsca_3)
Level 3

Occupied Skavenblight (Tribal Stronghold)
(wh2_main_special_settlement_skavenblight_norsca_4)
Level 4

Occupied Skavenblight (Greater Tribal Stronghold)
(wh2_main_special_settlement_skavenblight_norsca_5)
Level 5

Occupied The Awakening Level 1
(wh2_main_special_settlement_the_awakening_norsca_1)
Level 1

Occupied The Awakening Level 2
(wh2_main_special_settlement_the_awakening_norsca_2)
Level 2

Occupied The Awakening Level 3
(wh2_main_special_settlement_the_awakening_norsca_3)
Level 3

Occupied The Awakening Level 4
(wh2_main_special_settlement_the_awakening_norsca_4)
Level 4

Occupied The Awakening Level 5
(wh2_main_special_settlement_the_awakening_norsca_5)
Level 5
Faction Availability
The Eye of the Vortex
Mortal Empires