Home
/
Divide et Impera
/
Roma
/
Units
/ Raiding Hemiolia - Cohors Nauticorum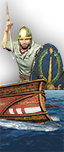 Roma Missile Ship
Raiding Hemiolia - Cohors Nauticorum
A hemiolia is a light and fast raiding ship developed in the 4th century BCE, favoured by pirates but also used by navies as a light patrol ship. It has one and a half rows of oars, making it faster and more powerful than earlier uniremes.

(Roman Auxiliary Marines)
The 'one-and-a-half' or 'hemiolia' was a light galley which was much favoured by pirates in the ancient world. It developed from the bireme, a ship that had two full decks of oars along its entire length. The hemiola reduced the number of oars on the upper level, leaving roughly half the number of oars and rowers in the midship section. The smaller number of rowers had little effect on overall speed because the laden weight of the vessel also dropped. Because it used both oars and sails, and the crew could rapidly change propulsion method, it was an ideal vessel for chasing down fat, wealthy merchant ships. Boarding attacks were mounted from hemiolas; ramming was not a useful tactic as loot ended up with the fish rather than enriching the pirates! The speed and handiness of hemiolas made them useful as scouts, supply boats and vessels used to pick off damaged enemies at the edge of battles.

(Cohors Nauticorum)
Recruited from amongst Rome's poor and those too young to fight as hastati, the velites were the Roman army's light infantry. They wore wolf skin head-dresses which are thought to have some totemic significance, although were also worn to induce fear in their enemies. At the Battle of Zama in 202BC, when Scipio Africanus confronted the Carthaginian general, Hannibal, it was the velites who helped fend off his initial elephant charge, utilising their light armour and weapons to move quickly around them. They harassed the elephants to a frenzy while the cavalry blew horns to disorientate the beasts. Hannibal had hoped to break the Roman lines with his elephants; instead, many of the frightened beasts turned on the Carthaginians. Those elephants who didn't crash through their own lines were caught in a cleverly orchestrated manoeuvre, whereby the Romans carefully channelled them through gaps made between the cohorts' formation.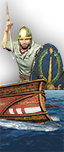 Unit Name

Raiding Hemiolia - Cohors Nauticorum
Main Unit Key

Rom_Raiding_Hemolia_Late
Land Unit Key

Jay_Marine_Antesignani
Naval Unit Key

roman_one_halfer
Soldiers

80
Category

Light Ship
Class

Missile Ship
Custom Battle Cost

688
Recruitment Cost

688
Upkeep Cost

172
15
├ Missile Weapon

javelin3
├ Projectile

javelin3
├ Missile Damage

15
├ Missile Ap Damage

0
└ Base Reload Time

9
Accuracy

5
Range

90
Reload

15
Shots Per Minute

8
Ammunition

10
402
└ Ship

roman_one_halfer
Ship Speed

4
Melee Attack

23
10
├ Melee Weapon

gladius2
├ Weapon Damage

9
├ Weapon Deadliness

1
├ Armour Piercing

No
├ Bonus vs. Cavalry

0
├ Bonus vs. Elephants

0
└ Bonus vs Infantry

0
Charge Bonus

11
51
├ Base Defence

20
├ Shield

shield2
└ Shield Defence

31
12
├ Armour

arm7
├ Armour Defence

12
└ Shield Armour

0
22
├ Man Entity

rome_infantry_medium
├ Man Health

20
└ Bonus Hit Points

2
Base Morale

55
Abilities
Raiding Hemiolia
Row Hard 10
Increases speed for 10 strokes.
Ship speed
Cohors Nauticorum
Stamina (excellent)
Governs how fast the unit tires and restores fatigue, and is dependent on type of unit, weight and approach to combat.
Concentrate Fire
The unit fires its missiles towards a spot causing damage to everyone in the area of effect
Attributes
Improved Stamina
This unit type has an improvement on the base stamina stat.
Hide (scrub & forest)
This unit can hide in scrub and forest until enemy units get too close.
Hide (scrub & forest)
This unit can hide in scrub and forest until enemy units get too close.
Strengths & Weaknesses
Raiding Hemiolia
Very poor hull strength
Light crew
Very fast speed
Weak ramming
Very poor boarding
Poor missile combat
Cohors Nauticorum
Short range
Fast rate of fire
Very good damage and armour penetration
Very weak in melee
Very poor morale
Recuitment Requirement
Required Technology Cost 400 Upgrade From
Requires Buildings
Lv. 0

Port of Alexandria
(dei_port_ALEXANDRIA_1)
Level 0

Port of Alexandria
(dei_port_ALEXANDRIA_2)
Level 1

Port of Alexandria
(dei_port_ALEXANDRIA_3)
Level 2

Port of Alexandria
(dei_port_ALEXANDRIA_4)
Level 3

Cothon
(dei_port_CARTHAGE_1)
Level 0

Cothon
(dei_port_CARTHAGE_2)
Level 1

Cothon
(dei_port_CARTHAGE_3)
Level 2

Cothon
(dei_port_CARTHAGE_4)
Level 3

Port of Massalia
(dei_port_MASSILIA_1)
Level 0

Port of Massalia
(dei_port_MASSILIA_2)
Level 1

Port of Massalia
(dei_port_MASSILIA_3)
Level 2

Port of Massalia
(dei_port_MASSILIA_4)
Level 3

Port of Rhodos
(dei_port_RHODES_1)
Level 0

Port of Rhodos
(dei_port_RHODES_2)
Level 1

Port of Rhodos
(dei_port_RHODES_3)
Level 2

Port of Rhodos
(dei_port_RHODES_4)
Level 3

Port
(rom_ROMAN_port_1)
Level 0

Fishing Port
(rom_ROMAN_port_food_2)
Level 1

Fishmongers
(rom_ROMAN_port_food_3)
Level 2

Forum Piscarium
(rom_ROMAN_port_food_4)
Level 3

Military Wharf
(rom_ROMAN_port_large_military_2)
Level 1

Drydock
(rom_ROMAN_port_large_military_3)
Level 2

Portus Classis
(rom_ROMAN_port_large_military_4)
Level 3

Port
(rom_ROMAN_port_minor_1)
Level 0

Fishing Port
(rom_ROMAN_port_minor_food_2)
Level 1

Fishing Port
(rom_ROMAN_port_minor_food_2)
Level 1

Fishmongers
(rom_ROMAN_port_minor_food_3)
Level 2

Fishmongers
(rom_ROMAN_port_minor_food_3)
Level 2

Shipwright
(rom_ROMAN_port_minor_small_military_2)
Level 1

Docks
(rom_ROMAN_port_minor_small_military_3)
Level 2

Harbour
(rom_ROMAN_port_minor_trade_2)
Level 1

Trading Port
(rom_ROMAN_port_minor_trade_3)
Level 2

Shipwright
(rom_ROMAN_port_small_military_2)
Level 1

Docks
(rom_ROMAN_port_small_military_3)
Level 2

Coastal Patrol
(rom_ROMAN_port_small_military_4)
Level 3

Harbour
(rom_ROMAN_port_trade_2)
Level 1

Trading Port
(rom_ROMAN_port_trade_3)
Level 2

Emporium
(rom_ROMAN_port_trade_4)
Level 3