Home
/
Divide et Impera
/
Roma
/
Units
/ Ala Legionaria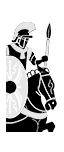 Roma Melee Cavalry
Ala Legionaria
(Marian Legionary Cavalry)

Cavalry support is vital to all infantry work, even in the Legions.
Developing throughout the Republic, from to the recruitment of allied horsemen from Iberia, Gaul, Numidia and Thrace, Roman legionary cavalry adapted to meet changing needs and resources. The cavalry of each Legion originally included 300 Equites and 600-900 Socii, giving a typical consular army of two Legions around 1,800-2,400 cavalry. During the Samnite, Pyrrhic, Punic and Jugurthine Wars, and with the demands of a growing empire, there was a gradual move away to using allied cavalry. As the equites became legionary officers and then the Socii became citizens, cavalry recruits from Italy became scarce: by the time of Caesar's Gallic campaigns the Legions relied almost exclusively on allied cavalry. Equipment changed little during this period. The spear and chainmail adopted by the equites, probably influenced by the Celts, came full-circle with the recruitment of later Gallic cavalry. Helmet and shield styles did change and the small round shield of the equites became the versatile thureos.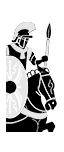 Unit Name

Ala Legionaria
Main Unit Key

Rom_Legionary_Cav
Land Unit Key

Rom_Legionary_Cav
Naval Unit Key

pel_transport
Soldiers

100
Category

Cavalry
Class

Melee Cavalry
Custom Battle Cost

1874
Recruitment Cost

1874
Upkeep Cost

375
Melee Attack

32
9
├ Melee Weapon

cspear3
├ Weapon Damage

9
├ Weapon Deadliness

0
├ Armour Piercing

No
├ Bonus vs. Cavalry

2
├ Bonus vs. Elephants

2
└ Bonus vs Infantry

0
Charge Bonus

22
49
├ Base Defence

18
├ Shield

cshield3
└ Shield Defence

31
18
├ Armour

carm9
├ Armour Defence

18
└ Shield Armour

0
20
├ Man Entity

medium_heavy
├ Man Health

20
├ Bonus Hit Points

0
├ Mount

rome_horse_spear_shield_h
├ Mount Entity

rome_horse_heavy_spr
└ Mount Health

0
Base Morale

55
Abilities
Ala Legionaria
Stamina (low)
Governs how fast the unit tires and restores fatigue, and is dependent on type of unit, weight and approach to combat.
Cavalry Testudo
The unit raises shields in a defensive formation that increases missile defense but while in the formation, the unit has decreased attack
Flying Wedge
The unit assumes a wedge formation that increases charge speed and bonus
Attributes
Fire Whilst Moving
This unit can fire when mounted and moving.
Disciplined
This unit does not suffer a morale penalty when the general dies. It can also rally after routing more often.
Hide (forest)
This unit can hide in forests until enemy units get too close.
Strengths & Weaknesses
Transport
Very poor hull strength
Very slow speed
Weak ramming
Ala Legionaria
Good attack
Average defence
Low damage but average armour penetration
Average morale
Recuitment Requirement
Required Technology Cost 412 Upgrade From
Upgrade
Required Technology Cost 435 Upgrade To
Requires Buildings
Lv. 0

Field of Mars
(rom_ROMAN_military_main_1)
Level 0

Roman Barracks
(rom_ROMAN_military_main_heavy_2)
Level 1

Elite Roman Barracks
(rom_ROMAN_military_main_heavy_3)
Level 2

Lv. 1

Provincial Barracks
(rom_ROMAN_military_main_heavy_4)
Level 3
Total War: Rome II

Divide et Impera
>
Factions

Roma
Units
Auxiliary Defense Legion
Auxiliary Map New!!
Custom Battle Units
Buildings
Technologies
Household
Skills & Traditions
Army New!!
Regions
Mercenaries
Mercenaries Map New!!
Character Traits New!!
Compare Units New!!
Support Honga.net or Donations