Home
/
Divide et Impera
/
Roma
/
Units
/ Cohors Prima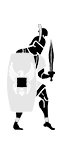 Roma Melee Infantry
Cohors Prima
(Marian First Cohort)

Legionaries of the First Cohort are the best of their kind.
The military reforms of Gaius Marius in 104BC transformed the Roman army into a professional fighting force. Recruits were no longer required to own land in order to be soldiers: Roman citizenship was enough. Without farms to return to, men were willing to make the army their career, fighting lengthy campaigns in return for the pay, glory and retirement benefits. The Legions were equipped at the expense of the state, and each man carried a pilum, a gladius and a large 'scutum' shield, emblazoned with their Legion's insignia. Under Marius men were expected to carry their own equipment, removing the need for large baggage trains manned by non-combatants. Unfortunately for the men this meant that they were carrying kit that weighed around 45 kilos, earning them the nickname 'Marius' mules'.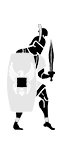 Unit Name

Cohors Prima
Main Unit Key

Rom_First_Cohort
Land Unit Key

Rom_First_Cohort
Naval Unit Key

pel_transport
Soldiers

400
Category

Melee Infantry
Class

Melee Infantry
Custom Battle Cost

1253
Recruitment Cost

1253
Upkeep Cost

251
16
├ Missile Weapon

pilum2
├ Projectile

pilum2
├ Missile Damage

13
├ Missile Ap Damage

3
└ Base Reload Time

6
Accuracy

5
Range

80
Reload

0
Shots Per Minute

10
Ammunition

1
Melee Attack

38
10
├ Melee Weapon

gladius3
├ Weapon Damage

9
├ Weapon Deadliness

1
├ Armour Piercing

No
├ Bonus vs. Cavalry

0
├ Bonus vs. Elephants

0
└ Bonus vs Infantry

0
Charge Bonus

11
77
├ Base Defence

19
├ Shield

shield6
└ Shield Defence

58
16
├ Armour

arm9
├ Armour Defence

16
└ Shield Armour

0
20
├ Man Entity

medium_heavy
├ Man Health

20
└ Bonus Hit Points

0
Base Morale

65
Abilities
Cohors Prima
Stamina (good)
Governs how fast the unit tires and restores fatigue, and is dependent on type of unit, weight and approach to combat.
Throw Pila (medium)
Orders the unit to throw their pila towards a spot causing damage to everyone in the area of effect
NOTE: you cannot throw Pila when you are inside a formation
Hollow Square
The unit forms a hollow square formation to cover all four sides and improve morale and defense but renders itself unable to move with lower attack
Repellere Equites (Repel Cavalry)
The soldiers raise their shields in defense, increasing bracing and ability to fight against mounted units; however, in this formation the unit cannot move
Testudo
The unit assumes a tortoise formation making itself nearly impenetrable to missile damage but while in formation the unit has no attack potential
Attributes
Disciplined
This unit does not suffer a morale penalty when the general dies. It can also rally after routing more often.
Hide (forest)
This unit can hide in forests until enemy units get too close.
Strengths & Weaknesses
Transport
Very poor hull strength
Very slow speed
Weak ramming
Cohors Prima
Good attack
Average defence
Average damage but low armour penetration
Normal morale
Upgrade
Required Technology Cost 889 Upgrade To
Requires Buildings
Lv. 0

Roma
(dei_main_city_ROME_2)
Level 1

Roma
(dei_main_city_ROME_3)
Level 2

Fortified Roma
(dei_main_city_ROME_3_fort)
Level 2

Commercial Roma
(dei_main_city_ROME_3_trade)
Level 2

Roman Barracks
(rom_ROMAN_military_main_heavy_2)
Level 1

Elite Roman Barracks
(rom_ROMAN_military_main_heavy_3)
Level 2

Elite Roman Barracks
(rom_ROMAN_military_main_heavy_3)
Level 2

Elite Roman Barracks
(rom_ROMAN_military_main_heavy_3)
Level 2

Lv. 1

Roma
(dei_main_city_ROME_4)
Level 3

Fortified Roma
(dei_main_city_ROME_4_fort)
Level 3

Commercial Roma
(dei_main_city_ROME_4_trade)
Level 3

Provincial Barracks
(rom_ROMAN_military_main_heavy_4)
Level 3

Provincial Barracks
(rom_ROMAN_military_main_heavy_4)
Level 3