Home
/
Divide et Impera
/
Roma
/
Units
/ Cohors Evocata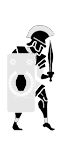 Roma Melee Infantry
Cohors Evocata
(Imperial Veteran Legionaries)

These veterans have been called forth" from retirement, and have chosen to re-enlist and serve Roma once again."
After a Roman legionary had finished up to 25 years in the army, he could be asked back to join the evocati, the ranks of 'those who are called'. Usually affiliated to their old commander or re-enlisting at the bequest of a particular Consul in times of need, veterans were afforded great respect and honour because of their previous service. As examples to the common soldier, they were often immediately promoted to centurion and given a pay rise. Crucially, veterans were exempt from the mundane and laborious tasks of legionary life such as digging latrines, building roads or making camp. During the civil war all sides called on old soldiers to swell their ranks and provide much needed experience, Pompey persuading a large number of evocati to join him against Julius Caesar by promising them promotion and more money to return. The veteran 'Praetorians of the Evocati Augusti' were held in especially high regard.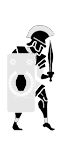 Unit Name

Cohors Evocata
Main Unit Key

Rom_Evocati_Cohort
Land Unit Key

Rom_Evocati_Cohort
Naval Unit Key

pel_transport
Soldiers

200
Category

Melee Infantry
Class

Melee Infantry
Custom Battle Cost

1335
Recruitment Cost

1335
Upkeep Cost

267
17
├ Missile Weapon

pilum3
├ Projectile

pilum3
├ Missile Damage

14
├ Missile Ap Damage

3
└ Base Reload Time

6
Accuracy

5
Range

80
Reload

0
Shots Per Minute

10
Ammunition

1
Melee Attack

38
10
├ Melee Weapon

gladius4
├ Weapon Damage

9
├ Weapon Deadliness

1
├ Armour Piercing

No
├ Bonus vs. Cavalry

0
├ Bonus vs. Elephants

0
└ Bonus vs Infantry

0
Charge Bonus

11
84
├ Base Defence

26
├ Shield

shield6
└ Shield Defence

58
18
├ Armour

arm10
├ Armour Defence

18
└ Shield Armour

0
20
├ Man Entity

heavy_heavy
├ Man Health

20
└ Bonus Hit Points

0
Base Morale

65
Abilities
Cohors Evocata
Stamina (good)
Governs how fast the unit tires and restores fatigue, and is dependent on type of unit, weight and approach to combat.
Throw Pila (heavy)
Orders the unit to throw their pila towards a spot causing damage to everyone in the area of effect
NOTE: you cannot throw pila when you are inside a formation
Hollow Square
The unit forms a hollow square formation to cover all four sides and improve morale and defense but renders itself unable to move with lower attack
Repellere Equites (Repel Cavalry)
The soldiers raise their shields in defense, increasing bracing and ability to fight against mounted units; however, in this formation the unit cannot move
Testudo
The unit assumes a tortoise formation making itself nearly impenetrable to missile damage but while in formation the unit has no attack potential
Attributes
Disciplined
This unit does not suffer a morale penalty when the general dies. It can also rally after routing more often.
Hide (forest)
This unit can hide in forests until enemy units get too close.
Strengths & Weaknesses
Transport
Very poor hull strength
Very slow speed
Weak ramming
Cohors Evocata
Very good attack
Average defence
Average damage but low armour penetration
Good morale
Recuitment Requirement
Required Technology Cost 780 Upgrade From
Requires Buildings
Lv. 0

Roman Barracks
(rom_ROMAN_military_main_heavy_2)
Level 1

Elite Roman Barracks
(rom_ROMAN_military_main_heavy_3)
Level 2

Lv. 1

Provincial Barracks
(rom_ROMAN_military_main_heavy_4)
Level 3
Total War: Rome II

Divide et Impera
>
Factions

Roma
Units
Auxiliary Defense Legion
Auxiliary Map New!!
Custom Battle Units
Buildings
Technologies
Household
Skills & Traditions
Army New!!
Regions
Mercenaries
Mercenaries Map New!!
Character Traits New!!
Compare Units New!!
Support Honga.net or Donations