Home
/
Divide et Impera
/
Massalia (Hannibal at the Gates)
/
Units
/ Ephippoi Thorakitai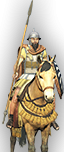 Massalia (Hannibal at the Gates) Melee Cavalry
Ephippoi Thorakitai
(Massilian Heavy Cavalry)

The use of cavalry in the Massalian army is a necessity. The Celts are able to field a very capable cavalry, frequently leading incursions into Massalian territory. Cavalry of their own is a necessary response until the rest of the Massalian army can be mobilised. This task is handled by the Ephippoi Thorakitai, an elite heavy cavalry unit influenced by Celtic and Roman practices.
The early Greek cavalry took roughly the same form throughout the city-states, being comprised of citizens able to afford and maintain a horse. After the Greco-Persian Wars, city-states such as Athens founded more permanent cavalry funded by annual grants. Right through the Peloponnesian War however, this volunteer cavalry continued to be few in numbers, and was used principally to chase skirmishers and fleeing hoplites. It was not that cavalry were ineffectual in Greek warfare, as shown by the Theban victory at the Battle of Delium in 424BC, but until this time they had been underused and lacked the numbers to make a decisive impact. Often wearing a metal helm and a mailed cuirass reaching down to their knees, they were equipped with a long sword and a spear, usable as both a lance and a javelin. However, a lack of saddle and stirrups, unused by the Greeks of the time, made them relatively easy to knock from horseback.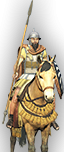 Unit Name

Ephippoi Thorakitai
Main Unit Key

Massalia_Heavy_Cav
Land Unit Key

Massalia_Heavy_Cav
Naval Unit Key

pel_transport
Soldiers

100
Category

Cavalry
Class

Melee Cavalry
Custom Battle Cost

2005
Recruitment Cost

2005
Upkeep Cost

401
Melee Attack

35
9
├ Melee Weapon

cspear4
├ Weapon Damage

9
├ Weapon Deadliness

0
├ Armour Piercing

No
├ Bonus vs. Cavalry

2
├ Bonus vs. Elephants

2
└ Bonus vs Infantry

0
Charge Bonus

26
52
├ Base Defence

21
├ Shield

cshield3
└ Shield Defence

31
18
├ Armour

carm9
├ Armour Defence

18
└ Shield Armour

0
20
├ Man Entity

heavy_medium
├ Man Health

20
├ Bonus Hit Points

0
├ Mount

rome_hellenic_horse_spear_shield_vh
├ Mount Entity

rome_horse_very_heavy_spr
└ Mount Health

0
Base Morale

60
Abilities
Ephippoi Thorakitai
Stamina (low)
Governs how fast the unit tires and restores fatigue, and is dependent on type of unit, weight and approach to combat.
Flying Wedge
The unit assumes a wedge formation that increases charge speed and bonus
Attributes
Fire Whilst Moving
This unit can fire when mounted and moving.
Disciplined
This unit does not suffer a morale penalty when the general dies. It can also rally after routing more often.
Hide (forest)
This unit can hide in forests until enemy units get too close.
Strengths & Weaknesses
Transport
Very poor hull strength
Very slow speed
Weak ramming
Ephippoi Thorakitai
Very good attack
Average defence
Low damage but average armour penetration
Good morale
Requires Buildings
Lv. 0

Muster Field
(rom_HELLENIC_military_main_1)
Level 0

Holosideros Barracks
(rom_HELLENIC_military_main_heavy_2)
Level 1

Hoplite Barracks
(rom_HELLENIC_military_main_heavy_3)
Level 2

Lv. 1

Royal Barracks
(rom_HELLENIC_military_main_heavy_4)
Level 3