Home
/
Divide et Impera
/
Massalia (Hannibal at the Gates)
/
Units
/ Tower Penteres - Makhairophoroi Epibatoi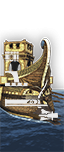 Massalia (Hannibal at the Gates) Melee Ship
Tower Penteres - Makhairophoroi Epibatoi
A quinquereme is a 45 meter long galley with three decks of oars, in a pattern of 2-2-1 oarsmen, developed around 400 BCE by the Syracusans. Its large size allows many marines on board, and also allows ballistae to be mounted on the large decks.

(Massalian Marine Swordsmen)

Massalia does not follow the classical evolution of Hellenistic armies with the adoption of the pike phalanx, but instead she has developed her own tradition, influenced by Celtic and Roman influences. These marines form an elite corps, fighting in the Roman fashion to defend Massalia on land and at sea.
The 'five', called a quinquereme in Latin and a penteres in Greek, was a ship first used by the Syracusans against the Carthaginians sometime around 398BC. Like other polyremes, a term meaning many-oared, the chances were that it did not have five banks of oars but that the word 'oar' was used to mean 'rower'. In such a case, the arrangement of rowers would be two-two-one going up from the waterline. It makes sense to keep as much weight as possible low in the vessel to help its stability; a high centre of gravity makes any ship liable to capsize if struck from the side. The quinquereme, then, would be a formidable vessel both in terms of appearance and combat value. With a large fighting contingent aboard and plenty of deck space, this heavy vessel could cope with most enemies and threats.

(Makhairophoroi Epibatoi)
During the 4th century BC the Romans abandoned the phalanx in favour of armies consisting chiefly of hastati, principes and triarii. These were deployed in maniples: compact blocks of men, arranged in a checkerboard formation. This allowed flexibility when moving across the battlefield, particularly when compared to the sluggish movements of a solid pike phalanx. Like most sophisticated city-states of the ancient world, Rome expected its men to fight, and supply their own war gear when they did so. A cynical observer might be tempted to note that the manipular Legion also made sure that the hierarchy of Rome was preserved. The youngest and least wealthy became hastati, the first line of battle in a Roman Legion. Behind them came the second line of principes, older and richer men, and finally came the triarii, the most experienced warriors. "Going to the triarii" was a Roman saying that came to be used in all kinds of situations, implying that everything else had been tried and found wanting.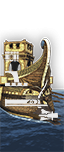 Unit Name

Tower Penteres - Makhairophoroi Epibatoi
Main Unit Key

Gre_Assault_Quinquereme_Admiral_Mas
Land Unit Key

Massalia_Heavy_Marines
Naval Unit Key

greek_lft_five
Soldiers

140
Category

Medium Ship
Class

Melee Ship
Custom Battle Cost

1562
Recruitment Cost

1562
Upkeep Cost

390
15
├ Missile Weapon

pilum1
├ Projectile

pilum1
├ Missile Damage

12
├ Missile Ap Damage

3
└ Base Reload Time

6
Accuracy

5
Range

80
Reload

0
Shots Per Minute

10
Ammunition

4
1020
└ Ship

greek_five
Ship Speed

4
Melee Attack

27
10
├ Melee Weapon

gsword3
├ Weapon Damage

10
├ Weapon Deadliness

0
├ Armour Piercing

No
├ Bonus vs. Cavalry

0
├ Bonus vs. Elephants

0
└ Bonus vs Infantry

0
Charge Bonus

15
85
├ Base Defence

27
├ Shield

shield6
└ Shield Defence

58
14
├ Armour

arm8
├ Armour Defence

14
└ Shield Armour

0
24
├ Man Entity

medium_medium
├ Man Health

20
└ Bonus Hit Points

4
Base Morale

65
Abilities
Tower Penteres
Row Hard 20
Increases speed for 20 strokes.
Ship speed
Makhairophoroi Epibatoi
Stamina (poor)
Governs how fast the unit tires and restores fatigue, and is dependent on type of unit, weight and approach to combat.
Attributes
Disciplined
This unit does not suffer a morale penalty when the general dies. It can also rally after routing more often.
Hide (forest)
This unit can hide in forests until enemy units get too close.
Strengths & Weaknesses
Tower Penteres
Good hull strength
Medium crew
Average speed
Average ramming
Average boarding
Very good missile combat
Makhairophoroi Epibatoi
Good attack
Average defence
Average damage but low armour penetration
Normal morale