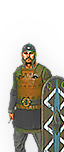 Markamannoz (Imperator Augustus) Melee Infantry
(Early Germanic Elite Swordsmen)

Armed with sturdy shields and swords, these men are the Germanic warrior elite. Professionals, they spend their time in the service of a chieftain or king, and fight for his glory and honour in battle. If necessary, it is expected that these men will give their lives for their leader. To leave a battlefield when their chief has fallen is the greatest dishonour for a Herunoudaz.
Whereas German tribes often fought in a more ordered, organised manner than the Celts, they sometimes adopted their neighbours' weapons and equipment, either through battle or trade. Celtic armour found its way onto the backs of privileged German warriors, while double-edged longswords were another example of creeping Celtic influence. An iron sword was a prestigious possession, so those who carried them were either of noble blood or were veteran followers. By following a noble, warriors were duty-bound to show dedication and valour. If he fell in combat, the noble's men were expected to fight to the death. Anyone who survived such a battle was disgraced. Some hanged themselves, unable to live with the shame and dishonour of outliving their battle-lord.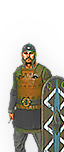 Unit Name
Main Unit Key

Ger_early noble_swordsmen
Land Unit Key

Ger_early noble_swordsmen
Naval Unit Key

barbarian_transport
Soldiers

200
Category

Melee Infantry
Class

Melee Infantry
Custom Battle Cost

828
Recruitment Cost

828
Upkeep Cost

166
12
├ Missile Weapon

prec2
├ Projectile

prec2
├ Missile Damage

12
├ Missile Ap Damage

0
└ Base Reload Time

10
Accuracy

5
Range

80
Reload

0
Shots Per Minute

6
Ammunition

2
Melee Attack

40
11
├ Melee Weapon

bsword3
├ Weapon Damage

11
├ Weapon Deadliness

0
├ Armour Piercing

No
├ Bonus vs. Cavalry

0
├ Bonus vs. Elephants

0
└ Bonus vs Infantry

0
Charge Bonus

13
75
├ Base Defence

23
├ Shield

shield5
└ Shield Defence

52
6
├ Armour

arm3
├ Armour Defence

6
└ Shield Armour

0
20
├ Man Entity

heavy_light
├ Man Health

20
└ Bonus Hit Points

0
Base Morale

55
Abilities
Stamina (low)
Governs how fast the unit tires and restores fatigue, and is dependent on type of unit, weight and approach to combat.
Attributes
Hide (forest)
This unit can hide in forests until enemy units get too close.
Resistant to Cold
This unit tires less quickly in snow.
Strengths & Weaknesses
Transport
Very poor hull strength
Very slow speed
Weak ramming
Good attack
Average defence
Average damage but low armour penetration
Normal morale
Upgrade
Required Technology Cost 472 Upgrade To
Requires Buildings
Lv. 0

Proving Grounds
(rom_BARBARIAN_artisans_major_bronze_3)
Level 2

Lv. 1

Hall of Champions
(rom_BARBARIAN_artisans_major_bronze_4)
Level 3
Faction Availability
Grand Campaign
Caesar in Gaul
Imperator Augustus