家園
/
Divide et Impera
/ Ptolemaioi (Imperator Augustus)
Imperator Augustus
Ptolemaioi (Imperator Augustus)
Ptolemaic Egypt was one of the most impressive cultural and economic powers in the Mediterranean. By combining local customs with the sponsorship of the finest minds in the Hellenistic world, Ptolemy married the grandeur of ancient empire with modern sophistication. However, Egypt's power has waned, and her rulers court Roman support to validate their claims. Cleopatra has exploited this masterfully, ushering in a peace that maximises Egypt's trade and agricultural might. With the right leader at the helm to marshal these resources, Egypt could even rise beyond the heights of its former supremacy!
Campaign Map
Faction Name

Ptolemaioi (Imperator Augustus)
Campaign

main_emperor
Culture

rom_Hellenistic
Subculture

sc_rom_egyptian
Military Group

ptolemaic
Faction Group

emp_faction_group_successors
Faction Group
Successor Kingdoms
After Alexander's death, his mightiest generals tore apart his empire as they fought for it, each claiming to be his one true successor.
[NOTDISPLAYED]對抗權威特務的行動的安全措施+3
[NOTDISPLAYED]對抗狡猾特務行動的安全+2
[NOTDISPLAYED]為熱誠的事務官行動+4安全度
亞歷山大遺產:對外國佔領的抵抗-20%
繼任者衝突:與希臘派系戰鬥的所有單位+10%士氣
[NOTDISPLAYED]對抗權威特務的行動的安全措施+3
[NOTDISPLAYED]對抗狡猾特務行動的安全+2
[NOTDISPLAYED]為熱誠的事務官行動+4安全度
Political Parties
Other Families
The Ptolemaic court is a complicated blend of imported Greek nobility and an increasingly-Hellenised, native Egyptian aristocracy.
Playable: False
Initial Power: 55
No Effect
Ptolemaic Dynasty
One of Alexander the Great's generals, Ptolemy, was father to the current Egyptian ruler. Under his reign Ptolemaic Egypt remains rich, powerful, and influential.
Playable: True
Initial Power: 45
[NOTDISPLAYED]加入派系首都生活財富/視野:派系
外國王朝:由於外國文化的出現,公共秩序懲罰+25%
海軍的英勇:埃及船隻新兵的經驗等級+1
托勒密啟蒙運動:+10%研究速率
[NOTDISPLAYED]加入派系首都生活財富/視野:派系
主將
200
加拉泰皇家衛隊
(Egy_Galatian_Royal_Guard)
近戰步兵
100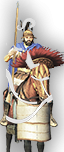 托勒密騎兵
(Gre_Ptolemaic_Cav)
突擊騎兵
256
希臘皇家衛隊
(Gre_Royal_Guard)
槍步兵
200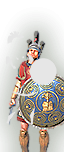 皇家輕盾兵
(Gre_Royal_Peltasts)
近戰步兵
200
皇家胸鎧劍士
(Gre_Royal_Thorax_Sword)
近戰步兵
200
胸甲重甲步兵
(Gre_Thorax_Hoplites)
槍步兵
200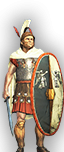 Thorakitai
(Gre_Thorax_Legionary)
近戰步兵
256
胸甲長槍兵
(Gre_Thorax_Pike)
槍步兵
200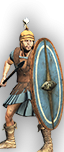 Thorakitai Doriphoroi
(Gre_Thorax_Spears)
矛步兵
200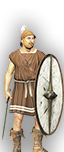 Thureophoroi Machairaphoroi
(Gre_Thureos_Sword)
近戰步兵
近戰步兵
遠程步兵
槍步兵
矛步兵
近戰騎士
遠程騎兵
突擊騎兵
100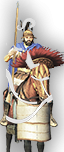 托勒密騎兵
(Gre_Ptolemaic_Cav)
突擊騎兵
120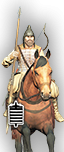 Yancai Uaezdaettae
(AOR_22_Alan_Noble_Cav)
突擊騎兵
120
Khuveshavagan
(AOR_23_Persian_Cavalry)
突擊騎兵
120
Asavaran-i Zrehbaran
(AOR_24_Parthian_Cataphracts)
突擊騎兵
100
Roxolanoi Xistophoroi
(AOR_27_Roxolani_Lancers)
突擊騎兵
100
Kappadokioi Xistophoroi
(AOR_29_Cappadocian_Lancers)
突擊騎兵
100
Kappadokioi Xistophoroi
(AOR_31_Cappadocian_Lancers)
突擊騎兵
100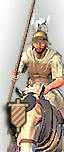 Hippeis Thessalikoi
(AOR_36_Thessalian_Cavalry)
突擊騎兵
100
Sauromatae Uaezdaettae
(AOR_43_Sarmatian_Cataphracts)
突擊騎兵
戰車
36
卷鐮戰車
(Gre_Scythed_Chariots)
戰車
大象
18
36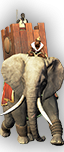 非洲戰象
(Afr_War_Elephants)
大象
18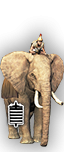 Elephantes Hulaioi Liboukoi
(AOR_16_African_Elephants)
大象
18
Elephantes Hulaioi Liboukoi
(AOR_18_African_Elephants)
大象
36
Elephantes Syriakoi
(AOR_21_Syrian_War_Elephants)
大象
36
Elephantes Indikoi
(AOR_23_Indian_War_Elephants)
大象
36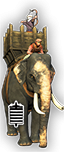 Elephantes Indikoi
(AOR_26_Indian_War_Elephants_Bactria)
大象
固定拋射武器
40
希臘連發石弩
(Gre_Polybolos)
固定拋射武器
40
希臘蠍弩(準備好的)
(Gre_Scorpion)
固定拋射武器
40
日耳曼堡壘蠍弩
(Gre_Scorpion_Bastion)
固定拋射武器
野戰拋射武器
40
40
希臘堡壘石弩
(Gre_Ballista_Bastion)
野戰拋射武器
40
希臘蠍弩
(Gre_Cheiroballistra)
野戰拋射武器
特殊
80
Malhamit Kalb
(AOR_16_Garamantine_Hounds)
特殊
80
Corio Cunos Vidios
(AOR_3_Celtic_Savage_Dogs)
特殊
80
Kappadokioi Kyon
(AOR_31_Anatolian_Mountain_Dogs)
特殊
80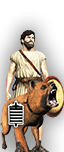 Molossoi Kyon
(AOR_36_Molossian_Hounds)
特殊
80
Vadasz Spako
(AOR_43_Steppe_Hunting_Dogs)
特殊
80
Jagon Hund
(AOR_5_Germanic_Hunting_Dogs)
特殊
80
Canes Bellici
(AOR_8_Roman_War_Dogs)
特殊
近戰艦船
60
雙排漿座輕型突擊船 - Machimoi Epibatoi
(Gre_Assault_Bireme_Egy)
近戰艦船
180
七排漿座大型弓箭艦 - Machimoi Epibatoi
(Gre_Assault_Hepteres_Egy)
近戰艦船
160
六排漿座大型攻擊艦 - Machimoi Epibatoi
(Gre_Assault_Hexareme_Egy)
近戰艦船
200
八排漿座重型塔樓艦 - Machimoi Epibatoi
(Gre_Assault_Oct_Tower_Admiral_Egy)
近戰艦船
200
八排漿座重型突擊艦 - Machimoi Epibatoi
(Gre_Assault_Octeres_Admiral_Egy)
近戰艦船
140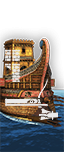 五排漿座大型塔樓船 - Machimoi Epibatoi
(Gre_Assault_Quinquereme_Admiral_Egy)
近戰艦船
140
五排漿座中型弓箭艦 - Machimoi Epibatoi
(Gre_Assault_Quinquereme_Egy)
近戰艦船
120
四排漿座輕型突擊船 - Machimoi Epibatoi
(Gre_Assault_Tetreres_Egy)
近戰艦船
80
三排漿座大型弓箭船 - Machimoi Epibatoi
(Gre_Assault_Trireme_Egy)
近戰艦船
60
雙排漿座輕型火罐船 - Machimoi Epibatoi
(Gre_Firepot_Bireme_Egy)
近戰艦船
弓箭船
100
三排漿座中型追蹤船 - Machimoi Epibatoi Toxotai
(Gre_Pursuit_Hemolia_Egy)
弓箭船
80
單排漿座輕型掠奪船 - Machimoi Epibatoi Toxotai
(Gre_Raiding_Hemolia_Egy)
弓箭船
80
三排漿大型毒蠍船 - Machimoi Epibatoi Toxotai
(Gre_Scorpion_Trireme_Admiral_Egy)
弓箭船
拋射武器船
140
五排漿座中型輕炮艦 - 希臘石弩(船上)
(Gre_Quinquereme_Ballista)
拋射武器船
運輸船
100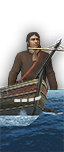 Supply Ship - Supply Crew
(Supply_Ship_Greek)
運輸船
Attica
Antonius (Imperator Augustus)
Creta
Antonius (Imperator Augustus)
Achaia
Antonius (Imperator Augustus)
Ta-Mehu
Ptolemaioi (Imperator Augustus)
Ta-Shemau
Ptolemaioi (Imperator Augustus)
Ta-Ament
Ptolemaioi (Imperator Augustus)
Ta-Abt
Ptolemaioi (Imperator Augustus)
Ityopya
Aksum (Imperator Augustus)
Kush
Medewi (Imperator Augustus)
Medjay
Blemmyai (Imperator Augustus)
Zeugitana

Lepidus (Imperator Augustus)
Byzacium

Lepidus (Imperator Augustus)
Tripolis

Lepidus (Imperator Augustus)
Syrthim

Lepidus (Imperator Augustus)
Aquitania

Octavius (Imperator Augustus)
Gergovia

Octavius (Imperator Augustus)
Pictavis

Octavius (Imperator Augustus)
Himyar
Mamlakat Himyar (Imperator Augustus)
Maka
Mascat (Imperator Augustus)
Saba

Mamlakatin Saba (Imperator Augustus)
Kedar
Qidri (Imperator Augustus)
Hagar
Hagar (Imperator Augustus)
Yathrib
Ma'in (Imperator Augustus)
Transcaspia
Parthia (Imperator Augustus)
Haraiva
Parthia (Imperator Augustus)
Margus
Parthia (Imperator Augustus)
Tsopk
Katpatuka (Imperator Augustus)
Hayk
Hayasdan (Imperator Augustus)
Turuberan
Hayasdan (Imperator Augustus)
Korchayk
Hayasdan (Imperator Augustus)
Lydia
Antonius (Imperator Augustus)
Mysia
Antonius (Imperator Augustus)
Phrygia
Antonius (Imperator Augustus)
Rhodos
Antonius (Imperator Augustus)
Baktria
Paradene (Imperator Augustus)
Tocharia
Paradene (Imperator Augustus)
Paropamisadai
Paradene (Imperator Augustus)
Baeturia

Lepidus (Imperator Augustus)
Turdetania

Lepidus (Imperator Augustus)
Carpetania

Lepidus (Imperator Augustus)
Silva Carbonaria
Belgae (Imperator Augustus)
Treverorum

Octavius (Imperator Augustus)
Pontos
Pontos (Imperator Augustus)
Bithynia
Antonius (Imperator Augustus)
Paphlagonia
Pontos (Imperator Augustus)
Riza
Pontos (Imperator Augustus)
Tauris
Pontos (Imperator Augustus)
Sindike
Pontos (Imperator Augustus)
Maiotia
Pontos (Imperator Augustus)
Britannia Superior
Iceni (Imperator Augustus)
Dumnonia
Dumnonii (Imperator Augustus)
Demetia
Demetae (Imperator Augustus)
Britannia Inferior

Corieltauvi (Imperator Augustus)
Eremos Karmania
Parsa (Imperator Augustus)
Karmania
Parsa (Imperator Augustus)
Ardhan
Ardhan (Imperator Augustus)
Kartli

Kartli (Imperator Augustus)
Kolkheti
Pontos (Imperator Augustus)
Xvarazm
Daha (Imperator Augustus)
Usturt
Daha (Imperator Augustus)
Liguria

Octavius (Imperator Augustus)
Insubria

Octavius (Imperator Augustus)
Venetia et Histria

Octavius (Imperator Augustus)
Corsica
Pompeius (Imperator Augustus)
Sardinia
Pompeius (Imperator Augustus)
Dacia Inferior

Dacia (Imperator Augustus)
Bastarnia
Bastarnoz (Imperator Augustus)
Dacia Malvensis

Dacia (Imperator Augustus)
Zarmizegetusa

Dacia (Imperator Augustus)
Galatia
Koinon Galaton (Imperator Augustus)
Lykaonia
Koinon Galaton (Imperator Augustus)
Katpatuka
Katpatuka (Imperator Augustus)
Pamphylia
Koinon Galaton (Imperator Augustus)
Lugdunensis

Octavius (Imperator Augustus)
Lutetia
Gallia (Imperator Augustus)
Aremorica
Gallia (Imperator Augustus)
Iuliobana
Gallia (Imperator Augustus)
Rambakia

Zranka (Imperator Augustus)
Zranka

Zranka (Imperator Augustus)
Maka

Zranka (Imperator Augustus)
Bagacum
Belgae (Imperator Augustus)
Germania Superior

Octavius (Imperator Augustus)
Silva Nigra

Markamannoz (Imperator Augustus)
Hercynia Silva
Kwadoz (Imperator Augustus)
Luna Silva
Boii (Imperator Augustus)
Baleareis

Lepidus (Imperator Augustus)
Bastetania

Lepidus (Imperator Augustus)
Celtiberia

Lepidus (Imperator Augustus)
Edetania

Lepidus (Imperator Augustus)
Illyria
Antonius (Imperator Augustus)
Liburnia
Antonius (Imperator Augustus)
Dalmatia
Antonius (Imperator Augustus)
Campania

Octavius (Imperator Augustus)
Apulia

Octavius (Imperator Augustus)
Bruttium

Octavius (Imperator Augustus)
Yehuda
Iudea (Imperator Augustus)
Kypros
Antonius (Imperator Augustus)
Phoinike
Antonius (Imperator Augustus)
Picenum

Octavius (Imperator Augustus)
Tuscia

Octavius (Imperator Augustus)
Samnium

Octavius (Imperator Augustus)
Latium

Octavius (Imperator Augustus)
Siwa

Nasamones (Imperator Augustus)
Oases

Nasamones (Imperator Augustus)
Kyrenaike
Antonius (Imperator Augustus)
Marmarike
Ptolemaioi (Imperator Augustus)
Silesia
Arii (Imperator Augustus)
Leda
Helisii (Imperator Augustus)
Baug
Buri (Imperator Augustus)
Chronos
Nahanarvali (Imperator Augustus)
Celtica
Iberia (Imperator Augustus)
Lusitania
Iberia (Imperator Augustus)
Epeiros
Antonius (Imperator Augustus)
Thessalia
Antonius (Imperator Augustus)
Makedonia
Antonius (Imperator Augustus)
Frisia
Freisias (Imperator Augustus)
Cimbria
Kimbroz (Imperator Augustus)
Silva Bacenis
Heruskoz (Imperator Augustus)
Atlas
Gaetuli (Imperator Augustus)
Mauretania
Mauri (Imperator Augustus)
Tingitana

Lepidus (Imperator Augustus)
Rhagau
Parthia (Imperator Augustus)
Mada
Parthia (Imperator Augustus)
Atropatkan
Atropatkan (Imperator Augustus)
Phraaspa
Atropatkan (Imperator Augustus)
Meshan
Meshan (Imperator Augustus)
Babirus
Parthia (Imperator Augustus)
Osroene
Parthia (Imperator Augustus)
Athura
Parthia (Imperator Augustus)
Havilah
Mamlaktha Nabata (Imperator Augustus)
Lihyan
Mamlaktha Nabata (Imperator Augustus)
Iordan
Mamlaktha Nabata (Imperator Augustus)
Provincia

Octavius (Imperator Augustus)
Narbonensis

Octavius (Imperator Augustus)
Tolosa

Octavius (Imperator Augustus)
Militiana

Numidia (Imperator Augustus)
Cirtensis

Numidia (Imperator Augustus)
Gaetulia

Numidia (Imperator Augustus)
Numidia

Numidia (Imperator Augustus)
Eremos Syria
Parthia (Imperator Augustus)
Palmyra
Palmyra (Imperator Augustus)
Transdanubia

Dacia (Imperator Augustus)
Pannonia Superior
Breuci (Imperator Augustus)
Pannonia Inferior
Scordisci (Imperator Augustus)
Parthava
Parthia (Imperator Augustus)
Astauene
Parthia (Imperator Augustus)
Traxiane
Parthia (Imperator Augustus)
Varkana
Parthia (Imperator Augustus)
Lyan
Parsa (Imperator Augustus)
Parsa
Parsa (Imperator Augustus)
Elam
Parthia (Imperator Augustus)
Tidamensi

Numidia (Imperator Augustus)
Garama
Igharimen (Imperator Augustus)
Caledonia
Kaledonoi (Imperator Augustus)
Hibernia
Iweriu (Imperator Augustus)
Brigantia
Brigantes (Imperator Augustus)
Alcimoennis
Vindelici (Imperator Augustus)
Raetia
Raeti (Imperator Augustus)
Noricum
Nori (Imperator Augustus)
Helvetia
Helvetii (Imperator Augustus)
Danu Apara
Rauxsa-alanna (Imperator Augustus)
Oium
Iazyges (Imperator Augustus)
Gerrhos
Rauxsa-alanna (Imperator Augustus)
Scythia
Alanna (Imperator Augustus)
Didoya
Aorsoi (Imperator Augustus)
Turan
Iastae (Imperator Augustus)
Zyx

Siraces (Imperator Augustus)
Akragas
Pompeius (Imperator Augustus)
Panormos
Pompeius (Imperator Augustus)
Sirako
Pompeius (Imperator Augustus)
Suebia

Semnonoz (Imperator Augustus)
Vistula
Gutones (Imperator Augustus)
Ascaucalis
Helveconae (Imperator Augustus)
Rugia
Rugoz (Imperator Augustus)
Syria
Antonius (Imperator Augustus)
Kommagene
Antonius (Imperator Augustus)
Kilikia
Antonius (Imperator Augustus)
Aram
Antonius (Imperator Augustus)
Cantabria
Cantabri (Imperator Augustus)
Gallaecia
Iberia (Imperator Augustus)
Tarraconensis

Lepidus (Imperator Augustus)
Terra Incognita
Byzantion

Thracia (Imperator Augustus)
Dardania
Antonius (Imperator Augustus)
Moesia

Thracia (Imperator Augustus)
Thrake

Thracia (Imperator Augustus)
Transoxania
Paradene (Imperator Augustus)
Suguda
Paradene (Imperator Augustus)