Left Panel

Home
/
Total War: Attila
/
Kingdom of Charlemagne (Age of Charlemagne)
/
Units
/ Guardsmen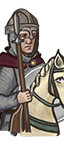 Kingdom of Charlemagne (Age of Charlemagne) Melee Cavalry
Guardsmen
Armed with spears, the guards will defend their liege lord to the death.
Charles Martel transformed the Frankish army into a powerhouse capable of stopping even the seemingly unstoppable: the deadly forces of the Umayyad Caliphate, who had already conquered Spain and had designs on Francia also. He created a structured military that his grandson, Charlemagne, inherited and expanded upon. Although the Frankish people were called to war by a summons known as 'bannum' - and all sections of the populace were expected to serve in some way - professional, standing armies still existed. These were the personal forces of the noble class drawn from their estates, known as 'exercitus' and the permanent guards who served in the palaces of Austrasia - the ancestral seat of Carolingian power - known as 'pfalz' (literally 'palace' in Frankish).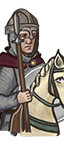 Unit Name

Guardsmen
Main Unit Key

cha_fra_guardsmen
Land Unit Key

cha_fra_guardsmen
Naval Unit Key

cha_transport
Soldiers

80
Category

Cavalry
Class

Melee Cavalry
Custom Battle Cost

950
Recruitment Cost

1050
Upkeep Cost

100
Melee Attack

43
32
├ Melee Weapon

att_spear_heavy
├ Melee Base Damage

24
├ Armour-piercing Damage

8
├ Armour Piercing

No
├ Attack Against Cavalry

30
├ Attack Against Elephants

30
└ Attack Against Infantry

0
Charge Bonus

55
54
├ Base Defence

29
├ Shield

cha_round
└ Shield Defence

25
60
├ Armour

cha_mail_heavy
├ Armour Defence

60
└ Shield Armour

0
150
├ Man Entity

cha_infantry_very_heavy
├ Man Health

100
├ Bonus Hit Points

0
├ Mount

cha_armour_horse_spear_shield_vh
├ Mount Entity

cha_horse_very_heavy
└ Mount Health

50
Morale

54
Abilities
Guardsmen
Wedge
The unit moves into a wedge-shaped attack formation.
Attributes
Disciplined
This unit does not suffer a morale penalty when the general dies. It can also rally after routing more often.
Encourage
This unit provides a morale bonus to nearby allies.
Hide (forest)
This unit can hide in forests until enemy units get too close.
Strengths & Weaknesses
No Strengths and Weaknesses
Faction Availability
Age of Charlemagne