Left Panel

Home
/
Total War: Attila
/
Mercenaries
/ Mercenary Thrall Skirmishers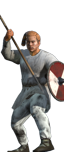 Mercenaries Missile Infantry
Mercenary Thrall Skirmishers
Slaves. Ideal for skirmishing. Just add the lash.
Thralls were the slaves taken by the Nordic peoples as they raided the coastlines of northern Europe. As a result, most were captured from the coast of Britannia or on the Vikings' forays down the Volga River, where they became known as 'Slavs'. The men who captured the thralls were known to the Mediterranean peoples as the 'Rus' – whose land eventually became Russia - or the 'Varangians', who of course served as unbiased Imperial bodyguards in the Byzantine Empire that succeeded the Eastern Romans. The lowest of the low in Nordic society, thralls were pressed into fighting and were often poorly-armed and armoured – the idea behind their use being that they would increase a Nordic army's size until its opponents were overwhelmed by superior numbers, rather than their skill at arms.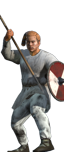 Unit Name

Mercenary Thrall Skirmishers
Main Unit Key

att_merc_nor_thrall_skirmishers
Land Unit Key

att_merc_nor_thrall_skirmishers
Naval Unit Key

att_lon_heavy_tra_nor
Soldiers

160
Category

Missile Infantry
Class

Missile Infantry
Custom Battle Cost

170
Recruitment Cost

90
Upkeep Cost

80
90
├ Missile Weapon

att_javelin
├ Projectile

att_javelin_normal
├ Missile Damage

70
├ Missile Ap Damage

20
└ Base Reload Time

14
Accuracy

0
Range

80
Reload

30
Rate of Fire

6
Ammunition

8
Melee Attack

5
6
├ Melee Weapon

att_dagger
├ Melee Base Damage

5
├ Armour-piercing Damage

1
├ Armour Piercing

No
├ Attack Against Cavalry

0
├ Attack Against Elephants

0
└ Attack Against Infantry

0
Charge Bonus

1
31
├ Base Defence

1
├ Shield

att_round_small
└ Shield Defence

30
8
├ Armour

att_cloth
├ Armour Defence

3
└ Shield Armour

5
78
├ Man Entity

att_infantry_very_light
├ Man Health

75
└ Bonus Hit Points

3
Morale

26
Abilities
No Ability
Attributes
Resistant to Fatigue
Fatigue has less of an effect on this unit.
Hide (forest)
This unit can hide in forests until enemy units get too close.
Strengths & Weaknesses
No Strengths and Weaknesses
Faction Mercenaries Pool