Left Panel

Home
/
Total War: Attila
/
Mercenaries
/ Mercenary Kurdish Javelinmen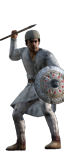 Mercenaries Missile Infantry
Mercenary Kurdish Javelinmen
The javelin is an extension of the arm.
The origins of the Kurds are oft-speculated. One tale suggests they are the children of the Djinn, seraphic servants of King Solomon who remained on earth after their lord's death. Another legend states that the Kurds were founded by Melik Kurdim, a follower of Noah, after the biblical flood. Whatever their origins, the Kurds were first noted as mercenary slingers for the Seleucid Empire and Parthia. They are not referred to as 'Kurds', however, until the time of the Sassanids, when the founder of the empire, Ardashir, battled the Kurds and their leader, Madig. Their loyalty was fluid; they provided military support for both Eastern Rome and the Sassanids throughout antiquity, depending on which power was in overall control of their homelands at the time.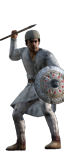 Unit Name

Mercenary Kurdish Javelinmen
Main Unit Key

att_merc_est_kurdish_javelinmen
Land Unit Key

att_merc_est_kurdish_javelinmen
Naval Unit Key

att_cor_heavy_rom
Soldiers

160
Category

Missile Infantry
Class

Missile Infantry
Custom Battle Cost

475
Recruitment Cost

475
Upkeep Cost

395
90
├ Missile Weapon

att_javelin
├ Projectile

att_javelin_normal
├ Missile Damage

70
├ Missile Ap Damage

20
└ Base Reload Time

14
Accuracy

0
Range

80
Reload

45
Rate of Fire

8
Ammunition

10
Melee Attack

10
32
├ Melee Weapon

att_axe
├ Melee Base Damage

16
├ Armour-piercing Damage

16
├ Armour Piercing

No
├ Attack Against Cavalry

0
├ Attack Against Elephants

0
└ Attack Against Infantry

10
Charge Bonus

5
20
├ Base Defence

5
├ Shield

att_round
└ Shield Defence

15
18
├ Armour

att_cloth
├ Armour Defence

3
└ Shield Armour

15
82
├ Man Entity

att_infantry_light
├ Man Health

75
└ Bonus Hit Points

7
Morale

41
Abilities
Mercenary Kurdish Javelinmen
Rapid Advance
Improved unit movement speed over an extended period.
Attributes
Resistant to Fatigue
Fatigue has less of an effect on this unit.
Hide (forest)
This unit can hide in forests until enemy units get too close.
Strengths & Weaknesses
No Strengths and Weaknesses
Grand Campaign Mercenaries Pool
Alexandria
Eastern Roman Empire
Berenice
Eastern Roman Empire
Oxyrhynchus
Eastern Roman Empire
Adulis
Aksum
Aksum
Aksum
Pachoras
Nobatia
Carthago
Western Roman Empire
Constantina
Western Roman Empire
Hadrumentum
Western Roman Empire
Avaricum
Western Roman Empire
Burdigala
Western Roman Empire
Elusa
Western Roman Empire
Eudaemon

Himyar
Omana
Mazun
Zafar

Himyar
Dumatha
Ghassanids
Hira
Lakhmids
Yathrib
Duin
Armenia
Payttakaran
Armenia
Tosp
Armenia
Cyzicus
Eastern Roman Empire
Ephesus
Eastern Roman Empire
Synnada
Eastern Roman Empire
Arbela
Sassanid Empire
Ctesiphon
Sassanid Empire
Meshan
Sassanid Empire
Corduba
Western Roman Empire
Hispalis
Western Roman Empire
Malaca
Western Roman Empire
Augusta Treverorum
Western Roman Empire
Colonia Agrippina
Western Roman Empire
Durocortorum
Western Roman Empire
Amasea
Eastern Roman Empire
Ancyra
Eastern Roman Empire
Nicomedia
Eastern Roman Empire
Eboracum
Western Roman Empire
Lindum
Western Roman Empire
Segontium
Western Roman Empire
Camulodunum
Western Roman Empire
Corinium
Western Roman Empire
Londinium
Western Roman Empire
Eblana
Ebdanians
Eildon

Caledonians
Tuesis
Picts
Caesarea Eusebia
Eastern Roman Empire
Melitene
Eastern Roman Empire
Trapezus
Eastern Roman Empire
Carthago Nova
Western Roman Empire
Segobriga
Western Roman Empire
Toletum
Western Roman Empire
Gabala
Arran
Kotais
Lazica
Mtskheta
Kartli
Iconium
Eastern Roman Empire
Myra
Eastern Roman Empire
Tarsus
Eastern Roman Empire
Apulum
Petrodava
Bastarnians
Romula
Gepids
Domavia
Western Roman Empire
Salona
Western Roman Empire
Siscia
Western Roman Empire
Scupi
Eastern Roman Empire
Serdica
Eastern Roman Empire
Viminacium
Eastern Roman Empire
Angulus
Angles
Flevum
Franks
Tulifurdum
Saxons
Asturica
Western Roman Empire
Bracara
Western Roman Empire
Brigantium
Western Roman Empire
Aregelia
Langobards
Lupfurdum
Thuringians
Uburzis
Alamans
Duna
Oium
Venedians
Palteskja
Venedians
Ascaucalis
Burgundians
Gothiscandza
Rugians
Rugion
Varinians
Budorgis
Lugians
Casurgis
Marcomans
Nitrahwa
Quadians
Kariskos
Sclavenians
Moramar
Silys
Fiorentia
Western Roman Empire
Neapolis
Western Roman Empire
Roma
Western Roman Empire
Abarshahr
Abarshahr
Harev
Aria
Merv
Parthia
Augila
Eastern Roman Empire
Paraetonium
Eastern Roman Empire
Ptolemais
Eastern Roman Empire
Genua
Western Roman Empire
Mediolanum
Western Roman Empire
Segusio
Western Roman Empire
Lugdunum
Western Roman Empire
Rotomagus
Western Roman Empire
Turonum
Western Roman Empire
Emerita Augusta
Western Roman Empire
Olisipo
Western Roman Empire
Pax Augusta
Western Roman Empire
Corinthus
Eastern Roman Empire
Dyrrhachium
Eastern Roman Empire
Thessalonica
Eastern Roman Empire
Rhegium
Western Roman Empire
Syracusae
Western Roman Empire
Tarentum
Western Roman Empire
Harmosia
Makran
Phra
Aria
Pura
Makran
Caesarea
Western Roman Empire
Tamousiga
Maurians
Tingis
Western Roman Empire
Argentoratum
Western Roman Empire
Octodurum
Western Roman Empire
Vesontio
Western Roman Empire
Ecbatana
Atropatene
Ganzaga
Atropatene
Rhaga
Atropatene
Ajax
Western Roman Empire
Caralis
Western Roman Empire
Palma
Western Roman Empire
Constantia
Eastern Roman Empire
Gortyna
Eastern Roman Empire
Rhodes
Eastern Roman Empire
Aquae Sextiae
Western Roman Empire
Narbo
Western Roman Empire
Vienna
Western Roman Empire
Amida
Eastern Roman Empire
Edessa
Eastern Roman Empire
Nisibis
Sassanid Empire
Aelia Capitolina
Eastern Roman Empire
Aila
Eastern Roman Empire
Nova Trajana Bostra
Eastern Roman Empire
Savaria
Western Roman Empire
Sirmium
Western Roman Empire
Sopianae
Western Roman Empire
Behdesir
Sassanid Empire
Siraf
Sassanid Empire
Stakhr
Sassanid Empire
Cydamus
Garamantians
Dimmidi
Gaetulians
Garama
Garamantians
Augusta Vindelicorum
Western Roman Empire
Iuvavum
Western Roman Empire
Virunum
Western Roman Empire
Anacopia
Abasgia
Samandar
Tanais
Chersonessus
Greuthungians
Gelonus
Sclavenians
Olbia
Greuthungians
Alabu
Jutes
Hafn
Danes
Hrefnesholt
Geats
Bolghar
Raha
Sarai
Issatis
Sassanid Empire
Spahan
Sassanid Empire
Susa
Sassanid Empire
Antiochia
Eastern Roman Empire
Emesa
Eastern Roman Empire
Tyrus
Eastern Roman Empire
Caesaraugusta
Western Roman Empire
Pompaelo
Western Roman Empire
Tarraco
Western Roman Empire
Terra Incognita
Constantinopolis
Eastern Roman Empire
Marcianopolis
Eastern Roman Empire
Trimontium
Eastern Roman Empire
Arheimar

Anteans
Belz
Leopolis

Anteans
Dahistan
Parthia
Kath
Afrighids
Siahkuh
Afrighids
Leptis Magna
Western Roman Empire
Macomades
Western Roman Empire
Sabrata
Western Roman Empire
Aquileia
Western Roman Empire
Ravenna
Western Roman Empire
Verona
Western Roman Empire