Left Panel

Home
/
Total War: Attila
/ Ostrogothic Kingdom (The Last Roman)
The Last Roman
Ostrogothic Kingdom (The Last Roman) Faction
The Ostrogothic Kingdom has succeeded where the Romans failed. The Battle of Ravenna in AD476 - Rome's final humiliation - signalled the ignoble end of its Western Empire. In its place was the Kingdom of Italy, helmed by the victorious Germanic general, Flavius Odoacer. However, although he was officially recognised by the Eastern Emperor Zeno as 'patrician', Imperial favour is fickle and Odoacer eventually came to be considered a rival claimant to the throne.

As such, by AD488 the Ostrogothic king, Theoderic, had been contracted to depose and supplant him as the Emperor's man in Italy. After four years of war, Theoderic emerged victorious and in AD493, after murdering Odoacer at a banquet, assumed control of all Italy. He ruled benevolently, becoming a patron of the arts and architecture and subsuming much of the Western Empire's administrative infrastructure into his own kingdom. However, Theoderic's death in AD526 destabilised the Ostrogothic Kingdom, as his grandson - still a child - ascended to the throne under the regency of his mother, Amalasuntha. Eventually, she appealed to the new Eastern Emperor, Justinian, to intervene. Her subsequent murder by rivals has given Justinian the 'casus belli' - literally the 'case for war' - he needs to reconquer Italy and reclaim the ancient seat of Imperial power.

The future of the Ostrogothic Kingdom remains uncertain - the Romans encroach with vengeful determination - and so the current incumbent must be wary if he is to retain control. However, the Ostrogoths seized this wealthy land through much skill and spilled-blood - no man, Roman or otherwise, will wrest it from their iron grasp without a fight!
Campaign Map
Faction Name

Ostrogothic Kingdom (The Last Roman)
Campaign

bel_attila
Culture

att_cult_roman
Subculture

bel_sub_cult_roman
Military Group

bel_ostrogoth
Faction Group
Faction Group
Political Parties
Other Nobles
Although ordinary people participate in civil government, the elders of the nobility are the wisest, and therefore the most qualified to give council.
Playable: False
Initial Power: 50
No Effect
The Ostrogothic Kingdom
Since seizing Italy from the hand of Odoacer, the Romans' treacherous client king, the Ostrogoths have entered a golden age of prosperity and progress. However, recent dynastic struggles following the death of Theoderic the Great have made them vulnerable to attack from all sides.
Playable: True
Initial Power: 50
[NOT DISPLAYED] Provincial security: +1 against priest-type agents
[NOT DISPLAYED] Provincial security: +3 against spy-type agents
[NOT DISPLAYED] Provincial security: +2 against champion-type agents
Impatience: +10 morale for 5 turns (primary force only) after battle victory.
Occupation: No Instability public order when occupying settlements.
Reformation of the Western Empire: Control 40 regions to gain diplomatic option: Join Empire.
General
80
Comes
(bel_ost_comes)
Melee Cavalry
Melee Infantry
160
Iuvenes
(bel_ost_iuvenes)
Melee Infantry
160
Milites Comitatenses
(bel_ost_milites_comitatenses)
Melee Infantry
160
Milites
(bel_ost_milites)
Melee Infantry
160
Veterans
(bel_ost_veterans)
Melee Infantry
Missile Infantry
160
Ballistarii
(bel_ost_ballistarii)
Missile Infantry
160
Elite Sagittarii
(bel_ost_elite_sagittarii)
Missile Infantry
160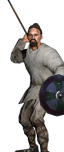 Javelinmen
(bel_ost_javelinmen)
Missile Infantry
160
Noble Javelinmen
(bel_ost_noble_javelinmen)
Missile Infantry
160
Sagittarii
(bel_ost_sagittarii)
Missile Infantry
Pike Infantry
160
Elite Ostrogothic Pikemen
(bel_ost_elite_ostrogothic_pikemen)
Pike Infantry
160
Gothic Pikemen
(bel_ost_gothic_pikemen)
Pike Infantry
Spear Infantry
160
Domestici
(bel_ost_domestici)
Spear Infantry
160
Spear Milites Comitatenses
(bel_ost_spear_milites_comitatenses)
Spear Infantry
160
Spear Milites
(bel_ost_spear_milites)
Spear Infantry
160
Spear Veterans
(bel_ost_spear_veterans)
Spear Infantry
Melee Cavalry
80
Comes
(bel_ost_comes)
Melee Cavalry
80
Gothic Horsemen
(bel_ost_gothic_horsemen)
Melee Cavalry
80
Noble Horsemen
(bel_ost_noble_horsemen)
Melee Cavalry
80
Scholae
(bel_ost_scholae)
Melee Cavalry
Shock Cavalry
80
Gothic Lancers
(bel_ost_gothic_lancers)
Shock Cavalry
80
Noble Gothic Lancers
(bel_ost_noble_gothic_landers)
Shock Cavalry
Field Artillery
40
Cheiroballistra
(bel_ost_cheiroballista)
Field Artillery
Siege Artillery
40
Large Onager
(bel_ost_large_onager)
Siege Artillery
4
Bastion Onager
(bel_ost_onager_bastion)
Siege Artillery
40
Onager
(bel_ost_onager)
Siege Artillery
Admiral
148
Liburnian Warship - Roman Heavy Marines
(att_shp_rom_heavy_marines_lib_heavy)
Melee Ship
Melee Ship
148
Liburnian Warship - Roman Heavy Marines
(att_shp_rom_heavy_marines_lib_heavy)
Melee Ship
64
Liburnian Galley - Roman Light Marines
(att_shp_rom_light_marines_lib_light)
Melee Ship
148
Towered Liburnian Warship - Elite Western Heavy Marines
(att_shp_wr_heavy_marines_lib_heavy_ft)
Melee Ship
Missile Ship
96
Liburnian Skirmisher - Roman Bowman Marines
(att_shp_rom_bowmen_lib_light)
Missile Ship
64
Liburnian Skirmisher - Roman Skirmisher Marines
(att_shp_rom_skirmisher_lib_light)
Missile Ship
156
Liburnian Double Ballista Marauder - Western Ballista Marines
(att_shp_wr_ballista_lib_heavy_dbl_sco)
Missile Ship
156
Liburnian Ballista Marauder - Western Ballista Marines
(att_shp_wr_ballista_lib_heavy_sco)
Missile Ship
156
Liburnian Marauder - Western Ballista Marines
(att_shp_wr_ballista_lib_heavy)
Missile Ship
Artillery Ship
64
Barrage Liburnian - Roman Artillery Crew
(att_shp_rom_artillery_dbl_lib_heavy)
Artillery Ship
64
Battery Liburnian - Roman Artillery Crew
(att_shp_rom_artillery_dbl_lib_light)
Artillery Ship
64
Bombard Liburnian - Roman Artillery Crew
(att_shp_rom_artillery_lib_heavy)
Artillery Ship
64
Artillery Liburnian - Roman Artillery Crew
(att_shp_rom_artillery_lib_light)
Artillery Ship
Ramming Ship
20
Strike Liburnian - Western Light Marines
(att_shp_wr_light_marines_lib_light_ram)
Ramming Ship
36
Assault Liburnian - Western Light Marines
(att_shp_wr_light_marines_lib_light_spike)
Ramming Ship
Carthago
Vandalic Kingdom (The Last Roman)
Hippo Diarrhytus
Vandalic Kingdom (The Last Roman)
Thuburbo
Vandalic Kingdom (The Last Roman)
Hydruntum
Ostrogothic Kingdom (The Last Roman)
Sipontum
Ostrogothic Kingdom (The Last Roman)
Tarentum
Ostrogothic Kingdom (The Last Roman)
Arvernis
Burgundians (The Last Roman)
Avaricum
Frankish Kingdom (The Last Roman)
Lemonum
Frankish Kingdom (The Last Roman)
Augustobona Tricassium
Frankish Kingdom (The Last Roman)
Mettis
Frankish Kingdom (The Last Roman)
Remorum
Frankish Kingdom (The Last Roman)
Gades
Visigothic Kingdom (The Last Roman)
Hispalis
Visigothic Kingdom (The Last Roman)
Malaca
Visigothic Kingdom (The Last Roman)
Gwened
Bretons (The Last Roman)
Osismorum
Bretons (The Last Roman)
Riedonum
Bretons (The Last Roman)
Besantio
Burgundians (The Last Roman)
Valentia
Burgundians (The Last Roman)
Vienne
Burgundians (The Last Roman)
Hadrumentum
Vandalic Kingdom (The Last Roman)
Sufetula
Vandalic Kingdom (The Last Roman)
Thysdrus
Vandalic Kingdom (The Last Roman)
Beneventum
Ostrogothic Kingdom (The Last Roman)
Corfinum
Ostrogothic Kingdom (The Last Roman)
Neapolis
Ostrogothic Kingdom (The Last Roman)
Legio
Basques (The Last Roman)
Pompaelo
Basques (The Last Roman)
Portus Victoriae
Basques (The Last Roman)
Carthago Nova
Visigothic Kingdom (The Last Roman)
Ilici
Visigothic Kingdom (The Last Roman)
Libisosa
Visigothic Kingdom (The Last Roman)
Complutum
Visigothic Kingdom (The Last Roman)
Segovia
Visigothic Kingdom (The Last Roman)
Tolentum
Visigothic Kingdom (The Last Roman)
Narona
Roman Empire (The Last Roman)
Salona
Roman Empire (The Last Roman)
Tarsatica
Ostrogothic Kingdom (The Last Roman)
Dyrrachium
Roman Empire (The Last Roman)
Nicopolis
Roman Empire (The Last Roman)
Photiki
Roman Empire (The Last Roman)
Bononia
Ostrogothic Kingdom (The Last Roman)
Pisaurum
Ostrogothic Kingdom (The Last Roman)
Ravenna
Ostrogothic Kingdom (The Last Roman)
Astorga
Suebians (The Last Roman)
Bracara
Suebians (The Last Roman)
Brigantium
Suebians (The Last Roman)
Cosa
Ostrogothic Kingdom (The Last Roman)
Reate
Ostrogothic Kingdom (The Last Roman)
Roma
Ostrogothic Kingdom (The Last Roman)
Augusta Taurinorum
Ostrogothic Kingdom (The Last Roman)
Genua
Ostrogothic Kingdom (The Last Roman)
Mediolanum
Ostrogothic Kingdom (The Last Roman)
Crotona
Ostrogothic Kingdom (The Last Roman)
Rhegium
Ostrogothic Kingdom (The Last Roman)
Thurii
Ostrogothic Kingdom (The Last Roman)
Aeminium
Suebians (The Last Roman)
Emerita
Visigothic Kingdom (The Last Roman)
Olissipo
Visigothic Kingdom (The Last Roman)
Caesarea
Berbers (The Last Roman)
Cartenna
Berbers (The Last Roman)
Pomaria
Berbers (The Last Roman)
Cirta
Vandalic Kingdom (The Last Roman)
Sitifis
Berbers (The Last Roman)
Tipasa
Vandalic Kingdom (The Last Roman)
Anfa
Berbers (The Last Roman)
Rusaddir
Berbers (The Last Roman)
Tingis
Berbers (The Last Roman)
Paris
Frankish Kingdom (The Last Roman)
Portus Namnetum
Frankish Kingdom (The Last Roman)
Turonorum
Frankish Kingdom (The Last Roman)
Aquensium
Basques (The Last Roman)
Burdigala
Frankish Kingdom (The Last Roman)
Tolosa
Frankish Kingdom (The Last Roman)
Ancona
Ostrogothic Kingdom (The Last Roman)
Asculum
Ostrogothic Kingdom (The Last Roman)
Spoletium
Ostrogothic Kingdom (The Last Roman)
Doclea
Roman Empire (The Last Roman)
Epidaurum
Roman Empire (The Last Roman)
Lissus
Roman Empire (The Last Roman)
Massilia
Visigothic Kingdom (The Last Roman)
Nikaia
Ostrogothic Kingdom (The Last Roman)
Vapincum
Ostrogothic Kingdom (The Last Roman)
Aleria
Sardinians (The Last Roman)
Caralis
Sardinians (The Last Roman)
Turris
Sardinians (The Last Roman)
Elne
Visigothic Kingdom (The Last Roman)
Narbonne
Visigothic Kingdom (The Last Roman)
Nimes
Visigothic Kingdom (The Last Roman)
Agrigentum
Ostrogothic Kingdom (The Last Roman)
Panormus
Ostrogothic Kingdom (The Last Roman)
Syracuse
Ostrogothic Kingdom (The Last Roman)
Barcino
Visigothic Kingdom (The Last Roman)
Caesaraugusta
Visigothic Kingdom (The Last Roman)
Valentia
Visigothic Kingdom (The Last Roman)
Terra Incognita
Terra Incognita
Arretium
Ostrogothic Kingdom (The Last Roman)
Faesulae
Ostrogothic Kingdom (The Last Roman)
Pisae
Ostrogothic Kingdom (The Last Roman)
Aquileia
Ostrogothic Kingdom (The Last Roman)
Patavium
Ostrogothic Kingdom (The Last Roman)
Verona
Ostrogothic Kingdom (The Last Roman)
Bulla Regia
Vandalic Kingdom (The Last Roman)
Hippo Regis
Vandalic Kingdom (The Last Roman)
Thagaste
Vandalic Kingdom (The Last Roman)