Left Panel

Home
/
Total War: Attila
/
Mercenaries
/ Mercenary Andalusian Cavalry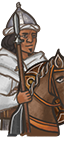 Mercenaries Melee Cavalry
Mercenary Andalusian Cavalry
The native Andalusian is a powerful breed built for war at the charge!
Compared to other armies of the period, the Muslim armies of Al-Andalus were extremely advanced and diverse; bolstered by the tenacious Berber tribes of northern Africa as well as native Andalusians and Syrian troops garrisoned across the Iberian Peninsula. The Andalusians bred war horses of their own, a renowned breed now known as "Pure Spanish", from as far back as 450BC. Despite this prodigious equine legacy, however, Umayyad cavalry lagged behind the rest of the caliphate's highly-developed military machine; the stirrup and 'framed' saddle failed to catch on, despite being used widely in its eastern territories. Conversely, Iberian Muslims used the 'curb' bit - which provided better control over the horses - centuries before anyone else.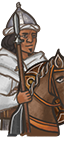 Unit Name

Mercenary Andalusian Cavalry
Main Unit Key

cha_merc_mus_andalusian_cav
Land Unit Key

cha_merc_mus_andalusian_cav
Naval Unit Key

cha_transport
Soldiers

80
Category

Cavalry
Class

Melee Cavalry
Custom Battle Cost

450
Recruitment Cost

450
Upkeep Cost

270
Melee Attack

50
32
├ Melee Weapon

att_spear
├ Melee Base Damage

24
├ Armour-piercing Damage

8
├ Armour Piercing

No
├ Attack Against Cavalry

20
├ Attack Against Elephants

20
└ Attack Against Infantry

0
Charge Bonus

50
48
├ Base Defence

13
├ Shield

cha_metal_round_small
└ Shield Defence

35
40
├ Armour

cha_cuirass
├ Armour Defence

40
└ Shield Armour

0
150
├ Man Entity

cha_infantry_medium
├ Man Health

100
├ Bonus Hit Points

0
├ Mount

cha_ger_horse_spear_shield_m
├ Mount Entity

cha_horse_medium
└ Mount Health

50
Morale

45
Abilities
Mercenary Andalusian Cavalry
Wedge
The unit moves into a wedge-shaped attack formation.
Attributes
Hide (forest)
This unit can hide in forests until enemy units get too close.
Strengths & Weaknesses
No Strengths and Weaknesses
Age of Charlemagne Mercenaries Pool
Almeria
Emirate of Cordoba (Age of Charlemagne)
Cordoba
Emirate of Cordoba (Age of Charlemagne)
Jaen
Emirate of Cordoba (Age of Charlemagne)
Basel
Kingdom of Carloman (Age of Charlemagne)
Chur
Kingdom of Carloman (Age of Charlemagne)
Konstanz
Kingdom of Carloman (Age of Charlemagne)
Buraburg
Angria (Age of Charlemagne)
Erfurt
Angria (Age of Charlemagne)
Paderborn
Westphalia (Age of Charlemagne)
Aachen
Kingdom of Charlemagne (Age of Charlemagne)
Metz
Kingdom of Carloman (Age of Charlemagne)
Trier
Kingdom of Charlemagne (Age of Charlemagne)
Augsburg
Duchy of Bavaria (Age of Charlemagne)
Passau
Duchy of Bavaria (Age of Charlemagne)
Regensburg
Duchy of Bavaria (Age of Charlemagne)
Bari
Duchy of Benevento (Age of Charlemagne)
Benevento
Duchy of Benevento (Age of Charlemagne)
Salerno
Duchy of Benevento (Age of Charlemagne)
Dresden
Bohemia (Age of Charlemagne)
Iglau
Bohemia (Age of Charlemagne)
Praha
Bohemia (Age of Charlemagne)
Quimper

Kingdom of Brittany (Age of Charlemagne)
St-Malo

Kingdom of Brittany (Age of Charlemagne)
Vannes

Kingdom of Brittany (Age of Charlemagne)
Geneve
Kingdom of Carloman (Age of Charlemagne)
Grenoble
Kingdom of Carloman (Age of Charlemagne)
Lyon
Kingdom of Carloman (Age of Charlemagne)
Kroton
Theme of Sicily (Age of Charlemagne)
Region
Theme of Sicily (Age of Charlemagne)
Taranto
Duchy of Benevento (Age of Charlemagne)
Lorch
Duchy of Bavaria (Age of Charlemagne)
Salzburg
Duchy of Bavaria (Age of Charlemagne)
Wien
Duchy of Bavaria (Age of Charlemagne)
Jadra
Duchy of Croatia (Age of Charlemagne)
Ptuj
Duchy of Croatia (Age of Charlemagne)
Sisak
Duchy of Croatia (Age of Charlemagne)
Arvernis
Kingdom of Carloman (Age of Charlemagne)
Autun
Kingdom of Carloman (Age of Charlemagne)
Rodez
Kingdom of Carloman (Age of Charlemagne)
Amiens
Kingdom of Charlemagne (Age of Charlemagne)
Reims
Kingdom of Carloman (Age of Charlemagne)
Troyes
Kingdom of Carloman (Age of Charlemagne)
Halberstadt
Eastphalia (Age of Charlemagne)
Hildesheim
Eastphalia (Age of Charlemagne)
Magdeburg
Eastphalia (Age of Charlemagne)
Ancona
Duchy of Spoleto (Age of Charlemagne)
Bologna
Kingdom of the Lombards (Age of Charlemagne)
Ravenna
Kingdom of the Lombards (Age of Charlemagne)
Chartres
Kingdom of Charlemagne (Age of Charlemagne)
Paris
Kingdom of Carloman (Age of Charlemagne)
Tours
Kingdom of Charlemagne (Age of Charlemagne)
Frankfurt
Kingdom of Charlemagne (Age of Charlemagne)
Hallstadt
Kingdom of Charlemagne (Age of Charlemagne)
Wurzburg
Kingdom of Charlemagne (Age of Charlemagne)
Boulogne
Kingdom of Charlemagne (Age of Charlemagne)
Ghent
Kingdom of Charlemagne (Age of Charlemagne)
Utrecht
Kingdom of Charlemagne (Age of Charlemagne)
Aquileia
Kingdom of the Lombards (Age of Charlemagne)
Venezia
Republic of Venice (Age of Charlemagne)
Verona
Kingdom of the Lombards (Age of Charlemagne)
Lugo
Kingdom of Asturias (Age of Charlemagne)
Oviedo
Kingdom of Asturias (Age of Charlemagne)
Santiago
Kingdom of Asturias (Age of Charlemagne)
Agen
Duchy of Aquitane (Age of Charlemagne)
Bayonne
Duchy of Gascony (Age of Charlemagne)
Bordeaux
Duchy of Aquitane (Age of Charlemagne)
Beja
Emirate of Cordoba (Age of Charlemagne)
Cadiz
Emirate of Cordoba (Age of Charlemagne)
Seville
Emirate of Cordoba (Age of Charlemagne)
Aarhus
Kingdom of the Danes (Age of Charlemagne)
Hedeby
Kingdom of the Danes (Age of Charlemagne)
Ribe
Kingdom of the Danes (Age of Charlemagne)
Leon
Santander
Kingdom of Asturias (Age of Charlemagne)
Valladoid
Genova
Kingdom of the Lombards (Age of Charlemagne)
Pavia
Kingdom of the Lombards (Age of Charlemagne)
Pisa
Kingdom of the Lombards (Age of Charlemagne)
Barcelona
Taifa of Barcelona (Age of Charlemagne)
Girona
Taifa of Barcelona (Age of Charlemagne)
Tarragona
Taifa of Barcelona (Age of Charlemagne)
Braga
Kingdom of Asturias (Age of Charlemagne)
Coimbra
Emirate of Cordoba (Age of Charlemagne)
Lisbon
Emirate of Cordoba (Age of Charlemagne)
Caceres
Emirate of Cordoba (Age of Charlemagne)
Merida
Emirate of Cordoba (Age of Charlemagne)
Salamanca
Chester
Kingdom of Mercia (Age of Charlemagne)
Lichfield
Kingdom of Mercia (Age of Charlemagne)
Lincoln
Kingdom of Mercia (Age of Charlemagne)
Mosaburg
Avars (Age of Charlemagne)
Nitra
Avars (Age of Charlemagne)
Savaria
Avars (Age of Charlemagne)
Cashel
Kingdom of Munster (Age of Charlemagne)
Cork
Kingdom of Munster (Age of Charlemagne)
Dublin
Kingdom of Leinster (Age of Charlemagne)
Bamburgh
Kingdom of Northumbria (Age of Charlemagne)
Streonshalh
Kingdom of Northumbria (Age of Charlemagne)
York
Kingdom of Northumbria (Age of Charlemagne)
Havelberg
Obodrite (Age of Charlemagne)
Rerik
Obodrite (Age of Charlemagne)
Stargard
Obodrite (Age of Charlemagne)
Cibakhaza
Avars (Age of Charlemagne)
Kaposvar
Avars (Age of Charlemagne)
Szeged
Avars (Age of Charlemagne)
Dumbarton
Kingdom of Alt Clut (Age of Charlemagne)
Rhynie
Kingdom of the Picts (Age of Charlemagne)
Scone
Kingdom of the Picts (Age of Charlemagne)
Arles
Duchy of Provence (Age of Charlemagne)
Marseille
Duchy of Provence (Age of Charlemagne)
Nice
Duchy of Provence (Age of Charlemagne)
Roma
Papal States (Age of Charlemagne)
Siena
Kingdom of the Lombards (Age of Charlemagne)
Spoleto
Duchy of Spoleto (Age of Charlemagne)
Ajaccio
Theme of Sicily (Age of Charlemagne)
Cagliari
Theme of Sicily (Age of Charlemagne)
Olbia
Theme of Sicily (Age of Charlemagne)
Bremen
Nordalbingia (Age of Charlemagne)
Hamburg
Nordalbingia (Age of Charlemagne)
Osnabruck
Westphalia (Age of Charlemagne)
Narbonne
Kingdom of Carloman (Age of Charlemagne)
Toulouse
Kingdom of Carloman (Age of Charlemagne)
Urgell
Taifa of Barcelona (Age of Charlemagne)
Akragas
Theme of Sicily (Age of Charlemagne)
Panormos
Theme of Sicily (Age of Charlemagne)
Syracuse
Theme of Sicily (Age of Charlemagne)
Bescanon
Kingdom of Carloman (Age of Charlemagne)
Speyer
Kingdom of Carloman (Age of Charlemagne)
Strasbourg
Kingdom of Carloman (Age of Charlemagne)
Terra Incognita
Calatrava
Emirate of Cordoba (Age of Charlemagne)
Guadalajara
Taifa of Toledo (Age of Charlemagne)
Toledo
Taifa of Toledo (Age of Charlemagne)
Cruachan
Kingdom of Connachta (Age of Charlemagne)
Downpatrick
Kingdom of Ulaid (Age of Charlemagne)
Grinan of Ailech
Kingdom of Ailech (Age of Charlemagne)
Cartagena
Emirate of Cordoba (Age of Charlemagne)
Palma
Theme of Sicily (Age of Charlemagne)
Valencia
Taifa of Valencia (Age of Charlemagne)
Caerwent
Kingdom of Glywysing (Age of Charlemagne)
Degannwy
Kingdom of Gwynedd (Age of Charlemagne)
Mathrafal
Kingdom of Powys (Age of Charlemagne)
Canterbury
Kingdom of Kent (Age of Charlemagne)
London
Kingdom of Mercia (Age of Charlemagne)
Winchester
Kingdom of Wessex (Age of Charlemagne)
Angouleme
Duchy of Aquitane (Age of Charlemagne)
Bourges
Kingdom of Charlemagne (Age of Charlemagne)
Poitiers
Kingdom of Charlemagne (Age of Charlemagne)
Bayeux
Kingdom of Charlemagne (Age of Charlemagne)
Nantes
Kingdom of Charlemagne (Age of Charlemagne)
Rennes
Kingdom of Charlemagne (Age of Charlemagne)
Brandenburg
Wilzi (Age of Charlemagne)
Cottbus
Wilzi (Age of Charlemagne)
Lipsk
Wilzi (Age of Charlemagne)